Cather Archive in the News
The Willa Cather Archive has been featured in a variety of media publications over its lifetime. The following is a selection of videos, interviews, and articles featuring the Cather Archive and its team.
Spring 2018 Nebraska Lecture given by Jewell on "Our Cather Heritage"
Andrew Jewell, editor of the Willa Cather Archive, presents reasons why Cather remains relevant to readers today.
Watch Jewell's Full Lecture: Our Cather Heritage
Watch a Shorter "Recap" Version: Our Cather Heritage Recap
By Andrew Jewell | Nebraska Research | March 29, 2018
---
Cather Archive celebrates the 100th Anniversary of My Ántonia
Willa Cather's most celebrated novel, My Ántonia, turns 100 years old in 2018. An article from NET News explores how the National Willa Cather Center and the Willa Cather Archive plan to celebrate.
Read the Article and Listen to the Interview: "Nebraska Celebrates the 100th Anniversary of My Ántonia"
By Jack Williams | NET News | February 14, 2018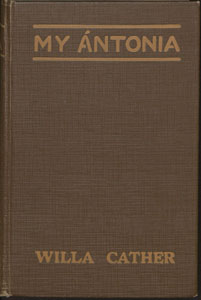 ---
Homestead's upcoming book about Willa Cather and Edith Lewis's creative partnership
An article from the Lincoln Journal Star discusses the Willa Cather Archive's The Complete Letters of Willa Cather, and the publication of the digital edition at the University of Nebraska-Lincoln.
Read the Article: "UNL project hopes to reveal the Cather behind the novels"
By Chris Dunker | Lincoln Journal Star | January 2, 2018