Willa Cather North by Northeast
Cather Related Site-Seeing North of New York City and East of Ohio
---
Arlington, Vermont
Home of Dorothy Canfield Fisher
Tour written by Mark Madigan, Nazareth College of Rochester
Willa Cather enthusiasts will recognize Dorothy Canfield Fisher as the daughter of James Hulme Canfield, the chancellor of the University of Nebraska during Cather's tenure as a student there from 1891-1895. Cather was then publishing stories and reviews; Fisher was her younger admirer and protégée. By any measure, Fisher learned her literary lessons well. She went on to become the author of more than forty books, including best-selling novels and short story collections, and non-fiction on a wide variety of subjects. She also played an important part in shaping the United States' popular literary taste through her position on the Book-of-the-Month Club Selection Committee from its inception in 1926 until 1951. It was Fisher who first suggested that Cather should teach at Bread Loaf in 1922. They remained friends until Cather's death in 1947. Fisher based her literary career from her home at the foot of Red Mountain in Arlington. The house is now privately owned and not open to the public.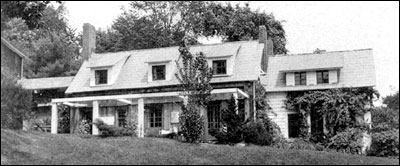 Other Points of Interest
(All of the places of interest could be visited in a day.)
Martha Canfield Memorial Free Library is located in Arlington on Vermont Historic Route 7A. The building was originally the home of Fisher's paternal grandmother. It is a circulating library and the home of the Russell Vermontiana Collection, which holds many of Fisher's books, articles, letters, and photographs. Library hours: Tues. 10-5, W-F 2-5, Sat. 10-3. Russell Vermontiana Collection hours: Tuesdays and by appointment.
Dorothy Canfield Fisher's grave is located in the cemetery adjacent to the St. James Episcopal Church on Vermont Historic Route 7A in Arlington, across from the Martha Canfield Memorial Free Library.
The Arlington Gallery, with its Norman Rockwell Exhibit, is located on Vermont Historic Route 7A in Arlington. Hours: Open every day, 9-5. When Norman Rockwell and his second wife, Mary, bought their first Vermont home in Arlington in 1938, they intended to be "summer folk." The Rockwells quickly came to appreciate their new rural life and decided to make Arlington their year-round residence. He used some two hundred local residents as models during his stay, which lasted until mid-1943. Dorothy Canfield Fisher was one of the Arlington residents who played a part in Rockwell's Vermont years. As Laura Claridge has written, Fisher "seemed to cast an immediate spell" upon Mary, who wanted to become a writer. Mary developed some of her literary ambitions with Fisher's assistance, including screening books for the Book-of-the-Month Club.
Robert Frost Stone House Museum is located on Vermont Historic Route 7A in Shaftsbury, in a house where Frost wrote "Stopping By Woods on a Snowy Evening" and many other poems. Hours: Tues.-Sun. 10-5. Fisher recommended to Henry Holt that he publish North of Boston, and later showed Frost the house he purchased in South Shaftsbury, a short distance from Fisher's own home in Arlington. When Frost's daughter Marjorie expressed a desire to live in France, it was Fisher who arranged for her to stay with a French family in the town where she herself had once lived; and when Frost's A Further Range was published in 1936, Fisher, a member of the Book-of-the-Month Club Committee of Selection, lobbied successfully for it to be one of the Club's monthly choices. Willa Cather admired Frost's poetry, and is reported to have given him a copy of her Mayflower edition of Sarah Orne Jewett's stories on the occasion of his fiftieth birthday, celebrated at the Brevoort hotel in New York on March 26, 1925 (Sergeant 220-223). www.frostfriends.org/stonehouse.html
Sources
Laura Claridge, Norman Rockwell: A Life. New York: Random House, 2001.
Elizabeth Shepley Sergeant, Willa Cather, A Memoir. Athens, Ohio: Ohio State University Press, 1992.
Lawrance R. Thompson and R.H. Winnick, Robert Frost, A Biography. New York: Holt, Rhinehart, Winston, 1982.
Places to Stay
Arlington is in Southern Vermont at the northern junction of routes VT 313 and 7A ( map)
The Inn on Covered Bridge Green, Arlington, VT 05250. (800) 726-9480. B & B in a 1792 farmhouse that was once the home and studio of Norman Rockwell, just a stone's throw from the covered bridge over the Battenkill.
West Mountain Inn, River Road, Arlington, VT 05250. On a mountainside w/ 150 acres, dining (reservations required). (802) 375-6516. Expensive. www.WestMountainInn.com
Candlelight Motel, Rte 7A, Arlington, VT 05250. (800)348-5294, (802) 375-6647. Continental breakfast, pool, reasonable rates. www.candlelightmotel.com
Cutleaf Maples Motel, Rte 7A, Arlington, VT 05250. (802) 375-2725. Lounge w/ fireplace, serves breakfast, welcomes children & pets. www.virtualvermont.com/cutleafmaples
For other listings see www.1-800-VERMONT.com
---
Tour written by Mark Madigan, Nazareth College of Rochester - 2003
Sponsored by the Cather Project, 2003