Willa Cather North by Northeast
Cather Related Site-Seeing North of New York City and East of Ohio
---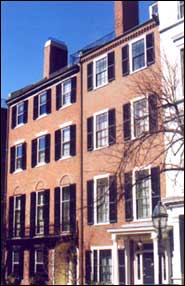 Willa Cather in Boston
Part 2 - Beacon Hill
Tour written by Kevin Synnott
Cambridge, Massachusetts
In 1907, Willa Cather moved to Boston on assignment for McClure's Magazine to verify the biographical materials on Mary Baker Eddy, founder of the Christian Science Church, that were the basis for a series of articles to be published in the magazine throughout 1907-08. Cather's most cherished memories of her time in Boston are found in the essay "148 Charles Street" in Not Under Forty, which recounts her initial meeting with Annie Fields, widow of Boston publisher James Fields, and Sarah Orne Jewett. As much as Cather recounts the beginnings of two very important friendships in that piece, however, she also evokes the elegance and grace of the golden age in America's cultural development. Visitors should plan for a leisurely exploration of the charming streets and lanes on Beacon Hill and should absorb the rich history and ambiance of this neighborhood, which Cather called home for a short time. She was transformed by Boston and by the people she met and befriended there, as her account of her visits at the home of Annie Fields attests. It is indeed, the "peace of the past" one seeks in visiting Beacon Hill today.
A good walk of "the Hill" might begin at the Boston Common Visitors Center (Park Street T stop) [A] (see map on page 2), where a variety of maps and brochures are available. One need not travel far before the literary geography begins to come alive—and Cather surely relished it. Toward the corner of Park and Tremont Streets is the mall area of the Boston Common that Whitman paced with Emerson, discussing the more controversial aspects of Leaves of Grass. Nearby is the Park Street Church, which Henry James described as "felicitous," and where Henry Adams attended elementary school. (Just beyond the church you will find the Granery Burial Ground, the final resting place of American patriots, including Paul Revere, and "Mother Goose.") Ticknor and Fields bookshop once stood nearby at 124 Tremont Street, and further along, across from the Parker House, stands King's Chapel, where Chillingsworth and Dimmesdale were said to have lived in The Scarlet Letter. In the adjacent burial ground, one can find the grave of Elizabeth Pain, Hawthorne's inspiration for Hester Prynne. Within just these few blocks, one sees the richness and distractions of literary Boston.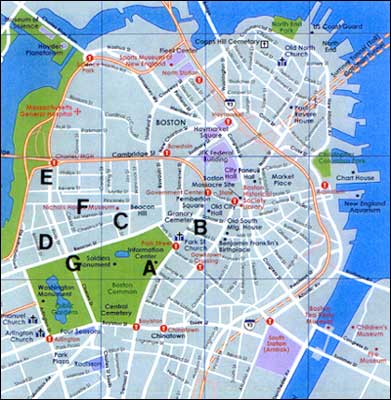 Map by Kevin Synnott Tour Locations
A. Boston Common
Visitors Center
B. Parker House
C. Chestnut Street
D. Brimmer Street
E. 148 Charles Street
F. Louisburg Square
G. Public Garden
For Cather devotees, the tour begins at the Parker House B], Cather's first home in Boston and a key location in the city's literary history. Following steps that Cather might have taken on the day she was taken by Mrs. Brandeis to the Field home, proceed up Beacon Street, past the Boston Athenaeum, the Massachusetts State House, and turn into Walnut Street. Its first intersection is with Chestnut Street [C], where you can take in the view down toward the Charles River that Professor Lucius Wilson finds so "pleasant" in the opening scene of Alexander's Bridge. As you make your way down Chestnut Street, recall that Cather took an apartment here during her Boston year. Cross Charles Street at the foot of the hill and continue on Chestnut in that part of the neighborhood known as the "flats" of the Hill. Coming to Brimmer Street [D], turn right and the first intersection on the left will lead to Otis Place, where Mrs. Brandeis lived. Return to Brimmer Street and continue to the Church of the Advent, at the corner of Brimmer and Mount Vernon. You are now in Bartley Alexander's neighborhood, although standing on Brimmer, you won't be able to see the river or the "white lights along the Cambridge Embankment" as Alexander could from his library or the study of his townhouse.
Returning to Charles Street along Mount Vernon, you will pass No. 102, where Henry James lived after his mother's death. At the corner, note the Charles Street Meeting House, an activist religious and civic center since 1807 and particularly significant to the Abolitionist Movement. William Lloyd Garrison, Harriet Tubman and Frederick Douglas all spoke here. Turning left on Charles, you can make your way to 148 [E], site of the Fields home and now sadly the site of a garage. As Cather explains, "Only in memory exists the long, green-carpeted, softly lighted drawing room and the dining-table where Learning and Talent met, enjoying good food and good wit and rare vintages, looking confidently forward to the growth of their country in the finer amenities of life." In a city so proud of its preservation instincts and in a neighborhood that so clearly captures time past, it is indeed sad that this house has been lost to us.
Turn back along Charles Street and explore other aspects of this district. At the very least, turn into Pinckney Street on the hill side and walk up to Louisburg Square [F], which Robert Lowell called "the hub of the hub." Among the famous residents of this lovely square have been William Dean Howells (Nos. 4 and 16) and Louisa May Allcott (No. 10). Nearby, at 131 Mount Vernon, is another of location where Henry James lived in Boston with his sister, Alice.
The boutiques, antique shops, and restaurants along Charles Street provide another kind of diversion, and a day on the Hill might well conclude with a restful moment in the Boston Common or the Public Garden [G]. You should enjoy a cruise on Boston's famed swan boats, which have sailed in the Garden's lagoon each summer since 1877.
Other Points of Interest
(All of the places listed could be visited in a full afternoon.)
The Omni Parker House, 60 School Street, at the corner of Tremont Street. The Parker House was Cather's first home in Boston for several months, before she moved to an apartment on Chestnut Street, close by on Beacon Hill. As Cather notes in "148 Charles Street," she stayed at "the old, the real Parker House, before it was 'modernized'"; the building one visits today opened in 1927. Nonetheless, the site is notable for its important literary connections, particularly first meetings of the Saturday Club, which counted Hawthorne, Emerson, Holmes, Longfellow, Parkman, and Whittier among its members. www.omniparkerhouse.com
Boston Athenaeum, 10 1/2 Beacon Street. Hours: M, 9-8; T-F, 9 - 5:30; Sa, 9-4 (September through May). Founded in 1807, the Boston Athenaeum is one of the oldest and most distinguished private libraries in the country and its membership is a virtual who's who of American letters. Recently, the building has undergone extension restoration and guided tours of the library and its art collection are given on Tuesday and Thursday afternoons, by reservation (617-227-0270). Visitors may view the first floor only at any time without a guide. www.bostonathenaeum.org
The Nichols House Museum, 55 Mt. Vernon Street. Hours: T-Sa, first tour at 12 noon and on the half hour thereafter until 4; Admission: $5. Built in 1804, this handsome house is a wonderful example of a Boston townhouse of the Federalist period; its design is attributed to Charles Bulfinch, the eminent Boston architect. It was the home of Rose Standish Nichols, an author, suffragette, lifelong pacifist, and women's rights activist. The interior decoration typifies the life of Beacon Hill Brahmins at the turn of the century and will give visitors a sense of the world Cather discovered at 148 Charles. www.nicholshousemuseum.org
Church of the Advent, 30 Brimmer Street. Open daily for services and visitors. www.theadvent.org
Dining
The city is full of fine places to eat on every block in both neighborhoods. Fish and seafood, however, are a Boston specialty, so a few recommendations in that category are included.
Atlantic Fish Company, 761 Boylston St., Boston MA 02116, 877-278-1270. www.atlanticfishco.com
Skipjack's Seafood Emporium, 199 Clarendon St., Boston, MA 02116, 617-536-3500. www.skipjacks.com
Union Oyster House, 41 Union St., Boston, MA 617-227-2750. This is the oldest restaurant in The United States—serving since 1826—and the building, which is even older, has a number of other claims to historic fame. Downstairs you can watch your own oysters being shucked at the bar. www.unionoysterhouse.com
Accommodations
When it comes to accommodations, Boston is a very expensive city. And because late spring is a very busy season for graduations in Boston, hotel reservations are essential. Accommodations in many price ranges are available; check the web to preview the many options.
Boston Marriott Copley Place, 111 Huntington Avenue, 617-236-5800, www.marriott.com
Hilton Boston Back Bay, 40 Dalton Street, 617-236-1100, www.hilton.com
Sheraton Boston Hotel, 39 Dalton Street, 617-236-2000, www.sheraton.com
Omni Parker House, 60 School Street, 617-227-8600, www.omnihotels.com
Charles Street Inn, 94 Charles Street, 617-314-8900, www.charlesstreetinn.com
Beacon Hill Hotel, 19 Charles Street, 617-723-7575, www.beaconhillhotel.com
Charlesmark Hotel, 655 Boylston Street, 617-247-1212, www.charlesmarkhotel.com
Commonwealth Court Guest House, 284 Commonwealth Avenue, 1-888-424-1230, www.commonwealthcourt.com
Helpful Planning Resources
Greater Boston Visitors Convention and Visitors Bureau, www.bostonusa.com
Massachusetts Tourist Information, www.masstourist.com
Discount Hotel sites: www.boston4less.com; www.hotels.com
---
Tour written by Kevin Synnott, Cambridge, MA - 2003
Sponsored by the Cather Project, 2003