Willa Cather North by Northeast
Cather Related Site-Seeing North of New York City and East of Ohio
---
Cos Cob, Connecticut: Cather Builds Her Connections, An All-In-One Site
Tour written by Merrill Skaggs, Drew University, with Sherrill Harbison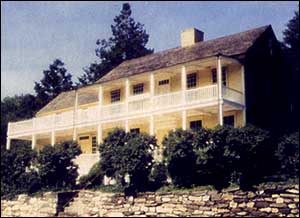 A visit to the Bush-Holley House in Cos Cob will entail a tour of the classic 1732 saltbox, where an 1890's art colony known as the "Cos Cob clapboard school" became the first Impressionist group in America. Here Cather stayed on weekend visits that allowed her to hobnob with artists such as John Henry Twachtman and Childe Hassam, and with McClure's habitués such as Viola Roseboro' and Lincoln Steffens. Like others, Cather came to relax, to mingle, to observe art being made, and to make contacts. Hassam's 1914 painting Couch on the Porch, Cos Cob is reputed to depict Cather herself, seen from the back, lying in a hammock with a book.
While visiting the house one should not miss a look through the archives of the Historical Society of the Town of Greenwich, in a new building in the rear of the house itself. The exceptionally helpful librarian Susan Richardson will be able to show you Cather-related materials that will whet your appetite, and which are stored in those archives. The barn across the parking lot is where the Armory Show of 1913 was planned and organized. Give yourself as long as you can to see all these things.
The Bush-Holley House, 39 Strickland Rd., Cos Cob, CT 06807 (map), (203) 869-6899. Hours: Tu-Fri noon - 4 pm, Sun. 1-4. Admission $4, Seniors $3. (Receptionist is very helpful with directions to restaurants, etc.)
The William E. Finch, Jr. Archives are open Tuesday and Thursday, 10 a.m. - 12:30 p.m. and 1 p.m. - 4 p.m., or by appointment.
Getting There
Cos Cob is 45 minutes by train from Grand Central Station and roughly 3 hours from Breadloaf. Driving from I-95, take Exit 4 to Rte. 1, turn right onto Strickland Rd., and right again to #39. (map)
Accommodations and Dining
In walking distance:
Cos Cob Inn -50 River Road, Cos Cob, CT 06807, (203) 661-5845 www.coscobinn.com
Millpond Café, 203 E. Putnam Ave, Cos Cob, CT 06807, (203) 629-9029
Kagetsu, Japanese food, 28 W. Putnam Ave., Cos Cob, CT (203) 622-9264
And many other spots along Greenwich Ave. Ask receptionist for advice, or check out Best Food in Cos Cob Restaurants.
Nearby Greenwich offers more options for accommodations, including a Hyatt and Howard Johnson's.
---
Tour written by Merrill Skaggs, DrewUniversity, with Sherrill Harbison - 2003
Sponsored by the Cather Project, 2003