Willa Cather North by Northeast
Cather Related Site-Seeing North of New York City and East of Ohio
---
Grand Manan Island, New Brunswick
The House that Cather Built
Tour written by Robert Thacker
St. Lawrence University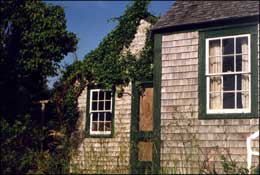 Among the many ironies about Willa Cather is that, although she is one of the great writers of the American West, she lived most of her adult life in New York City. And when she left New York—especially during those summers before air conditioning—it was often to go even farther east. Just after her teaching stint at Bread Loaf in 1922, apparently at the suggestion of a friend at the New York Public Library, Cather first visited Grand Manan Island, New Brunswick, Canada. From then on she and Edith Lewis would come back almost every summer until 1940, when German submarine activity in the Bay of Fundy made the trip too hazardous. Beginning in 1928, Cather and Lewis summered on Grand Manan in their own cottage—The House That Cather Built—the only property Cather would ever own. As her biographer James Woodress writes, she "was able to work there free from civilized distractions. The cool, rainy climate suited her perfectly" (323).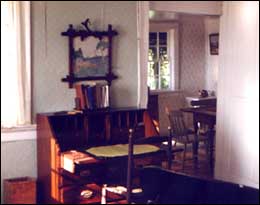 Over the years, Cather worked happily at Grand Manan—during her first visit she worked on "Tom Outland's Story" and A Lost Lady; on her last, she finished Sapphira and the Slave Girl. "Before Breakfast," the second-to-last story she completed (included in the posthumous collection The Old Beauty and Others), is the only fiction she set on Grand Manan; even then, its identity is masked, since the island she identifies is off the coast of Nova Scotia. Cather's presence on Grand Manan—still the stuff of local lore on the island—has been recognized by the contemporary Canadian writer Alice Munro, whose own style owes much to Cather's. In Munro's story "Dulse," Cather on Grand Manan is a sharply invoked presence.
In 1995, a group of some forty members of the 6th International Cather Seminar in Quebec City traveled to Grand Manan prior to the seminar. There, over two days, we visited the island that drew Cather and Lewis back each summer, enjoying its sights, sounds, trails, and marvelous people. Of particular note are Cather's cottage, which still exists (and is available for rental through The Inn at Whale Cove), trips to Machias Seal Island to see Puffins (Grand Manan itself is extremely popular among bird watchers), whale-watching tours, and the Grand Manan Museum—it has an exhibit focused on Cather on Grand Manan.
Sources
Alice Munro, "Dulse." The Moons of Jupiter. New York: Knopf, 1983: 36-59.
Robert Thacker, "Alice Munro's Willa Cather." Canadian Literature 134 (1992): 42-57.
Andrew Vietze, "Grand Illusion." Down East: The Magazine of Maine. August 1997: 66-71, 102.
James Woodress, Willa Cather: A Literary Life. Lincoln: University of Nebraska Press, 1987.
Getting There
Grand Manan is reachable by ferry (a 90 minute passage) from Blacks Harbour, New Brunswick—a short drive from the Canada-U.S. Border crossing at Calais, Maine. (Note: crossing from Maine into New Brunswick at this point puts you in a different time zone—plan for ferry schedules accordingly!) For those who fly into the region, the ferry terminal at Blacks Harbour is 4-5 hours from Portland or Bangor, Maine and just over an hour from St. John, New Brunswick. It is a good day's drive from Boston. Given the ferry schedules, I would recommend at least two nights on Grand Manan. Grand Manan & White Head Travel Information.
Accommodations
Some of the 1995 group were able to stay in Cather's cottage while we were on the island. Bed and Breakfast accommodations are the norm on Grand Manan—in addition to The Whale Cove, we also placed seminarians at the Shore Crest and the Compass Rose. Given the importance of summer tourism on Grand Manan, the Island's websites are a valuable resource for planning a trip there. Because facilities on the island are limited, I recommend making arrangements as soon as possible. For additional tourism information, see www.grandmanannb.com or Map of Grand Manan and Islands
Inn at Whale Cove - 26 Whale Cove Cottage Rd., Grand Manan, NB, E5G 25B Canada. (506) 662-3181. Inn w/ 3 rooms, 4 weekly rental cottages, 2-4 bedrooms; seasonal. Dining room and take-out food shop. Host: Laura Buckley.
On this site, click on pictures. The cottage on the right in the second picture, the one marked "Orchardside and Coopershop," is the one in which Cather and Lewis stayed when they went there initially. After they decided to have a cottage of their own built, they directed a local carpenter to make a place exactly like Orchardside. It was duly built—through the woods some distance beyond Orchardside and Coopershop, down "Cather Lane"—a route so marked by a street sign.
Compass Rose - 65 Rte 776, Grand Manan, NB, E5G 1A2 Canada. (506) 662-8570. 7 rooms, seasonal. Hosts: Nora & Ed Barker. www.compassroseinn.com
Shorecrest Lodge - 100 Rte. 776, Grand Manan, NB, E5G 1A2 Canada. (506) 662-3216. 10 rooms, year-round. Dining room. Hosts: Robin and Dennis Sesplankis.
---
Tour written by Robert Thacker, St. Lawrence University - 2003
Sponsored by the Cather Project, 2003