An Autumn Walk Among the Trees of Willa Cather's Nebraska Novels
The University of Nebraska Cather and Eco-Literature Colloquia gathered in the early evening of September 23 to enjoy an autumn stroll around the UNL campus and to learn more about Willa Cather's use of trees in her stories. The walk was led by recent MA graduate Linnea Fredrickson, assistant managing editor at the University of Nebraska Press and author of A Literary and Field Guide to the Trees in Willa Cather's Nebraska Novels, her Master's thesis. In A Literary and Field Guide, Fredrickson examines Cather's use of trees in her five novels set in Nebraska: O Pioneers!, My Ántonia, One of Ours, A Lost Lady, and Lucy Gayheart. The walk provided amblers with a grounded literary and visual introduction to some of these trees that Cather uses "subtly, intentionally, and frequently" in her work.
The walk began on the steps of the Sheldon Art Gallery, where Fredrickson recounted some of the influences that may have contributed to Cather's knowledge of trees. She cited places known by Cather, among them the woods surrounding the Shenandoah Valley, a farm named Willow Shade, and a nearly treeless mixed-grass prairie. She described people who may have been influences: her paternal great grandfather, James Cather, who was a forest conservationist; Frances A. Smith Cather (Aunt Franc), who taught botany to girls in Winchester, Virginia, before she moved to Nebraska; Louise Pound's brother, Roscoe, who earned a Ph.D. in botany; and Frederic Clements, a friend of Cather's who achieved renown within botany circles. Fredrickson also discussed events that may have impacted Cather's knowledge of trees, one of which was the first national Arbor Day celebration.
From the gallery steps, the group followed Fredrickson on an hour-long tour, pausing to admire the trees identified along the way—a crabapple "orchard," an American elm, an Eastern red cedar, a bur oak ("scrub-oak" to Cather), and a cottonwood. Cottonwoods, Fredrickson noted, were a particular favorite of Cather's and are repeatedly associated with good and exciting people and events. She reminded us that Cather surrounds the dance pavilion in My Ántonia in cottonwoods, and that in A Lost Lady, the Forresters (a couple who were drawn from Cather's beloved acquaintances, the Garbers) lived in a cottonwood grove. (Notably, Cather enjoyed picnics and dances in the Garber's grove.) Conversely, Fredrickson mentioned that Eastern red cedars are often found in bad company within Cather's work. She pointed out that they surround Wick Cutter's house in My Ántonia, and that they fill the ravine into which Marian Forrester and Frank Ellinger walk.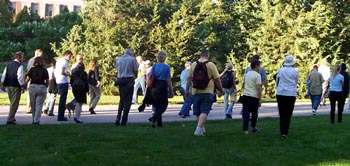 As the tour continued, Fredrickson pointed out the Osage orange, honey locust, and a native ash, demonstrating how knowledge of the trees' historical significance, personal association to Cather, and aesthetic qualities enrich one's reading of Cather's texts. At the end of the tour, Fredrickson introduced the group to the linden, the horse chestnut, and the catalpa. Some members of the group met the trees for the first time; those who were familiar with them were able to re-see the trees from Fredrickson's perspective. Overall, the walk provided an education in the open air for all who participated. Summarizing her experience of the tour, Erika Hamilton commented, "It opened up my eyes to the details that Cather may have known about and to the characteristics of all the trees."
For those interested in further reading on the flora in Cather's fiction, Fredrickson recommends beginning with the Willa Cather Scholarly Editions, which contain many helpful botanical annotations. She also suggests Doug Colglazier's Master's thesis, Willa Cather: Creating an Ecological Consciousness, (University of Nebraska-Lincoln 2001). And for those interested in attaining detailed information about a specific tree (found in or outside of Cather's work), Fredrickson recommends Donald Culross Peattie's two volume set: A Natural History of Eastern Trees (Houghton Mifflin 1991) and A Natural History of Western Trees (Houghton Mifflin 1991).