Preserving Cather
A recent issue of The Mowers' Tree featured Dr. Mary Ray Weddle's article on the George Cather Ray Collection. This collection was donated to the University of Nebraska-Lincoln (UNL) Libraries by Weddle and named in honor of her father. An extended family collection dating mostly from 1877 through 1922, it is primarily comprised of correspondence, diaries, family photographs, battle training notes, military orders, newspaper clippings, and land records of the George Perry Cather family. Willa Cather's uncle, George Perry Cather, and his wife, Frances Smith Cather, were the first Cather family members to move to Nebraska from Virginia.
The Ray collection is housed in the University Archives & Special Collections at UNL's Love Library, and as an acquisition presents both opportunities and challenges. The research possibilities related to the collection range from such subjects as history and literature to rural economics and botany. Among the treasures in the collection are letters between Aunt Franc and her son, G.P. Cather, and a few letters from Willa Cather following G.P.'s death in France during WWI. The story told in these letters led directly to Willa Cather's Pulitzer prize-winning novel, One of Ours (1922), with G.P. serving as a prototype for Claude Wheeler and Aunt Franc as Mrs. Wheeler. Scholars who have seen and used the collection have been very excited by its depth.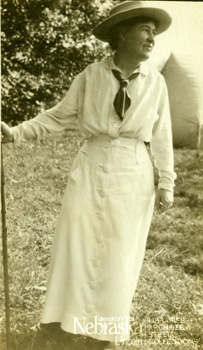 Among challenges inherent in any archival collection are ones relating to organization, description, and preservation. Thanks to Mary Weddle's understanding of both the family and scholarship, the George Cather Ray Collection was much better organized and described upon its arrival than many collections. For example, Weddle identified many photographic items in the collection and provided contextual information concerning many of the papers. These efforts made it possible for the UNL Archives & Special Collections staff to quickly develop an inventory to the collection.
One area that remained a concern was preservation. Many of the documents in the collection are written on paper that is acidic and embrittled. Anyone who has used brittle documents will recognize their characteristic yellowing or browning and the cornflake-like pieces of paper that break off during use. Thankfully, most of the photographs in the collection are in fairly good condition, though a few are beginning to curl at the edges. Based on the condition of the documents, UNL decided to apply for a preservation microfilming grant from the National Historic Publications and Records Commission (NHPRC). The UNL Cather Project and the UNL Libraries worked together on the proposal, which was funded in 2002.
Archives Associate Carmella Orosco prepared the papers for filming and rehoused the collection in acid-free storage boxes. She also worked with University Archivist Mary Ellen Ducey to refine the finding aid. In the meantime, I developed a contract for preservation microfilming that was awarded to Preservation Resources, Inc. (a division of OCLC located in Bethlehem, PA). Preservation Resources previously filmed the Mari Sandoz Collection and a collection related to the history of agriculture and rural life in Nebraska. The latter projects, funded by the National Endowment for the Humanities, assured us that Preservation Resources had the experience to work effectively with fragile documents. In addition, Preservation Resources uses digital microfilming cameras that produce a high resolution image. Preservation microfilm, which must be produced according to international standards, can be scanned for greater online access. In other words, the high quality of the film offers the possibility of later producing digital versions of documents if UNL so desires and if funding can be secured. In such a situation, 35mm silver halide microfilm serves as a preservation medium, and digital versions serve as an access medium. As the project draws to a close, the microfilm has been tested to ensure that it meets technical specifications. Frame-by-frame checks have been conducted to verify that documents sent for filming were indeed filmed and that writing is legible. The master negatives will soon be sent to environmentally- controlled underground storage, while positive service copies will be retained for use at UNL.
Other preservation and access activities in the University Archives & Special Collections involve scanning images in the George Cather Ray Collection. Some of these images are displayed in a web exhibit developed by Ducey and available for view on the UNL Electronic Text Center's digital archive at https://libraries.unl.edu/archives-special-collectionsexhibits/CatherSite/index.html. Various images associated with the project may appear on the Willa Cather Archive in the future.