The Cather Archive
The University of Nebraska-Lincoln Libraries Archives and Special Collections offers one of the most significant and continually expanding sites of study and research for scholars and enthusiasts of Willa Cather. The diverse archival material, ranging from original manuscripts to family photos and correspondence to a scrapbook made by Cather herself, is spread among nine collections. The university's archives hold materials relevant to Cather's time at UNL as a student as well as a writer and editor of the university's student newspaper, The Hesperian. But it was not until the 1980s, when longtime University of Nebraska Press editor-in-chief Virginia Faulkner donated her papers, followed a few years later by the donation of ground-breaking Cather scholar Bernice Slote's papers, that the UNL collection of Cather materials began to distinguish itself.
In the last decade, the opportunities available for literary, historical, and biographical scholarship on Cather and her literary and historical milieu have been blossoming at UNL with the additions of the George Cather Ray Collection and Philip L. and Helen Cather Southwick Collection. In 2002, Dr. Mary Ray Weddle donated what is known as the George Cather Ray Collection, which includes family correspondence, photographs, and WWI military documents amassed by the George Perry Cather family. It was Cather's uncle, George Perry Cather, along with his wife, Frances Smith Cather, who first uprooted from Virginia to settle in Nebraska in 1873, and their day-to-day correspondence between family members documents many of the realities faced by homesteaders in Nebraska. The couple's son, G.P. Cather, eventually became the model for Claude Wheeler, the protagonist of Cather's One of Ours. The George Perry Cather Collection has proven invaluable as a source of historical material relating to WWI that contextualizes One of Ours.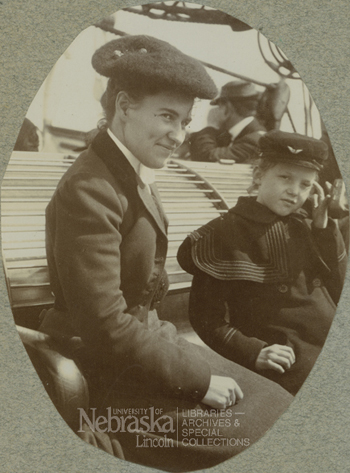 The Philip L. and Helen Cather Southwick Collection contains eleven typescripts with Cather's handwritten revisions. The collection also boasts the 1902 handmade scrapbook containing photographs and assorted clippings that highlight Cather's European summer tour with Isabelle McClung. The Southwick Collection includes approximately 300 photographs of Cather at various periods of her life as well as images of the writer's circle of friends and family. Not only did the Southwicks donate photographs, but they also donated many photograph negatives. In addition, the Southwick Collection contains correspondence written to Edith Lewis by Stephen Tennant, a British aristocrat and friend to both Lewis and Cather.
In the last year, the Southwick Collection has become an even richer source of material with additional donations from the late Helen Cather Southwick. Forty-five new letters, dating from 1922 to 1956, are among the recently donated items. These letters represent correspondence between Cather and some of the most important people in her life, including both of her parents, Charles F. and Mary Virginia Boak Cather. Cather's correspondence with the publishing industry is also represented among these newest donations in letters from such figures as Alfred A. Knopf.
Other notable items recently donated by the late Helen Cather Southwick are artwork and notebook materials originally belonging to Stephen Tennant, as well as one of the more recent notebook journals of Edith Lewis. These materials contribute to the larger context of Cather's close circle of friends, especially those who were a part of her life in her later years.
The Philip L. and Helen Cather Southwick Collection is presently one of the UNL Archives and Special Collection's most dynamic Cather-related treasure-troves, and the newest of Helen Cather Southwick's donations have yet to be reported. Once these items are documented and organized, they will likely bring their own insights and opportunities for study, expansion, and reevaluation of what we know of Cather and her times.
The continued expansion of Cather-related archival material made possible through generous donations to the UNL Libraries Archives and Special Collections is illustrative of the continuous interest in Willa Cather, her works, and her world. Even those who have spent considerable time in the archives will likely find the latest additions to the collections more than worth the trip. The nine Cather collections held by UNL are special because they provide a rich, detailed look into Cather's career and a fascinating glimpse into the lives of various Cather family members. These collections will continue to prove fruitful for anyone interested in conducting original research on Willa Cather and her circle.