First Edition of April Twilights, 1903
by Willa Sibert Cather

View Image of Spine

View Image of Cover

View Page Image

View Page Image

View Page Image

View Page Image

APRIL
TWILIGHTS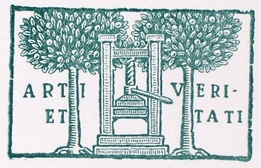 Boston: Richard G. Badger
The Gorham Press: 1903


View Page Image
Copyright 1903 by Willa Sibert Cather
All Rights Reserved
Printed at
The Gorham Press
Boston, U.S.A.

View Page Image
DEDICATORY
To R.C.C. AND C.D.C.
Somewhere, sometime, in an April twilight,
When the hills are hid in violet shadows
When meadow brooks are still and hushed for wonder,
At the ring dove's call as at a summons,
Let us gather from the world's four quarters,
Stealing from the trackless dusk like shadows,
Meet to wait the moon, and greet in silence.
When she swims above the April branches,
Rises clear of naked oak and beeches,
Sit with me beneath the snowy orchard,
Where the white moth hangs with wings entranced,
Drunken with the still perfume of blossoms.
Then, for that the moon was ours of olden,
Let it work again its old enchantment.
Let it, for an April night, transform us
From our grosser selves to happy shadows
Of the three who lay and planned at moonrise,
On an island in a western river,
Of the conquest of the world together.
Let us pour our amber wine and drink it
To the memory of our vanished kingdom,
To our days of war and ocean venture,
Brave with brigandage and sack of cities;
To the Odysseys of summer mornings,
Starry wonder-tales of nights in April.

View Page Image

View Page Image

View Page Image
APRIL TWILIGHTS

View Page Image

View Image of Page 9
"GRANDMITHER, THINK NOT I FORGET"
Grandmither, think not I forget, when I come back to
town,
An' wander the old ways again an' tread them up an'
down.
I never smell the clover bloom, nor see the swallows
pass,
Without I mind how good ye were unto a little lass.
I never hear the winter rain a-pelting all night through,
Without I think and mind me of how cold it falls on you.
And if I come not often to your bed beneath the thyme,
Mayhap 't is that I'd change wi' ye, and gie my bed for
thine,
Would like to sleep in thine.
I never hear the summer winds among the roses blow,
Without I wonder why it was ye loved the lassie so.
Ye gave me cakes and lollipops and pretty toys a score,—
I never thought I should come back and ask ye now for
more.
Grandmither, gie me your still, white hands, that lie
upon your breast,
For mine do beat the dark all night and never find me
rest;
They grope among the shadows an' they beat the cold
black air,
They go seekin' in the darkness, an' they never find him
there,
As They never find him there.

View Image of Page 10
Grandmither, gie me your sightless eyes, that I may
never see
His own a-burnin' full o' love that must not shine for
me.
Grandmither, gie me your peaceful lips, white as the
kirkyard snow,
For mine be red wi' burnin' thirst an' he must never
know.
Grandmither, gie me your clay-stopped ears, that I may
never hear
My lad a-singin' in the night when I am sick wi' fear;
A-singin' when the moonlight over a' the land is white —
Aw God! I'll up an' go to him a-singin' in the night,
A-callin' in the night.
Grandmither, gie me your clay-cold heart that has forgot
to ache,
For mine be fire within my breast and yet it cannot break.
It beats an' throbs forever for the things that must not
be,—
An' can ye not let me creep in an' rest awhile by ye?
A little lass afeard o' dark slept ye years agone —
Ah, she has found what night can hold 'twixt sunset an'
the dawn!
So when I plant the rose an' rue above your grave for
ye,
Ye'll know it's under rue an' rose that I would like to
be,
That I would like to be.

View Image of Page 11
IN ROSE TIME
Oh this is the joy of the rose;
That it blows,
And goes.
Winter lasts a five-month
Spring-time stays but one;
Yellow blow the rye-fields
When the rose is done.
Pines are clad at Yuletide
When the birch is bare,
And the holly's greenest
In the frosty air.
Sorrow keeps a stone house
Builded grim and gray;
Pleasure hath a straw thatch
Hung with lanterns gay.
On her petty savings
Niggard Prudence thrives;
Passion, ere the moonset,
Bleeds a thousand lives.
Virtue hath a warm hearth—
Folly's dead and drowned;
Friendship hath her own when
Love is underground.

View Image of Page 12
Ah! for me the madness
Of the spendthrift flower,
Burning myriad sunsets
In a single hour.
For this is the joy of the rose;
That it blows,
And goes.
ASPHODEL
As some pale shade in glorious battle slain,
On beds of rue, beside the silent streams,
Recalls outworn delights in happy dreams;
The play of oars upon the flashing main,
The speed of runners, and the swelling vein,
And toil in pleasant upland field that teems
With vine and gadding gourd—until he seems
To feel wan memories of the sun again
And scent the vineyard slopes when dawn is wet,
But feels no ache within his loosened knees
To join the runners where the course is set,
Nor smite the billows of the fruitless seas,—
So I recall our day of passion yet,
With sighs and tenderness, but no regret.

View Image of Page 13
MILLS OF MONTMARTRE
Upon the hill above the town—
The old town pale and gray—
In other days went up and down
The country lasses gay.
Below the humming mills it shone,
Across the fields of flowers,
The city, dreamlike, far away,—
The island, stream and towers.
The merry mills were going,
The country winds were blowing,
And brave the miller sings;
"Bring in, bring in your yellow grain,
My weight is never light;
(Oh tall my mill and swift her wings!)
Bring in, bring in your yellow grain
And I will give you white.
White is my hopper for your grist,
My mill-stones you may trust:
Bring in your harvest when you list
And I will give you dust."
Upon the hill above the town
They grind the corn no more;
The girls go tripping up and down
From idle door to door.

View Image of Page 14
The nights are terrible with mirth,
The days ashamed for song;
Against the sky the crimson sails
Turn all the night-time long.
The merry mills are going,
The country winds are blowing
And brave the miller sings:
"Bring in, bring in your yellow grain,
My weight is never light;
(Oh tall my mill and swift her wings!)
Bring in, bring in your yellow grain,
And I will give you white.
White is my hopper for your grist,
My mill-stones you may trust:
Bring in your harvest when you list,
And I will give you dust."

View Image of Page 15
ARCADIAN WINTER
Woe is me to tell it thee,
Winter winds in Arcady!
Scattered is thy flock and fled
From the glades where once it fed,
And the snow lies drifted white
In the bower of our delight,
Where the beech threw gracious shade
On the cheek of boy and maid;
And the bitter blasts make roar
Through the fleshless sycamore.
White enchantment holds the spring,
Where thou once wert wont to sing,
And the cold hath cut to death
Reeds melodious of thy breath.
He, the rival of thy lyre,
Nightingale with note of fire,
Sings no more; but far away,
From the windy hill-side gray,
Calls a broken note forlorn
From an aged shepherd's horn.
Still about the fire they tell
How it long ago befell
That a shepherd maid and lad
Met and trembled and were glad;
When the swift spring waters ran,
And the wind to boy or man

View Image of Page 16
Brought the aching of his sires,—
Song and love and all desires.
Ere the starry dogwoods fell
They were lovers, so they tell.
Woe is me to tell it thee,
Winter winds in Arcady!
Broken pipes and vows forgot;
Scattered flocks returning not;
Frozen brook and drifted hill;
Ashen sun and song-birds still;
Songs of summer and desire
Crooned about the winter fire;
Shepherd lads with silver hair,
Shepherd maids no longer fair.

View Image of Page 17
THE HAWTHORN TREE
Across the shimmering meadows—
Ah, when he came to me!
In the spring time,
In the night time,
In the starlight,
Beneath the hawthorn tree.
Up from the misty marsh land—
Ah, when he climbed to me!
To my white bower,
To my sweet rest,
To my warm breast,
Beneath the hawthorn tree.
Ask of me what the birds sang,
High in the hawthorn tree;
What the breeze tells,
What the rose smells,
What the stars shine—
Not what he said to me!

View Image of Page 18
SLEEP, MINSTREL, SLEEP
Sleep, minstrel, sleep: the winter wind's awake,
And yellow April's buried deep and cold.
The wood is black, and songful things forsake
The haunted forest when the year is old.
Above the drifted snow, the aspens quake,
The scourging clouds the shrunken moon enfold,
Denying all that nights of summer spake
And swearing false the summer's globe of gold.
Sleep, minstrel, sleep; in such a bitter night
Thine azure song would seek the stars in vain;
Thy rose and roundelay the winter's spite
Would scarcely spare-O never wake again!
These leaden skies do not thy masques invite,
Thy sunny breath would warm not their disdain;
How shouldst thou sing to boughs with winter dight,
Or gather marigolds in winter rain?
Sleep, minstrel, sleep; we do not grow more kind;
Your cloak was thin, your wound was wet and deep;
More bitter breath there was than winter wind,
And hotter tears than now thy lovers weep.
Upon the world-old breast of comfort find
How gentle Darkness thee will gently keep.
Thou wert the summer's, and thy joy declined
When winter winds awoke. Sleep, minstrel, sleep.

View Image of Page 19
FIDES, SPES
Joy is come to the little
Everywhere;
Pink to the peach and pink to the apple,
White to the pear.
Stars are come to the dogwood,
Astral, pale;
Mists are pink on the red-bud,
Veil after veil.
Flutes for the feathery locusts,
Soft as spray;
Tongues of the lovers for chestnuts, poplars,
Babbling May.
Yellow plumes for the willows'
Wind-blown hair;
Oak trees and sycamores only
Comfortless, bare.
Sore from steel and the watching,
Somber and old,—
Wooing robes for the beeches, larches,
Splashed with gold;
Breath o' love to the lilac,
Warm with noon.—
Great hearts cold when the little
Beat mad so soon.
What is their faith to bear it
Till it come,
Waiting with rain-cloud and swallow,
Frozen, dumb?

View Image of Page 20
THE TAVERN
In the tavern of my heart
Many a one has sat before,
Drunk red wine and sung a stave,
And, departing, come no more.
When the night was cold without
And the ravens croaked of storm,
They have sat them at my hearth,
Telling me my house was warm.
As the lute and cup went round,
They have rhymed me well in lay;—
When the hunt was on at morn,
Each, departing, went his way.
On the walls, in compliment,
Some would scrawl a verse or two,
Some have hung a willow branch,
Or a wreath of corn flowers blue.
Ah! my friend, when thou dost go,
Leave no wreath of flowers for me;
Not pale daffodils nor rue,
Violets nor rosemary.
Spill the wine upon the lamps,
Tread the fire, and bar the door;
So defile the wretched place
None will come, forevermore.

View Image of Page 21
IN MEDIA VITA
Streams of the spring a-singing,
Winds o' the May that blow,
Birds from the Southland winging,
Buds in the grasses below.
Clouds that speed hurrying over,
And the climbing rose by the wall,
Singing of bees in the clover,
And the dead, under all!
Lads and their sweethearts lying
In the cleft o' the windy hill;
Hearts that hushed of their sighing,
Lips that are tender and still.
Stars in the purple gloaming,
Flowers that suffuse and fall,
Twitter of bird-mates homing,
And the dead, under all!
Herdsman abroad with his collie,
Girls on their way to the fair,
Hot lads a-chasing their folly,
Parsons a-praying their prayer.
Children their kites a-flying,
Grandsires that nod by the wall,
Mothers soft lullabies sighing,
And the dead, under all!

View Image of Page 22
ANTINOUS
With attributes of gods they sculptured him,
Hermes, Osiris, but were never wise
To lift the level, frowning brow of him
Or dull the mortal misery in his eyes;
The scornful weariness of every limb,
The dust begotten doubt that never dies,
Antinous, beneath thy lids, though dim,
The curling smoke of alters rose to thee,
Conjuring thee to comfort and content.
An emperor sent his galleys wide and far
To seek thy healing for thee. Yea, and spent
Honor and treasure and red fruits of war
To lift thy heaviness, least thou should'st mar
The head that was an empire's glory, bent
A little, as the heavy poppies are.
Did the perfection of thy beauty pain
Thy limbs to bear it? Did it ache to be,
As song hath ached in men, or passion vain?
Or lay it like some heavy robe on thee?
Was thy sick soul drawn from thee like the rain,
Or drunk up as the dead are drunk, each hour
To feed the color of some tulip flower?

View Image of Page 23
PARADOX
I knew them both upon Miranda's isle,
Which is of youth a sea-bound seigniory:
Misshapen Caliban, so seeming vile,
And Ariel, proud prince of mintrelsy,
Who did forsake the sunset for my tower
And like a star above my slumber burned.
The night was held in silver chains by power
Of melody, in which all longings yearned—
Star-grasping youth in one wild strain expressed,
Tender as dawn, insistant as the tide;
The heart of night and summer stood confessed.
I rose aglow and flung the lattice wide—
Ah jest of art, what mockery and pang!
Alack, it was poor Caliban who sang.

View Image of Page 24
PROVENÇAL LEGEND
On his little grave and wild,
Faustinus, the martyr child,
Candytuft and mustards grow.
Ah, how many a June has smiled
On the turf he lies below.
Ages gone they laid him there,
Quit of sun and wholesome air,
Broken flesh and tortured limb;
Leaving all his faith the heir
Of his gentle hope and him.
Yonder, under pagan skies,
Bleached by rains, the circus lies,
Where they brought him from his play.
Comeliest his of sacrifice,
Youth and tender April day.
"Art thou not the shepherd's son?—
There the hills thy lambkins run?—
These the fields thy brethren keep?"
"On a higher hill than yon
Doth my Father lead His sheep."
"Bring thy ransom, then," they say,
"Gold enough to pave the way
From the temple to the Rhone."
When he came, upon his day,
Slender, tremulous, alone,

View Image of Page 25
Mustard flowers like these he pressed,
Golden, flame-like, to his breast,
Blooms the early weanlings eat.
When his Triumph brought him rest,
Yellow bloom lay at his feet.
Golden play days came: the air
Called him, weanlings bleated there,
Roman boys ran fleet with spring;
Shorn of youth and usage fair,
Hope nor hilltop days they bring.
But the shepherd children still
Come at Easter, warm or chill,
Come with violets gathered wild
From his sloping pasture hill,
Playfellows who would fulfil
Playtime to that martyr child.

View Image of Page 26
WINTER AT DELPHI
Cold are the stars of the night,
Wild is the tempest crying,
Fast through the velvet dark
Little white flakes are flying.
Still is the House of Song,
But the fire on the hearth is burning;
And the lamps are trimmed and the cup
Is full for his day of returning.
His watchers are fallen asleep,
They wait but his call to follow,
Ay, to the ends of the earth—
But Apollo, the god, Apollo?
Sick is the heart in my breast,
Mine eyes are blinded with weeping;
The god who never comes back,
The watch that forever is keeping.
Service of gods is hard;
Deep lies the snow on my pillow.
For him the laurel and song,
Weeping for me and the willow:
Empty my arms and cold
As the nest forgot of the swallow:
Birds will come back with the spring,—
But Apollo, the god, Apollo?

View Image of Page 27
Hope will come back with the spring,
Joy with the lark's returning;
Love must awake betimes,
When crocus buds are a-burning.
Hawthorns will follow the snow,
The robin his tryst be keeping;
Winds will blow in the May,
Waking the pulses a-sleeping.
Snowdrops will whiten the hills,
Violets hide in the hollow:
Pan will be drunken and rage—
But Apollo, the god, Apollo?
ON CYNDUS
The dream of all the world was at his feet:
Her eyes were heavy with the night of fate,
When, from the purple couch whereon she sate,
She rose, and took a jewel that was meet
For a queen's breast, where royal pulses beat—
A milk-white pearl, her milk-white bosom's mate,
Dropped in the golden chalice at his plate,
And to his lips held up the nectar sweet
And bade him drink the cup of destiny.
How shall he pledge again? by what emprise
A chalice find that holds a kingdom's fee?
Perchance in that charmed liquor he decries
A madman, raving while his galleys flee,
Who casts a world into the wine-dark sea.

View Image of Page 28
THE NAMESAKE
TO W.S.B., OF THE THIRTY-THIRD VIRGINIA
Vigesimum post annum in obscurum correpto lucem vigesimi
gaudens percipisse
Two by two and three by three
Missouri lies by Tennessee;
Row on row, and hundred deep,
Maryland and Georgia sleep;
Wistfully the poplars sigh
Where Virginia's thousands lie.
Somewhere there among the stones,
All alike, that mark their bones,
Lies a lad beneath the pine
Who once bore a name like mine,—
Flung his splendid life away
Long before I saw the day.
Often have they told me how
Hair like mine grew on his brow.
He was twenty to a day
When he got his jacket gray—
He was barely twenty-one
When they found him by his gun.
Tell me, Uncle by the pine,
Had you such a girl as mine,
When you put her arms away
Riding to the wars that day?

View Image of Page 29
Were her lips so cold, instead
You must need to kiss the lead?
Had the bugle, lilting gay,
Sweeter things than she to say?
Were there no gay fellows then,
You must seek these silent men?
Was your luck so bad at play
You must game your bones away?
Ah! you lad with hair like mine,
Sleeping by the Georgia pine,
I'd be quick to quit the sun
Just to help you hold your gun,
And I'd leave my girl to share
Your still bed of glory there.
Proud it is I am to know
In my veins there still must flow,
There to burn and bite alway,
That proud blood you threw away;
And I'll be winner at the game
Enough for two who bore the name.

View Image of Page 30
LAMENT FOR MARSYAS
Marsyas sleeps. Oh, never wait,
Maidens, by the city gate,
Till he come to plunder gold
Of the daffodils you hold,
Or your branches white with May;
He is whiter gone than they.
He will startle you no more
When along the river shore
Damsels beat the linen clean.
Nor when maidens play at ball
Will he catch it where it fall:
Though ye wait for him and call
He will answer not, I ween.
Happy Earth to hold him so,
Still and satisfied and low,
Giving him his will—ah more
Than a woman could before!
Still forever holding up
To his parted lips the cup
Which hath eased him, when to bless
All who loved where powerless.
Ah! for that too-lovely head,
Low among the laureled dead,
Many a rose earth oweth yet;
Many a yellow jonquil brim,
Many a hyacinth dewey-dim,
For the singing breath of him—
Sweeter than the violet.

View Image of Page 31
Marsyas sleeps: Ah! well-a-day,
He was wise who did not stay
Until hands unworthy bore
Prizes that were his before,
Him the god hath put for long
With the elder choir of song—
They who turned them from the sun
Ere their singing days were done,
Or the lips of praise were chill.
Whether summer come or go,
April bud or winter blow,
He will never heed or know
Underneath the daffodil.
WHITE BIRCH IN WYOMING
Stark as a Burne-Jones vision of despair,
Amid the painted glare of sand and sky,
She stands, so naked seeming to the air,
Where heat has drunk the living water dry.
The tender color of the verdant North,
The waterfall and streaming mists I know,
Where, from the winding valleys trooping forth,
Her Valkyr sisters hurry toward the snow.
Queen warrior women, silver mailed and white,
From mountain fastnesses which they command,
Bemoan her through the starry Northern night,
Brunhilda, girdled by the burning sand.

View Image of Page 32
I SOUGHT THE WOOD IN WINTER
I sought the wood in summer
When every twig was green;
The rudest boughs were tender
And buds were pink between.
Light-fingered aspens trembled
In fitful sun and shade,
And daffodils were golden
In every starry glade.
The brook sang like a robin—
My hand could check him where
The lissome maiden willows
Shook out their yellow hair.
"How frail a thing is Beauty,"
I said, "when every breath
She gives the vagrant summer
But swifter woos her death.
For this the star dust troubles,
For this have ages rolled;
To deck the wood for bridal
And slay her with the cold."
I sought the wood in winter
When every leaf was dead;
Behind the wind-whipped branches
The winter sun set red.
The coldest star was rising
To greet that bitter air,

View Image of Page 33
The oaks were writhen giants;
Nor bud nor bloom was there.
The birches, white and slender,
In deathless marble stood,
The brook, a white immortal,
Slept silent in the wood.
"How sure a thing is Beauty,"
I cried. "No bolt can slay,
No wave nor shock despoil her,
No ravishers dismay.
Her warriors are the angels
That cherish from afar,
Her warders people Heaven
And watch from every star.
The granite hills are slighter,
The sea more like to fail;
Behind the rose the planet,
The Law behind the veil."

View Image of Page 34
EVENING SONG
Dear love, what thing of all the things that be
Is ever worth one thought from you or me,
Save only Love,
Save only Love?
The days so short, the nights so quick to flee,
The world so wide, so deep and dark the sea,
So dark the sea;
So far the suns and every listless star,
Beyond their light—Ah! dear, who knows how far,
Who knows how far?
One thing of all dim things I know is true,
The heart within me knows, and tells it you,
And tells it you.
So blind is life, so long at last is sleep,
And none but Love to bid us laugh or weep,
And none but Love,
And none but Love.

View Image of Page 35
EURYDICE
A bitter doom they did upon her place:
She might not touch his hand nor see his face
The while he led her up from death and dreams
Into his world of bright Arcadian streams.
For all of him she yearned to touch and see,
Only the sweet ghost of his melody;
For all of him she yearned to have and hold,
Only the wraith of song, sweet, sweet and cold.
With only song to stop her ears by day
And hold above her frozen heart alway,
And strain within her arms and glad her sight,
With only song to feed her lips by night,
To lay within her bosom only song—
Sweetheart! The way from Hell's so long, so long!

View Image of Page 36
THE ENCORE
No garlands in the winter time,
No trumpets in the night!
The song ye praise was done lang syne,
And was its own delight.
O' God's name take the wreath away,
Since now the music's sped;
Ye never cry "Long live the king!"
Until the king is dead.
When I came piping through the land,
One morning in the spring,
With cockle burrs upon my coat,
'Twas then I was a king:
A mullein sceptre in my hand,
My order daisies three,
With song's first freshness on my lips—
And then ye pitied me!

View Image of Page 37
LONDON ROSES
"Rowses, Rowses! Penny a bunch!" they tell you—
Slattern girls in Trafalgar, eager to sell you.
Roses, roses, red in the Kensington sun,
Holland Road, High Street, Bayswater, see you and
smell you—
Roses of London town, red till the summer is done.
Roses, roses, locust and lilac, perfuming
West End, East End, wondrously budding and blooming
Out of the black earth, rubbed in a million hands,
Foot-trod, sweat-sour over and under, entombing
Highway of darkness, deep gutted with iron bands.
"Rowses, rowses! Penny a bunch!" they tell you,
Ruddy blooms of corruption, see you and smell you,
Born of stale earth, fallowed with squalor and tears—
North shire, south shire, none are like these, I tell you,
Roses of London perfumed with a thousand years.

View Image of Page 38
THE NIGHT EXPRESS
From out the mist-clad meadows, along the river shore,
The night express-train whistles with eye of fire before.
A trail of smoke behind her enclouds the rising moon
That gilds the sighing poplars and floods the wide lagoon.
Through yellow fields of harvest and waving fields of corn
The night express-train rumbles with whistle low and
lorn.
The silent village harkens the sound it knows so well,
And boys wait on the siding to hear the engine-bell,
While lads who used to loiter with wistful steps and slow,
Await to-night a comrade who comes, but will not go.
The train that brings to mothers the news of sons who
roam
Shoots red from out the marshes to bring a rover home.
With restless heart of boyhood we watched that head-
light when
The whistle seemed to call us to dare the world of men;
To leave the plow and herd-whip for lads with hearts of
clay,
And while our blood was leaping be up and fare away;
To find the great world somewhere, to wander wide and
see
If men of coast or mountain were better men than we.
We heard the hoarse throat whistle, we heard the engine-
bell,
We saw the red eye blazing, we knew the hot heart well.
But little could we reckon, gay-hearted boys at play,

View Image of Page 39
The horse that took us out to men would bring us home
one day;
That took us out at morning, with shining wheels ahum,
Would bring us home at evening, when we are glad to
come.
Ah! let my fight be fiercer, the little time before
They bring me still and weary along the river shore.
Then may the wheels turn swiftly behind the eye of fire,
And may the bell ring gaily that brings me my desire.
The boys I used to watch with will all be there to see,
When I come home to rest me in the ground that nurtured
me.
To earth I digged in boyhood, through fields I used to
keep,
The lads who wrought beside me shall bear me home to
sleep.
From out the mist clad marshes, along the river shore,
With trail of smoke behind me and eye of fire before;
And youths will watch with burning to seek the world of
men,
And thrill to hear the whistle that brings me home again.

View Image of Page 40
PRAIRIE DAWN
A crimson fire that vanquishes the stars;
A pungent odor from the dusty sage;
A sudden stirring of the huddled herds;
A breaking of the distant table-lands
Through purple mists ascending, and the flare
Of water ditches silver in the light;
A swift, bright lance hurled low across the world;
A sudden sickness for the hills of home.
AFTERMATH
Can'st thou conjure a vanished morn of spring,
Or bid the ashes of the sunset glow
Again to redness? Are we strong to wring
From trodden grapes the juice drunk long ago?
Can leafy longings stir in Autumn's blood,
Or can I wear a pearl dissolved in wine,
Or go a-Maying in a winter wood,
Or paint with youth thy wasted cheek, or mine?
What bloom, then, shall abide, since ours hath sped?
Thou art more lost to me than they who dwell
In Egypt's sepulchres, long ages fled;
And would I touch—Ah me! I might as well
Covet the gold of Helen's vanished head,
Or kiss back Cleopatra from the dead!

View Image of Page 41
THINE ADVOCATE
When this swarthy body, in revolt and pain,
Erreth against thy love's sweet majesty,
Doing thee wrong that is more wrong to me,
And from its dearest usage would refrain,
And soweth hate where our clasped hands have lain
And discord where accord was wont to be,—
Turning thy breath to bitterness in thee,
Which, doubly bitter, stingeth me again,—
My golden harper, sickened of the sun,
Wild-eyed and tearful through his wind-blown hair,
The psalmist of thy beauty, who is one
With it, then fleeth up his narrow stair
And weepeth for thee till the stars are come,
As David sometime mourned for Absolom.

View Image of Page 42
POPPIES ON LUDLOW CASTLE *
Through halls of vanished pleasure,
And hold of vanished power,
And crypt of faith forgotten,
I came to Ludlow tower.
A-top of arch and stairway,
Of crypt, and donjon cell,
Of council hall, and chamber,
Of wall, and ditch, and well,
High over grated turrets
Where clinging ivys run,
A thousand scarlet poppies
Enticed the rising sun.
Upon the topmost tower,
With death and damp below,—
Three hundred years of spoilage,—
The crimson poppies grow.
—This hall it was that bred him,
These hills that knew him brave,
The gentlest English singer
That fills an English grave.—

View Image of Page 43
How have they heart to blossom
So cruel gay and red,
When beauty so hath perished
And valor so hath sped?
When knights so fair are rotten,
And captains true asleep,
And singing lips are dust-stopped
Six English earth-feet deep?
When ages old remind me
How much hath gone for naught,
What wretched ghost remaineth
Of all that flesh hath wrought;
Of love and song and warring,
Of adventure and play,
Of art and comely building,
Of faith and form and fray,
I'll mind the flowers of pleasure,
Of short-lived youth and sleep,
That drank the sunny weather
A-top of Ludlow keep.

View Image of Page 44
SONNET
Alas, that June should come when thou didst go;
I think you passed each other on the way;
And seeing thee, the Summer loved thee so
That all her loveliness she gave away;
Her rare perfumes, in hawthorn boughs distilled,
Blushing, she in thy sweeter bosom left,
Thine arms with all her virgin roses filled,
Yet felt herself the richer for thy theft;
Beggared herself of morning for thine eyes,
Hung on the lips of every bird the tune,
Breathed on thy cheek her soft vermilion dyes,
And in thee set the singing heart of June.
And so, not only do I mourn thy flight,
But Summer comes despoiled of her delight.

View Image of Page 45
THOU ART THE PEARL
I read of knights who laid their armor down,
And left the tourney's prize for other hands,
And clad them in a pilgrim's somber gown,
To seek a holy cup in desert lands.
For them no more the torch of victory;
For them lone vigils and the starlight pale,
So they in dreams the Blessed Cup may see—
Thou art the Grail!
An Eastern king once smelled a rose in sleep,
And on the morrow laid his scepter down.
His heir his titles and his lands might keep,—
The rose was sweeter wearing than the crown.
Nor cared he that its life was but an hour,
A breath that from the crimson summer blows,
Who gladly paid a kingdom for a flower—
Thou art the Rose!
A merchant man, who knew the worth of things,
Beheld a pearl more priceless than a star;
And straight returning, all he hath he brings
And goes upon his way, Ah, richer far!
Laughter of merchants of the market place,
Nor taunting gibe nor scornful lips that curl,
Can ever cloud the rapture of his face—
Thou art the Pearl!

View Image of Page 46
FROM THE VALLEY
Toward the heights the pines climb row on row,
Processional guardians of the vestal snow,
Steel clad and somber, with their lances set
Against my heart, and like an old regret
For life unlived and love that could not be
Fall darkness, and the mountain's mystery.
Between the peaks, with line inviolate,
The arch of some vast wreck of Titan state
Yawns wide and cold, and empty galleries lie
Reverberating silence like a cry.
From ledges lifting skyward, tier on tier,
The elder gods, implacable, austere,
In their imperishable seats and high,
Behold the valley where our days go by
Like shining water, coming not again.
The solemn ministries of love and pain,
The runner fallen and the strong brought low,
And hands bound hard by sins of long ago.
But when the pines to twilight stars complain,
They drop the misty curtains of the rain,—
Whether from pity we can never know,
Or languor at the dullness of the show.

View Image of Page 47
I HAVE NO HOUSE FOR LOVE TO
SHELTER HIM
Since thou came'st not at morn, come not at even;
Let night close peaceful where it hath begun.
Affrighten not the restful stars from heaven
With futile after-glimpses of the sun.
My heart inclines me, but my lands are wasted,
My treasure spent, and evening closes dim;
Spring's fair demense the chilling frost hath tasted—
I have no house for Love to shelter him.
No raiment fair to clothe his limbs so tender;
No spicéd wines to cool his burning lip;
No garlands wherewithal to crown his splendor;
No lute to tune to songful fellowship.
No pillow for the twilights of his dreaming;
No roses on these brows, with winter grim,
Wherewith to strew his couch, as were beseeming—
I have no house for Love to shelter him.
Ride on, and tarry not, O kingly stranger!
This darkened chamber is a house of prayer;
A place of vigils, and to youth a danger—
'Twas fair at morning, but thou wert not there.
Who woos the sapless winter for his lover,
Or hangs his garlands at a cloister grim?
Oh! Bid me not my nakedness discover,—
I have no house for Love to shelter him!

View Image of Page 48
THE POOR MINSTREL
Does the darkness cradle thee
Than mine arms more tenderly?
Do the angels God hath put
There to guard thy lonely sleep—
One at head and one at foot—
Watch more fond and constant keep?
When the black-bird sings in May,
And the Spring is in the wood,
Would you never trudge the way
Over hilltops, if you could?
Was my harp so hard a load
Even on the sunny morns
When the pluméd huntsmen rode
To the music of their horns?
Hath the love that lit the stars,
Fills the sea and moulds the flowers,
Whose completeness nothing mars,
Made forgot what once was ours?
Christ hath perfect rest to give;
Stillness and perpetual peace;
You, who found it hard to live,
Sleep and sleep, without surcease.
Christ hath stars to light thy porch,
Silence after fevered song;—
I had but a minstrel's torch
And the way was wet and long.
Sleep. Nor more on winter nights,
Harping at some castle gate,

View Image of Page 49
Thou must see the revel lights
Stream upon our cold estate.
Bitter was the bread of song
While you tarried in my tent,
And the jeering of the throng
Hurt you, as it came and went.
When you slept upon my breast
Grief had wed me long ago:
Christ hath his perpetual rest
For thy weariness. But Oh!
When I sleep beside the road,
Thanking God thou liest not so,
Brother to the owl and toad,
Could'st thou, Dear, but let me know,
Does the darkness cradle thee
Than mine arms more tenderly?

View Image of Page 50
PARIS
Behind the arch of glory sets the day;
The river lies in curves of silver light,
The Fields Elysian glitter in a spray
Of golden dust; the gilded dome is bright,
The towers of Notre Dame cut clean and gray
The evening sky, and pale from left to right
A hundred bridges leap from either quay.
Pillared with pride, the city of delight
Sits like an empress by her silver Seine,
Heavy with jewels, all her splendid dower
Flashing upon her, won from shore and main
By shock of combat, sacked from town and tower.
Wherever men have builded hall or fane
Red war hath gleaned for her and men have slain
To deck her loveliness. I feel again
That joy which brings her art to faultless flower,
That passion of her kings, who, reign on reign,
Arrayed her star by star with pride and power.

View Image of Page 51
SONG
Troubador, when you were gay,
You wooed with rose and roundelay,
Singing harpstrings, sweet as May.
From beneath the crown of bay
Fell the wild, abundant hair.
Scent of cherry bloom and pear
With you from the south did fare,
Buds of myrtle for your wear.
Soft as summer stars thine eyes,
Planets pale in violet skies;
Summer wind that sings and dies
Was the music of thy sighs.
Troubador, one winter's night,
When the pasture lands were white
And the cruel stars were bright,
Fortune held thee in despite.
Then beneath my tower you bore
Rose nor rondel as of yore,
But a heavy grief and sore
Laid in silence at my door.
April yearneth, April goes;
Not for me her violet blows,
I have done for long with those.
At my breast thy sorrow grows,
Nearer to my heart, God knows,
Than ever roundelay or rose!

View Image of Page 52
L'ENVOI
Where are the loves that we had loved before
When once we are alone, and shut the door?
No matter whose the arms that held me fast,
The arms of Darkness hold me at the last.
No matter down what primrose path I tend,
I kiss the lips of Silence in the end.
No matter on what heart I found delight,
I come again unto the breast of Night.
No matter when or how love did befall,
'Tis Loneliness that loves me best of all,
And in the end she claims me, and I know
That she will stay, though all the rest may go.
No matter whose the eyes that I would keep
Near in the dark, 'tis in the eyes of Sleep
That I must look and look forever more,
When once I am alone, and shut the door.

View Page Image

View Page Image

View Page Image

View Page Image

View Page Image

View Page Image

View Page Image

View Page Image