Friends: Friends; A Comedy Drama in Four Acts by Edwin Milton Royle (1862-1942) opened in New York in May 1892. In the play, John Paden, Jr., and his friend, Adrian Karje, both love Marguerite Otto, a singer of noble birth, though she doesn't know it. Believing that Marguerite prefers Adrian, John sacrifices his own love to help his friend win her. The original Broadway cast starred Selena Fetter as Marguerite Otto; Royle himself took over the role of John Paden, jr. when the scheduled actor became ill. Other players included Lucius Henderson as Adrian Karje, Edmund D. Lyons as Marguerite's drunken father, Hans Otto, and Theodore Hamilton as John Paden's philistine father, John Paden, sr.
Damon and Pythias: In Greek legend, when Pythias was condemned to death by Dionysius I of Syracuse, his friend Damon offers his own life as security so Pythias can return to his home to settle his affairs. Pythias returns almost too late as Damon is preparing to pay the forfeit. However, Dionysius is so impressed with their loyalty to each other that he pardons Pythias. The story was written down in the first century AD by Valerius Maximus and has been retold many times since. Damon and Pythias, a Play in Five Acts by Irish novelist John Banim (1798-1842) was frequently revived in the nineteenth century.
David and Jonathan: I Samuel, chapters 18 -20, tells the story of David and Jonathan, son of King Saul. After the young David kills Goliath, he is brought before Saul; Samuel says "the soul of Jonathan was knit with the soul of David, and Jonathan loved him as his own soul" (18.1). Later Jonathan saves David from Saul's attempts to kill him, although it becomes clear that David will displace him as king of Israel. Jonathan is killed in the final battle in which Saul is slain. The story has been the subject of many books, operas, and paintings.
Mr. John Paden, Jr: John Paden, Jr., is the self-sacrificing hero of Royle's Friends; he helps his friend win the woman they both love. Royle played the part when the play opened in New York in May 1892. (His father, John Paden, senior, is a wealthy old Philistine.)
Mr. Adrian Karje: Adrian Karje is the other hero of Royle's Friends (1892); his friend, John Paden, selflessly helps him to win Marguerite, the woman they both love. The part was played by Lucius Henderson at the New York opening.
Mr. Edwin Milton Royle: Edwin Milton Royle (1862-1942) was a member of the class of 1883 at Princeton, and briefly studied law before going into theater. He was a versatile playwright who wrote more than thirty emotional and romantic dramas, comedies, and musical comedies, as well as novels, poems, and song lyrics. He is best known for his play The Squaw Man (1906) which was revived many times, novelized, and made into a movie three times. He was also an actor who starred in some of his own plays, including, for a time, Friends.
Royle married actress Selena Fetter, who appeared in some of his plays; their daughter was actress Selena Fetter Royle.
Image available at the University of Washington Libraries Digital Libraries
The Holdens: The Holden Comedy Company was owned and managed by brothers Charley (1859-1925) and Harry (1867-1944) Holden, sons of William W. Holden. They were based in Rochester, Indiana, resting there during the summer and setting out to tour the central U.S. in the fall and winter. By 1900, they sent out two companies, managed by each of the brothers; by 1905 they had five companies. However, Charley went into movie theater management about that time, and Harry went into the movies, appearing in smaller and smaller roles in dozens of films between 1916 and 1938; he had a bit part as a guard in Capra's Mr. Deeds Goes to Town (1936).Other members of the company included Charley's wife, Maude McCain (1865-1946), and his sister and her husband, Ona and Ralph Ravenscroft. Silent film actress Clara Kimball Young was born in 1890 when her parents, Edward and Pauline Garratt Kimball, were actors with the Holden company. Marion Gibney, vaudeville actress in the 1920s, was once with the Holden company, and her father was their leading man for several years. A film actor named John Preston was also once part of the troupe.
Lansing Theatre: The Lansing Theater, on the southwest corner of 13th and P Streets, was built in 1891, displacing the Funke Opera House as the largest and finest theater in Lincoln. The owners were J.F. Lansing (b. 1842), a Lincoln real estate man, and his brother-in-law Henry Oliver (b. 1857); Edward A. Church was the manager. According to the program of the opening week (November 23-28, 1891) the auditorium consisted of the orchestra and parquet seating on the main level, with dress circle at the rear and sides; three tiers of five boxes each and six loges were at the sides. Above were the balcony and the gallery. With standing room, about 2500 people could be present.
The building also housed offices, including that of Cather's friend and fellow reviewer, Dr. Julius H. Tyndale. It was renamed the Oliver Theater in 1898.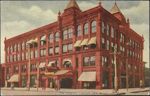 Dickens: Charles Dickens (1812-1870), one of the greatest and most popular Victorian novelist, first attracted attention in 1833-36 with his sketches and essays under the name of "Boz." The Pickwick Papers, published in monthly installments from beginning in 1836, cemented his popularity. He continued to serialize his works in monthly installments with Oliver Twist (1837-39) and Nicholas Nickleby (1838-39). He published The Old Curiosity Shop (1840-41) and Barnaby Rudge (1841) in weekly installments. Many of his novels attack institutions of Victorian society, combine humor with pathos, and feature complex plots and a wide range of characters. David Copperfield (1849-50) is considered the most autobiographical of his novels. Other important works include Dombey and Son (1847-48), A Tale of Two Cities (1859), Bleak House (1852-53), Great Expectations (1860-61), and Our Mutual Friend (1864-65).From 1858, Dickens gave immensely popular public readings from his works, combining his literary endeavors with his love of theater and acting. Many of Dickens' novels and stories were made into plays, the most lasting of which has been A Christmas Carol (1844).
David Copperfield: Charles Dickens' autobiographical novel, David Copperfield (serialized 1849-50), tells of the struggles of a young boy. After the death of his mother, he escapes from his villainous stepfather, Edward Murdstone. After the death of his child-wife, Dora, David realizes his love for Agnes Wickfield and finds happiness and success as a writer. The novel contains some of Dickens' most notable characters, including the humorous Barkis, Mr. Dick, and Mr. Micawber, the pathetic Little Emily, and the villainous Steerforth and Uriah Heep.
Henry Jackson: Various searches have turned up no results for Henry Jackson. He was likely one of the many playrights who produced plays for regional touring companies.