Passionate tones of the great actress: possibly a reference to Clara Morris in Camille, which Cather had recently seen (see review of 23 November 1893).
de trop: French, unnecessary or in the way.
Mrs. Fitz Smith . . . Mrs. FitzPatrick: Probably fictional names (the Lincoln city directories for the early 1890s do not list these names) and characters. The patronymic "Fitz" (son of) may have been meant to suggest more aristocratic Irish characters than the more stereotypical Irish names that begin with the "O'" prefix.
Mahoon: The name signals Cather's use of the stereotype of the poetical drunken Irishman.
Independent . . . rankest anarchy: The domination of the two major parties was challenged in the 1880s and early 1890s by the rise of other parties, the strongest and best known of which was the Populist Party. The established parties saw all of these as threats to the social order, and blamed much social unrest on anarchists—broadly defined as almost all the challenging parties.
capitalists and monopolists: A concentration of wealth in the hands of bankers and the consolidation of businesses such as railroads to twine manufacturers took place in the last third of the 19th century. Farmers and laborers felt powerless: they saw bankers controlling the money supply and railroads and manufacturers raising the prices they had to pay for goods and services while it seemed that the prices and wages they were paid were forced down.
Shelley: Percy Bysshe Shelley (1792-1822), English Romantic poet, showed his disposition to rebel against established customs and beliefs while still young: he was expelled from Oxford for writing a pamphlet, "The Necessity of Atheism." In 1813 Shelley brought out his first volume of poetry, Queen Mab. The following year he fell in love with Mary Wollstonecraft Godwin and eloped with her (accompanied by her stepsister, Claire Clairmont). Much of the remainder of Shelley's short life was spent abroad, especially in Italy, sometimes in the company of Byron. Promethus Unbound (1819) shows Shelley's revolutionary, idealistic, and visionary spirit. He died while sailing in a sudden storm; when his body was recovered, it was burned on the beach in an ancient Greek tradition.
Masque of Anarchy: Percy Bysshe Shelley wrote "The Mask of Anarchy: Written on the Occasion of the Massacre at Manchester" in 1819 as a response to the Peterloo Massacre in August of the same year. The poem consists of 91 stanzas, concluding as follows: Rise like Lions after slumberIn unvanquishable number —Shake your chains to earth like dewWhich in sleep had fallen on you —Ye are many—they are few. (366-71)
Charley Cherring: Most likely a fictional name (the Lincoln city directories contain no one of that name) and character.
Two of his friends sat watching and mourning: The ironies of this vignette anticipate some of those of Cather's early story, "The Sculptor's Funeral" (1905).
Zola's last novel: Émile Zola (1840-1902) was a prolific novelist and proponent of the naturalist school. His novels were criticized for their supposedly sordid subject matter, but he was an important influence on many serious novelists in Europe and America. The novel referred to here is probably La Bête Humaine—see below.
colorless fluid: This may be formalin, a colorless solution of forty percent formaldehyde in water or methyl alcohol, which began to be used in the early 1890s as a deodorant (despite its own pungent odor) and preservative, even as an embalming agent.
Violet water: Violet water is made by steeping leaves and flowers in water until it becomes fragrant. Medicinally, violet water has been used to treat gout, spleen disorders, fever, headache, and inflammation. The plant contains the aspirin-like substance, methyl salicylate, as well as antiseptic properties that make it ideal for use in a face tonics targeted at relieving symptoms of various skin eruptions and sores.
watch charm: an ornament attached to the chain or ribbon (the fob) of a pocket watch.
Great actress . . . wicked French play: possibly a reference to Clara Morris and Camille.
Bernhardt play the same play: Camille was one of Bernhardt's great roles.
Sarah Bernhardt: Sarah Bernhardt (1844-1923), generally acknowledged as the greatest actress of her time, was born Rosine Bernard. She made her debut at the Comédie Française in 1862. By the mid 1870s her position was secure; though critics were divided as to her beauty, they agreed on the power of her golden voice, her realism, and her magnetic personality, which she cultivated off-stage as well. She owned her own theater in Paris and toured throughout the world in the 1880s and 1890s; Cather saw her in Omaha in 1892. Bernhardt played most of the great roles of the 19th century theater, and American and English emotional actresses such as Morris and Fanny Davenport frequently followed her lead, since a role Bernhardt made popular had a good chance of success elsewhere. University of Pennsylvania Library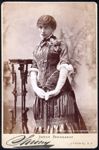 Sarah Bernhardt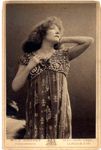 Sarah Bernhardt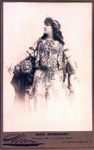 Sarah Bernhardt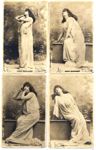 Sarah Bernhardt
Camille: The English play Camille is based on the play La Dame aux camélias (1852), based on the novel (1848) by Alexandre Dumas the younger (1824-1895). In the play, Armand Duval, a poor young man of a good family, falls in love with a famous courtesan, Camille (named Marguerite Gautier in the original). Skeptical of his love at first, she comes to return it and the two retire to an idyllic life in the country. However, Armand's father comes to her and begs her to set Armand free for the sake of his reputation and for the marriage chances of Armand's young sister. Camille pretends to be tired of Armand and returns to Paris and her old life. She is, however, dying of tuberculosis, and the two are reunited before her death. The role of Camille was also a favorite of Sarah Bernhardt and many other tragic actresses.
Verdi's opera La Traviata (1853) is based on the story of Camille, and the play has been made into films as well, notably one starring Greta Garbo (1936).
James O'Neill: James O'Neill (1849-1920 was born in Ireland and came to the U.S. as a child. He first appeared on the stage in Cincinnati in 1867, and soon was playing in stock companies in Chicago, New York, and San Francisco. In 1882 he played Dantès in a stage version of The Count of Monte Cristo to immense popular success. Although he was also successful in Shakespearean and other historical roles, his public wanted to see him as Monte Cristo, and he played the role over 6,000 times over thirty years. Cather remembered him as one of the best Monte Cristos she had seen ("Willa Cather Mourns Old Opera House"). O'Neill was the father of playwright Eugene O'Neill, who portrayed his father as James Tyrone in A Long Day's Journey Into Night.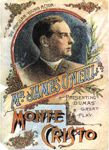 James O'Neill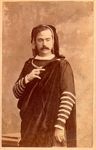 James O'Neill as Hamlet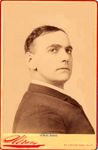 James O'Neill
Mr. Russell: Sol Smith Russell (1848-1902), an actor, singer, and drummer, arrived in New York in 1871, where he joined Daly's Company. He became well known for his comedic performances and for his comedy, A Poor Relation, and he toured widely throughout the United States during his career of nearly 40 years. He became paralyzed in 1900 and died two years later.
Image available at the New York Public Library Digital Gallery and also at Northeastern Illinois University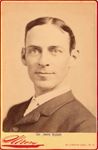 Mr. Keene: Thomas Wallace Keene (1840-1898), a New York-born actor whose real name was Thomas R. Eagleton, made several cross-country tours of America with his own company between 1880 and his death in 1898. He generally appeared in Shakespearean companies, and was known as a tragedian.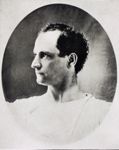 Thomas W. Keene
Robert Downing: Robert Downing (1857-1944) appeared in minor roles Mary Anderson's company in New York by 1880; by 1882 he was playing leading roles with her, such as Claude in Lady of Lyons. When Anderson left for London, Downing played with Joseph Jefferson's company between 1883 and 1888. Odell first notes his appearance in New York as Spartacus in The Gladiator in 1886 (Annals of the New York Stage, XIII: 230), and return engagements thereafter, saying that Downing was "trying to be a Forrest" (XIII: 459). He was best known for his physique as displayed in the lead role of such plays as The Gladiator. Downing's basic repertoire in the early 1890s consisted of The Gladiator, Virginius, Ingomar, Damon and Pythias, Julius Caesar, and Richard the Lion-Hearted.
Image available at the New York Public Library Digital Gallery.
neck: I.e., the chest in a man or the upper bosom in a woman that is revealed by a low cut garment.
Twelve years ago: Robert Downing became a leading man in Mary Anderson's company by 1882, about twelve years before Cather writes this in late 1893.