Page Image
Nebraska State Journal
February 25, 1894
page 9
WITH PLAYS AND PLAYERS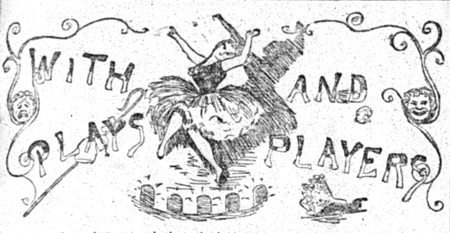 It was, perhaps, but natural that the scenes from the Greek and Latin plays interested only a small public, and interested them but little. Detailed scenes, even from Shakespeare, are usually pretty dull affairs, and detailed scenes in a foreign language are, to the ordinary mortal, still duller. It is true that great actors can overcome the obstacle of speaking in a foreign tongue—that we can feel the fire and pathos of Bernhardt's French, or the majesty of Salvini's Italian. But, in spite of the very good work that the students did, they were very far from actors of this surpassing type, and could not quite reach us through the unfamiliar medium of the dead languages.
One thing that the scenes from the Greek plays did bring out was the immense distance, not only of time, but of nature, of emotional habit, that divides us from the Greeks. The Latin comedy was a little nearer to us. Comedy is universal and eternal. But in tragedy ideals have changed. We cannot appreciate the Hellenic love for calm, for dignity, for sorrow that is majestically self-contained. We want people to weep, to sob, to throw their arms about, and to faint gracefully backwards. It is true, people in real life go through very considerable griefs without doing these things, but we are determined that, whatever real people may persist in doing, our actors shall be sorrowful or despairing according to our own traditional expectations.
But then, too, in real life we are a little more emotional, some of us, than those old peoples, who set up for their ideal a calm, contemplative self development to an absolute human perfection. "In nothing go too far," that was their motto. They went through the world—the philosophers among them—grandly self-restrained, every passion in vain, every ardency subdued. But that is not the way with us, at least not with most of us. We like enthusiasm, and like it most where the Greek liked it least, in our religion—and in our theatres. We have prayer meetings, we have the Salvation army and we have the "emotional actress." And all these are very well, but they set us infinitely far from the old majesty of the classic drama—as far as the modern waltz is from the minuet that our stately great-grandfathers danced.
So Greek tragedy does not move us much, especially when presented in disconnected scenes by people we know in a place we know. To a few of us, to those that have imagination it may speak more. Some may forget the cushioned seats of the Lansing, and the horrible figures on the curtain, and see in fancy the white curving seats of the Greek theatre, the marble stage beyond with blue sky blazing above it—and there, in such majestic setting of open nature, our heated drama would be out of place as the antique is behind our glaring footlights.
As it was, the antique was exhibited only as a curiosity like the whale that is carried about in a freight car, and it was just as much out of element. It is not our day or generation. Whether for better or for worse the world has changed, and changed irrevocably.
Lillian Lewis has grown weary of dragging herself across the stage on her knees and of falling down stairs and deftly lighting her cigarette by striking a match on her pink satin shoe. Probably it is as as much physical weariness as anything else, for she has diligently kneed her way across most stages in the country and has fallen down stairs steadily for years. She has decided to drop "As in a Looking Glass" and "Article 47" and will next year stage a magnificent spectacular production of "Cymbeline," in which she will play Imogen . She intends to vary the monotony of the play and will introduce repeating rifle specialties in the cave scene. When one knows Lillian, hdr nose and her emotion, one hopes that they dug Shakespeare's grave very deep. If it were only some other Shakespearean play, but Imogen is familiar to so few people and has been played by so few actresses, that she is rather uncontaminated as yet, and seems almost like a dream which is so much Shakespeare's own that it hardly belongs to the world yet. She is so cold and sad and remote from all the raving, ranting women of France whom Lillian loves that it seems a pity. Lillian thinks she will be Shakesperean , but she won't, habit is too strong. She will probably faint and fall down stairs when she parts with the hero, and she will surely introduce her celebrated knee act somewhere. I hope I shall never see Lillian play it, I can stand most things but I would rather not be called upon to test my powers of endurance in that way.
Apropos of managers, Mrs. Jennie Kimball , has a genius in that line. She has taken the "Charming Corinne," who cannot do any one of the many things which are necessary in an actress and by sheer force of bills and advertising and sublime cheek has made her famous. Corinne is certainly fortunate in her "heavy mother." When Mrs. Jennie Kimball can do so much with such a sad stick as Sweetie, what couldn't she do if she had an actress of ordinary beauty or ability to manage!
It is with great joy that we learn that Julia Marlowe is going to play one of Sheridan Knowles' comedies instead of one of the immortal Shakespeare's. It is the greatest compliment that has been paid Lincoln intelligence for some time. Heretofore a great actor has seldom dared play anything but Shakespeare in Lincoln for the sake of his pocketbook. In all western provincial towns there is an idea that an actor can't be worth the price of admission when he plays either blood curdling melo-drama or Shakespeare. The same class of people whose favorite authors are Louisa M. Alcott and Browning go to the theatre only to see "Hamlet" or "In Old Kentucky." Of course the provincial audience complimented Shakespeare but the same people who applaud when Juliet takes the potion, fairly stand on their heads with delight when the spirited Queen Bess , whose last engagement was with a street car company, limps meekly out of the great conflagration scene. The great uneducated public have a sort of idea that Mr. Shakespeare was a great playwright, and as he is the only playwright they know anything about they admire him very much. Now the fact is there have been several other playwrights, and it is time Lincoln found it out. It is rather promising if an actress dares to appear here in any other role than Rosalind or Viola .
It is not enough that Ibsen's plays have been thrilling and chilling us for so long, the professional people are threatening to run in a Russian social ethics drama upon us, written in the most blood-curdling style of the most blood-curdling Russian. The play, "The Thunderstorm" was written by Ostrovosky . Katherine, the heroine, is a girl of a sensative and enthusiastic temperament, and is tyrannized over by her mother-in-law, who even forbids her to kiss her husband. Finding no sympathy in her own home Katherine seeks it outside. In her husband's absence she yields to her lover, Boris. During a terrible thunderstorm she confesses to her husband, whose only care is as to what his mother will say. When she tells Boris that they are discovered, he also trembles at the thought of the mother-in-law. Finally Katherine drowns herself in the river. We have stood the awfulness of French realism very patiently, but we must draw a line at the Russian. French anguish isn't so bad after all, its such a self-satisfied intentional, stagey kind of anguish, while the anguish of the northern people is such a dumb, brutal, helpless sort of suffering. When the French lover commits suicide he does it artistically and dramatically with a fan in his pocket, a neat epigram on his lips and a rose in his button-hole. The northern man does it in an awful disgusting manner like Ibsen's Loveborg . When Frenchmen go insane it is always a beautiful, fanciful insanity like that of Guy de Maupassant , who in his madness thought his fancies were big red and white butterflies and spent his time catching them. When a man of the north goes mad it is the madman of Brand . It doesn't pain one to see the French heroes die, because they either die to the flourish of trumpets or smothered with kisses, while Ibsen's heroes crawl off and die disgustingly like beasts. Ibsen has already sent a shiver over the bare shoulders of the theatrical world. When Mr. Ostrovosky's plays are staged we will have to go to see them muffled in furs like Greenlanders.
It has been announced that Madame Modjeska will retire from the stage next year and return to Poland. The announcement has sant a feeling of apprehension over the American public. All the others have retired so many times, and we have so often wept at their farewell performances and paid outrageous prices to see them the last time, and we are aware that our own sons and daughters will do just the same over those same actresses. Ordinarily a rumored retirement does not excite us much. But this is Modjeska's first treat, and we are almost afraid of it. In the matters of retirement and marriages the great Pole has always been singularly unlike other actresses. It is to be hoped that this is only one of the many lies of a world of lies, for we can ill afford to lose either that sweet womanly woman or that great and delicate artist who has done more to raise the standard of the American stage and the taste of the American people than any other actress who ever lived.
Whoever else may retire, Sara we have always with us. She is like the sphinx to which she has so often been likened, and time has no effect upon her. In two years she will be with us again, and she will be with us a year. She has concieved a philanthropic scheme which is rather foolish at her time of life, and has decided that it is her duty to give all the world a glimpse of her ethereal self. She will play in all the smaller cities of America and will, of course, include Lincoln in her dates. It only remains for us to pray that our lives may be spared for two years, for there is no danger of anything happening to Sara.
Stage Notes.
Mr. Frohman has revived "Wilkinson's Widows."
James O'Neill is writing a new play in blank verse.
Madeline Merli will close her season May 12, and will have covered over 16,000 miles.
"A Fashionable Girl" is the latest drama presented by Frohman's Lyceum Theatre company .
Rose Coghlan has engaged Clarence Flemming , Rosina Voke's manager, for the rest of the season.
Florence Gerald has been engaged by Hilliard and Arthur for their production of "The Sleep Walker."
A dramatized version of Palmer Cox's "Brownies" will be staged under the management of Ben Teal .
E. R. Salter , the manager of "Ole Oleson" says he has a new Swede dialect play called "The Scandanavian" for next season.
Mrs. James Brown Potter and Mr. Bellew are playing "Fedora" to the good Brahmins over in India with great success. They will not return to America before next autumn.
Liltian Lewis is doing well in the line of un-birthday presents. She has a new shotgun, a new play, and a new husband. Miss Lewis now ranks as the second best lady shot in America.
Gordon Craig , the son of Ellen Terry, whose marriage a few weeks prior to the departure of the Irving-Terry combination for this country prevented him from accompanying them, has been engaged by Augustin Daly to appear in his London theatre.
Odette Tyler had the misfortune to break her right arm in falling, during the third act of "Poor Girls," at the American theatre, New York, a short time ago. She finished the performance, though in great pain, and continued to play her part while carrying her injured limb in a plaster cast. Such heroism is very much more than a play like "Poor Girls" deserves.
In the universal contest to write wicked plays, several plays have been written of which satan himself was the hero, but they have been more or less failures. It has very naturally been reserved for the great French people to produce the wickedest play in the world, and to do it they have had to put a new character in Hades. The name of the play is "Madam Satan" and deals with his majesty's wife.
"Prince Kam" has had a great run in New York. The plot is certainly light enough to please the light opera lovers. Prince becomes worn out with ennui, which is characteristic of eastern princes in books. He can't find charms enough in the world and has his court electrician make a flying machine and starts for Mars in search of the original Venus. This light opera Tannhauser arrives at Venusberg and with many spangled variations he finds and weds the goddess.
Steele Mackaye has been sent to California on the Mackaye fund raised by Wilson Barrett's benefit performance at Hooley's. Hermann, the magician, paid Mackaye's bills out of his own pocket. Little is known of Mr. Mackaye's present condition, but it is feared that he will not live long. Mr. Mackaye is an actor of note and also a playwright. "Hazel Kirke" is one of his best known dramas. His career has been a sad and stormy one, but certainly his brothers of the profession are doing everything in their power to make him at present free from care and suffering.
Wilson Barrett's Othello is a greater failure than his Hamlet . His Hamlet got on very well, as it had no glaring faults, but Othello cannot be negatively good. He makes his Othello a quiet, melancholy, well behaved gentleman from Morocco, with a somewhat tanned complexion. He does not seem to comprehend the race study there is in the Moor. Every other play may be enacted on the repressed feelings plan, but "Othello" is a play of great emotion and must be acted with a certain degree of violence. Mr. Barrett kills Desdemona as quietly and artistically as a jealous Italian would have done.
Manager John T. Ford of Baltimore is arranging a series of grand Shakespearean revivals to be given in his theatre during the week of April 23 in celebration of the 330th anniversary of the birth of Shakespeare . He has arranged with Creston Clark , a son of John Sleeper Clarke and nephew of the late Edwin Booth , to play the leading parts of the tragedies to be performed, and a select company of artists of acknowledged ability will furnish the support. A notable feature will be the debut of Miss Martha Ford , a daughter of the manager, who has been diligently studying for three years to fit herself for the impersonation of Shakespearean characters, and who is said to give much promise of a brilliant stage career. She is to play the leading feminine parts in the works to be presented.
"The Amazons" has been produced at the Lyceum theatre, New York, with great success. "The Amazons" has already had a great run in London and seems likely to have just as great a success in this country. The play is novel in theme and treatment. An English lord and his wife are very anxious to have a son, but instead have three daughters. At the birth of the third daughter my lord is disgusted and says wearily to his wife, "Damn it, my dear, here you have lost another hunting season for nothing." They decide to make the best of a bad thing, and they have their three daughters educated and dressed as boys. Of course in due time the three charming Amazons meet gentlemen whom they think make better men than they and they are very glad to become women.
The success of Mr. John Drew in Carleton's "Butterflies" seems to be due rather to the delightful personality of of the actor rather than any particular merit in the drama. The plot is very commonplace and conventional, but those who have seen it played affirm the play well written and has plenty of breezy action in it. The plot runs about as follows: Frederick Ossian, an extravagant young blood, has wasted his own substance and that of his mother, when he saves a young lady from drowning and falls in love with her. The young lady is "in society" and has a scheming mamma who objects to Freddie, as any prudent mamma would have good grounds for doing, and arranges a marriage between her daughter and another man. Frederick takes to business and of course succeeds tremendously, is taken back into the fold and finally overcomes the prejudices of the heavy mother.
---
Notes
---
RETURN TO TOP