Page Image
Nebraska State Journal
March 11, 1894
page 13
With Plays and Players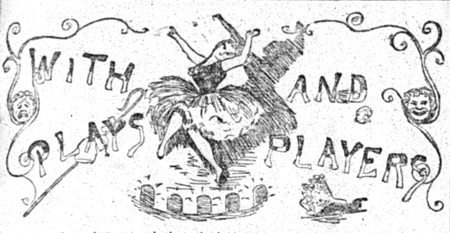 The Chicago papers are raving over Modjeska in "Mary Stuart." "Regal, queenly, womanly," are a few of the glowing adjectives applied to her. Of course, no adjective can be too strong for Modjeska, but one wonders how she really plays the role, whether she is the grand, stately, regal queen of Schiller or the vain, impulsive, sentimental queen of history. Of course, Schiller idealized Mary Stuart , the Germans have such an awful habit of idealizing their women. Schiller has almost made the world forget that Mary was Gallic by choice and education, that she wept all day on leaving France, that it was France that was supposed to be graven on her heart. In prison it was not Scotland but France she sighed for. The hatred between Mary and Elizabeth was no mere personal hatred, it was the incompatibility of two races. The trouble with Mary was that she tried to establish a Tuilleries in solemn, bag-pipe, Presbyterian Scotland. She is always played and written of as though she were a sort of national saint, whereas in truth there were Italian tenors and supper episodes and diverse marriages, just as there are nowadays.
All year we have been opposed by a vague, indescribable dread. Every time we have seen the bill posters putting up posters we have shuddered lest we should see her name, or, more still, her picture. It has been a hard year, theatrically and otherwise, and we have had most of the seven plagues of Egypt poured upon us, but we have hoped the Lord would spare us Maggie , and it almost seems that he is going to. We have seen her pictures yearly ever since we were little, and we have grown unspeakably weary of them and of her. Fifty years ago, when Maggie was young she had nothing but a laugh with mirth in it and a face with a moderate allowance of beauty. But how any actress can be so behind as to imagine that she is beautiful after she is seventy remains unexplained. If she played parts like Mrs. Drew , her age would be gladly pardoned and forgotten. But to see a woman of seventy, old and shrunken and "wrinkled deep in time," painted and padded and schottishing about the stage is more than most of us can stand with comfort. The year is so far advanced now, that we almost begin to breathe freely. Perhaps she may not come after all. Yet such good fortune must portend something very dark. If she really spares us this this time, we had better have overskirts and big sleeves put on our ascension robes, we will need them this year.
The Warde - James combinations are a good literal example of the Elijah's garment story. Mr. Warde has no talent at all; Mr. James has very little. We can all remember the burly negro they made of Othello here last year, and we all remember their Desdemona , ah! would that we could forget! Neither Mr. Warde nor Mr. James is popular; they are not intelligent enough to please the downstairs portion of their audiences and they do not make noise enough to please the gallery. They are drawing houses on just two lines of their play bills, the lines which announce that they have purchased the scenery and costumes of the former Booth - Barrett combination. People go to see them to see them wear Booth's clothes, that is the long and the short of it. They stagger about in Saul's armor and try pitifully to imitate Saul. One would think they would feel a bit queer sometimes when they draw the garments of the mighty dead over their pigmy limbs. I would like to see Booth's clothes again myself, but I don't want to see them on Mr. James.
Company managers are raving over the hard times in Texas. They claim that they never dream of drawing a house, and they are very lucky if they can get one square meal in the state. A manager recently said that theatrical matters were even duller than here. It is hard to see just how that can be, unless in Texas even the deadheads won't go to see the theatre from principles of shoe leather.
The dramatic papers and newspapers and papers generally are concerning themselves wonderfully over Booth's successor. There is even a good deal of feeling as to whether he will be Mr. Whitesides or Mr. Willard . The public seem to think they have only to name Booth's successor to cause him to appear, that if they only give an actor permission he will straightway go and be Booth. Now the truth is the public needn't trouble themselves for it won't do any good. If, after Shakespeare's death, the learned English doctors had got together and elected another Shakespeare, much use it would have been. We can elect Benjimen Harrison's and Grover Cleveland's any day, but Booth's and Shakespeare's have to be balloted on in heaven. We will just have to patiently wait until God and nature are pleased to give us another Booth, and it may be a long old wait, for we can't hurry the tide of destiny.
"The Lady of Venice" is by no means a financial success, indeed it is very otherwise. The play has thrilling situations. The actors are good, the scenery and costumes are beautiful. The play is highly romantic and in blank verse. The trouble is that the world doesn't want romance on the stage now. It is tired of armor and helmets, it likes dress suits and silk hats better. Of course from a senseof duty we still go to see Shakespeare and "Virginius" and a few time honored plays of a romantic and historical nature, but we go because our fathers went and because it is traditional. We have put this historical play and the historical novel on the shelf, they have seen their day. The public demands realism and they will have it. They want plays with modern wit and modern sympathies and modern emotions.
The best troupe booked for the Lansing for some weeks to come is the Craigen - Paulding company in "Romeo and Juliet" and "A Duel of Hearts." No romantic actors this season have done such good work here as the company did some weeks ago. "Romeo and Juliet" promises to be especially good, as Mr. Paulding has played "Romeo" to Margeret Mather's "Juliet" for years and is undoubtedly one of the best Romeos in America. What Miss Craigen will be as Juliet we do not yet know, but the expectency with which we wait is eager and not at all doubtful.
The plot of "An Old Jew," the play by Mr. Grundy which has been doing such good business in London, is as follows: Twenty years before the play begins the "old Jew" has discovered that his wife has deceived him. He makes ample provision for his wife and two children and leaves England. When he returns twenty years after he finds his wife in poverty because of the faithlessness of his agent, his daughter an actress, his son a starving playwright in an appropriate attic. The Jew has all the economical semitic instinct, and has amassed untold millions. He makes the acquaintance of his family and sets about distinguishing himself in the role of benefactor. He gets a mortgage on a big theatre and compels the manager to play his son's play. There is a whole club of men who have sworn to stand in his son's way; he buys the club. He buys up everything and everybody, but in strange contradiction to the well known instincts of his race he has no desire to sell them again. He buys up and pensions the man who seduced his wife twenty years ago, reveals his identity to his family and forgives his wife. The play is one of those plays that attract attention by its unpopularity. The general complaint seems to be that there is not sufficient provocation for anything that happens. There is nothing particularly noble in the old Jew coming back and going into the wholesale purchasing business as though he were buying a stock of fall goods. Mr. Hare's fine acting is wanted in the part. Mrs. Wright has a part so insufficient that it doesn't even give her a chance to show herself, and Miss Conti , the gifted young actress, has to play the engaging role of a waiting maid.
There has been another case of Keats in England. The critics said that Mr. Henry Pettitt could not write plays, and Mr. Pettitt foolishly went off and died. People should not take critics too seriously, they should remember that because of the necessity of eating critics have to say something and that they can't always say the same thing. But, to speak seriously, the English stage has lost in Mr. Pettitt a promising playwright. He was not a man of this generation, and he was not at all a realist. He was intoxicated by the rich and lavish color of the orient and could not work in half tones. His work lacked the ingenuity of more modern plays, but it had in it a great strength and vividness and awful sincerity that the plays of today lack altogether. The English critics are so horribly merciless and stony, and they have such an injudicious way of turning their thumbs down on everything that is youthful and hopeful. It is all right to be satisfied with only the best work, but there is no use in eternally damning genius because it is unnatural and good work because it has flaws. The British public is never really enthusiastic, it never has been, there never was a spark of enthusiasm in their old mud bank except what the Normans brought over when the gallant William landed, and the climate was too foggy for that to live very long and it died centuries ago. The English people have never been excited since they began, probably that is why they have kept going so long. The French are so constantly wrought up that they wear themselves out every generation or two and go all to pieces and have to make a new government, but the English have expended so little vital force that they will live on centuries after they are dead inside, like the Chinese. When there is really a great genius in England, the people are never enthusiastic, they remain perfectly deaf and stolid until years after he is dead and then it is too late for any emotion except respectful reverence. They are very economical of their praise, but it wasn't poetic economy to kill Keats, it wasn't dramatic economy to kill Pettitt. It is strange how much finer work the critics condemn than they ever do.
Isabel Irving has decided to return to her own country. She has been with Mr. Daly's company now six years and made a great hit before the English public. The last London Theatre says of her: "Winsome is the epithet which Miss Irving invariably deserves and almost invariably earns. Winsome in manner and winsome in beauty, Miss Irving possesses also a winsome personality which peeps through and often transforms the character she is playing. Her Audrey is a notable instance of this. That uncouth wench, faultlessly witless, brilliantly dull, was by this radiant winsomeness for the first time invested with such femininity as to become a possible mate for Touchstone and no mere turnip-munching, cherry-cheeked clod." Miss Irving sails for America on March 10.
The plots of melodramas are becoming as rigidly conventional as the art of the Egyptians, and woe to the playwright who departs therefrom. Mr. Cyrial Norman , in his new play, "Blue Grass," did not depart. The plot is as old as melodrama itself. John Brand and his wife are separated by Mrs. Raylove , an adventuress whom John has loved in his salad days. She sends John's old letters to Mrs. John at the instigation of her love, Colonel Decatur , whom she in time discovers is in love with Mrs. John. She so enrages Berthelot that he kills her and shifts the crime on John Brand's shoulders. In the end Brand is cleared and lives happily forever after. Prison scenes, lynching scenes, etc., form pleasant interludes.
The Kansas populists are having a play written to expose the infamous corruption of the republican party. Several scenes will be devoted to last year's legislative warfare. The pops expect to stage the play next year and send a company out to do missionary work. Undoubtedly they will assign the role of leading lady to her masonic majesty, Mary Lease , and let her represent their ideal of womanly virtue and sweetness. For the leading man, they cannot do better than send over the line and borrow General Van Wyck to play the embodiment of manhood and honor. The only trouble with such a company would be that the theatre would scarcely be holy enough for them, and they would probably have to play in the churches.
With Plays and Players.
McKee Rankin's new play is called "The Baxters."
Frank Daniels will appear in comic opera next season.
Chanler will play his own play, "Re-Engaged," next season.
Clay Clement will produce a new play, "The New Domino."
Rose Coghlan's tour ends in May. She will spend the summer abroad.
Mr. and Mrs. Charles Hoyt are spending their honeymoon in Florida.
Jennie Eustace has taken May Brookyn's place in Palmer's company .
Chauncey Olcott has made a genuine success in W.J. Scanlan's play "Mavourneen."
"Billy Fuller," a former member of Fay Templeton's opera company, is dead.
Manager Cleary of "L'Enfant Prodigue" states that their tour in America has been a financial failure.
The very popular actor William H. Crane at the close of his New York engagement will begin a spring tour which will take in this city.
George Richards and Eugene Canfield who have so long been Mr. Hoyt's old standbys, will star in a three-act play called "The Circus Clown" next season.
The company of the Theatre de Varieties, headed by the great Madame Rejane , is making arrangements to begin a tour in America next September.
"The laughing girl of the butterflies with the sun-kissed hair and eyes of deep, translucent blue" is the latest nickname of Olive May in the dramatic papers.
Grace Sherwood , who was engaged to play with William H. Crane, in "Brother John," and was dismiss-ed because she was utterly incompetent to fill her part, sued the company and got $900 damages.
Jane Harding , a young person of very notorious character, who succeeded Sybil Sanderson in M. de Saint Saen's opera Pharyne , was hissed off the stage on her appearance at the Comique in Paris.
"Charley's Aunt," which is now in the sixth month of its successful run at the Standard theatre, New York, will shortly be taken on a western trip by Manager Charles Frohman . It has a date for the Lansing.
How long, Oh Lord, how long? The Dramatic Mirror announces that Maggie Mitchell will revive "Jane Eyre" and "Fanchon" next season. Yes, but who on earth or in the waters under the earth is to revive Maggie Mitchell?
The San Francisco Examiner says that not since the days of John McCullough has there been seen such a performance of "Virginius" in the Golden Gate city as was given by James O'Neill last Sunday, when he presented Sheridan Knowles' tragedy for the first time in 'Frisco.
The Mirror can be cute once and awhile; witness the following: " Theresa Vaughn's press agent says that Miss Vaughn's dressing room at the Garden theatre is every night filled by flowers sent her by society ladies. The question that suggests itself is: Where, then, does Miss Vaughn dress?"
On Monday afternoon at 4:30 Mr. A.L. Gray will begin a series of talks on the history of music, its field among the arts, its development in the different countries, the great composers and their influence upon each other, and musical conditions in different countries at the present time. These talks will be given in the hall of the conservatory of music and will be continued throughout March and April. All students and those interested will be welcome.
One of the dramatic journals says that recently Madame Melba on hearing Theresa Vaughn sing "Annie Rooney" "stood up in the box and applauded most vigorously and then, having kissed a lovely bouquet of pink orchids, threw the flowers to Miss Vaughn." It startles one some way to think of Melba and "Annie Rooney" together. One gets to thinking of Melba as always attired in the pearls and white satin and romantic agony of Juliet, and it seems paradoxical for her to "vigorously applaud" "Annie Rooney."
---
Notes
---
RETURN TO TOP