Last night: The play is Edward Bulwer-Lytton's Richelieu; or, The Conspiracy (1839), a five-act historical play in blank verse, based on the character of the seventeenth century Cardinal Richelieu of France. Richelieu was a standard of Victorian theater, and was made into a film with George Arliss in 1935.
Mr. Whiteside: Walker Whiteside (1869-1942) was born in Indiana and educated in London and Chicago, where he made his stage debut in 1884; by the age of twenty he had played many of the standard Shakespearean and Victorian heroes—Hamlet, Othello, Lear, Richelieu, etc. He formed his own company and made his New York debut as Hamlet in 1893, and continued to tour through the mid 1930s; he made his London debut in 1914. He married actress Lelia Wolstan, who became his leading lady.
Mr. John Sturgeon: John Sturgeon had played with Wilson Barrett's company in the 1880s; in the 1890s he was an actor in Walker Whiteside's company. Odell, in Annals of the New York Stage, mentions him in a list of actors that his readers have never heard of (XV: 326).
Chevalier de Mauprat: Adrian de Mauprat, an officer of the French army, is one of the leading characters in Bulwer Lytton's play, Richelieu. De Mauprat loves Julie de Mortemar, and earns the enmity of Louis XIII and his favorite, Baradas, both of whom also love Julie.
Miss Lelia Wolstan: Actress Lelia Wolstan played minor roles in Daly's company in New York in the early 1890s (as Phoebe in As You Like It in October 1891, for example). She married actor Walker Whiteside (1869-1942) and joined his company, playing leading roles.
Julie: Julie de Mortemar is Cardinal Richelieu's ward in Bulwer-Lytton's Richelieu; or, The Conspiracy (1839). She marries Adrian de Mauprat, who is condemned to death by Louis XIII; de Baradas offers to spare de Mauprat if she will annul the marriage and marry him. Julie begs Richelieu to save her husband.
Spooners: The Spooners were a family acting troupe that toured the Midwest and played Lincoln regularly (see the review for 25 April 1895). Benjamin Spurgeon Spooner (1852-1899) married Mary (Molly) Gibbs Manson (1855-1940) in 1872; they were from Centerville, Iowa, where their three children, Edna May (b. 1873), Robert K. (b. 1876), and Cecil (b. 1878), were born. Benjamin's brother, Franklin E. Spooner (1860-1943), was also an actor. The stock company moved to New York about 1900; several of its alumni include Maurice Costello (1877-1950), who made his name as a screen lover in early silent films (and was the father of screen actresses Helen and Dolores Costello); J. Warren Kerrigan (1879-1947), one of the most popular silent stars of Westerns from 1911 into the 1920s; and J. Searle Dawley (1878-1949), who directed over 200 films for the Edison company, including Frankenstein (1910) and The Charge of the Light Brigade (1912), and Tess of the d'Urbervilles (1913) for Famous Players.
See real tears tonight: Morris was famous for her ability to shed real tears on stage, supposedly because she was so immersed in her role and the feelings of her character. Actually, as she revealed in her memoirs, she often employed such devices as having a sad thought or image, not necessarily related to the play, ready to elicit tears at the proper time. Cather saw Morris play the tragic heroine of Camille that evening (see the review following); the experience is reflected in My Ántonia.
Clara Morris: Born Clara Morrison, Morris (1848-1925) made her New York debut in 1870 and was a great success playing passionate, suffering heroines in roles in such plays as Jezebel, Camille (1874), Miss Multon, a version of East Lynne (1876), Jane Eyre (1877), and The New Magdalen (1882). She formed her own company about 1878 and toured the country. She was never famous for her beauty, and her voice was flawed, but the emotional power of her acting overcame these defects. Morris retired in the 1890s as the new kinds of realistic plays of Ibsen and Shaw and Pinero made the older dramas seem old-fashioned and histrionic. In retirement she wrote articles and columns on acting, as well as volumes of reminiscences that show her acting was not so instinctive and unpracticed as Cather supposed.
Image available at the New York Public Library Digital Gallery.
Image available at the University of Washington Libraries Digital Collections.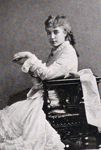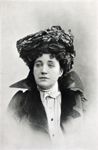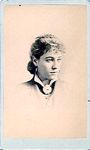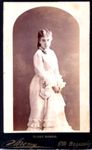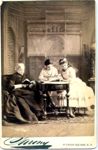 the curse of Rome: One of the key scenes in Bulwer-Lytton's Richelieu (1839) comes at the end of act four: the king sends a courtier to arrest Julie, but Richelieu sends him back. Baradas comes to accuse Richelieu of disobeying the king's command. The cardinal says, Then wakes the power, which in the age of ironBurst forth to curb the great, and raise the low.Mark where she stands:Around her form I drawThe awful circle of our solemn church!Set but a foot within that holy ground,And on thy head—yea, though it wore a crown—I launch the curse of Rome!
Richelieu: Armand-Jean du Plessis, duke and Cardinal Richelieu (1585-1642), known as the Red Eminence, was the chief minister of Louis XIII, from 1624-42. In turbulent times, he valued order above all, and worked to establish the absolute power of the monarchy in France and to establish France as the dominant power in Europe. He was considered charming, pragmatic, and ruthless.
red gown: I.e., Richelieu's red robes as a cardinal of the Roman Catholic Church.
reconstructed France: Richelieu was said to have reconstructed France from its feudal past to a modern centralized state by reforming the tax code, breaking the power of both the Huguenot nobles (in the battle of New Rochelle) and the Catholic nobles. He made France the dominant power of Europe, replacing Spain.
Count de Barabas: The Count de Baradas in Bulwer-Lytton's Richelieu (1839) is the favorite of the weak and indecisive Louis XIII; both men also love Julie de Mortemar. De Baradas plots against both Richelieu and Louis to gain power and ultimately the kingship for himself; Richelieu exposes his plot and de Baradas is arrested.
mightiness of the pen: In Act II, scene 2 of Richelieu, Bulwer-Lytton wrote,Beneath the rule of men entirely great,The pen is mightier than the sword.As Cather indicates, the phrase had become too-familiar a cliché.
brightest lexicon of youth: Another cliché from Act II, scene 3 of Bulwer-Lytton's Richelieu:In the lexicon of youth, whichFate reserves for a bright manhood, there is no such word As—fail!
Irving: Henry Irving (1838-1905), the great British actor-manager, was born John Henry Brodribb, and after a long apprenticeship made his debut under the Irving name as the Duke of Orleans in Richelieu. His London debut followed in 1866, and he began a long association with the Lyceum Theatre in 1871, making it known for the quality of the acting (Ellen Terry was his leading lady) and for the rich production values of the staging. Irving was especially famous in Shakespearean roles, and in 1895 he was the first actor to be knighted.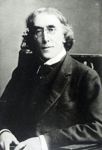 Henry Irving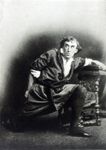 Henry Irving as Matthais in "The Bells"
Playright: Edward Bulwer-Lytton (1803-1873), created first Baron Lytton in 1866, began writing when his mother cut off his allowance when he married. His plays, such as The Lady of Lyons (1838) and Richelieu (1839), immensely popular in the nineteenth century, are now mostly forgotten. He is best known for his novels in many genres: Pelham (1828) is a society novel that established the "silver fork" school; Eugene Aram (1832) and other novels of crime and criminals established the "Newgate" school, after the famous prison; The Last Days of Pompeii (1834), the most famous of his many historical novels, is still read and has inspired many stage and film adaptations.
Lansing Theatre: The Lansing Theater, on the southwest corner of 13th and P Streets, was built in 1891, displacing the Funke Opera House as the largest and finest theater in Lincoln. The owners were J.F. Lansing (b. 1842), a Lincoln real estate man, and his brother-in-law Henry Oliver (b. 1857); Edward A. Church was the manager. According to the program of the opening week (November 23-28, 1891) the auditorium consisted of the orchestra and parquet seating on the main level, with dress circle at the rear and sides; three tiers of five boxes each and six loges were at the sides. Above were the balcony and the gallery. With standing room, about 2500 people could be present.
The building also housed offices, including that of Cather's friend and fellow reviewer, Dr. Julius H. Tyndale. It was renamed the Oliver Theater in 1898.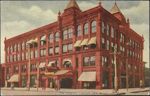 Camille: The English play Camille is based on the play La Dame aux camélias (1852), based on the novel (1848) by Alexandre Dumas the younger (1824-1895). In the play, Armand Duval, a poor young man of a good family, falls in love with a famous courtesan, Camille (named Marguerite Gautier in the original). Skeptical of his love at first, she comes to return it and the two retire to an idyllic life in the country. However, Armand's father comes to her and begs her to set Armand free for the sake of his reputation and for the marriage chances of Armand's young sister. Camille pretends to be tired of Armand and returns to Paris and her old life. She is, however, dying of tuberculosis, and the two are reunited before her death. The role of Camille was also a favorite of Sarah Bernhardt and many other tragic actresses.
Verdi's opera La Traviata (1853) is based on the story of Camille, and the play has been made into films as well, notably one starring Greta Garbo (1936).
Dumas: Alexandre Dumas the younger (1824-1895) was the son of a noted writer, Alexandre Dumas (1802-1870), author of The Count of Monte Cristo and The Three Musketeers, and a dressmaker, Marie-Catherine Labay. In 1831 the elder Dumas recognized him as his son and took the boy from his mother and placed him in schools. The younger Dumas went to live with his father in 1844, where he met Marie Duplessis, a young courtesan who died of tuberculosis in 1847, inspiring Dumas' most famous novel, La Dame aux camellias (1848). He wrote prolifically; many of his novels and plays depict the problems of fallen women and unwed mothers. His A Prodigal Father (1859) is based on his father; The Clemenceau Case (1867) is thought to be somewhat autobiographical. Dumas was admitted to the French Academy in 1874 and awarded the Legion of Honor in 1894.
Oh, What a Night: Gus Williams starred in William Hoey's Oh, What a Night, "a farcical piece with which he has lately delighted rural audiences," when it opened at the Grand Opera House in New York on December 28, 1885; the New York Times reviewer went on to suggest that the play was probably based on foreign sources (29 December, 1885).