Robert Downing: Robert Downing (1857-1944) appeared in minor roles Mary Anderson's company in New York by 1880; by 1882 he was playing leading roles with her, such as Claude in Lady of Lyons. When Anderson left for London, Downing played with Joseph Jefferson's company between 1883 and 1888. Odell first notes his appearance in New York as Spartacus in The Gladiator in 1886 (Annals of the New York Stage, XIII: 230), and return engagements thereafter, saying that Downing was "trying to be a Forrest" (XIII: 459). He was best known for his physique as displayed in the lead role of such plays as The Gladiator. Downing's basic repertoire in the early 1890s consisted of The Gladiator, Virginius, Ingomar, Damon and Pythias, Julius Caesar, and Richard the Lion-Hearted.
Image available at the New York Public Library Digital Gallery.
Lansing Theatre: The Lansing Theater, on the southwest corner of 13th and P Streets, was built in 1891, displacing the Funke Opera House as the largest and finest theater in Lincoln. The owners were J.F. Lansing (b. 1842), a Lincoln real estate man, and his brother-in-law Henry Oliver (b. 1857); Edward A. Church was the manager. According to the program of the opening week (November 23-28, 1891) the auditorium consisted of the orchestra and parquet seating on the main level, with dress circle at the rear and sides; three tiers of five boxes each and six loges were at the sides. Above were the balcony and the gallery. With standing room, about 2500 people could be present.
The building also housed offices, including that of Cather's friend and fellow reviewer, Dr. Julius H. Tyndale. It was renamed the Oliver Theater in 1898.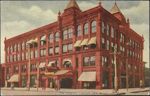 Miss Eugenia Blair: Eugenie Blair (c. 1868-1922) was born in South Carolina, but made her professional debut in Chicago. She toured with the D.P. Powers and James O'Neill companies, and then played supporting roles in Frederick B. Warde's company in the mid-1880s, winning modest praise in the New York Times reviews. By 1888 she was playing in Robert Downing's company; they were married by 1891, and divorced by 1910. She continued active in the theater, performing character roles on Broadway as she aged. She died after suffering a heart attack backstage during a performance of Eugene O'Neill's Anna Christie (1921), for which she created the role of Marthy. Blair's daughter was actress Eleanor Montell.
Image at: Google Books.
Little Puck: Little Puck (1890), described by the New York Times reviewer as a "nondescript hodge-podge of farce, travesty, and popular song" supposedly derived its idea from F. Anstey's Vice Versa.
Chums: Possibly the 1879 play (also called Hearts of Oak) on which actor-playwright James A. Herne (1839-1901) collaborated with David Belasco (1854-1931); it was based on an 1865 British play by Henry J. Leslie, called The Mariner's Compass (c. 1865). In it a young girl marries an old man out of gratitude; when he realizes that she loves her childhood friend, he goes away to sea and pretends to be lost so the two chums will be free to marry. He returns years later to an emotional reunion with his young child by the gravestone that the couple had erected to him.
toga: An outer garment, made in an oval shape and hanging in folds, worn by citizens of ancient Rome; though women and the lower classes gradually ceased to wear it, it remained a distinctive garment of upper class men, and obligatory for the emperor and high officials. Although the name of the play is not mentioned, Slote identifies it as Virginius, set in classical Rome. The 1820 play by James Sheridan Knowles (1784-1862), based on Livy, tells the story of a soldier who kills his daughter, Virginia.
Pickett's Gaiety Girls: The original Gaiety Girls were the exceptionally beautiful and elegant chorus girls at the Gaiety Theatre in London, who became so popular they had their own musical named for them, A Gaiety Girl (1893). The show was brought to New York, opening in September 1894. The plot concerned a poor but virtuous musical actress who is accused of stealing a diamond comb belonging to the guardsman-hero's aristocratic aunt. The American version of the play starred Charles Ryly and Alma Somerset.
The Funke: The Funke Opera House was built in 1885 by Fred Funke (d. 1890), a Lincoln wholesale cigar, wine, and liquor dealer, on the southwest corner of 12th and O St. Until the Lansing Theatre was built it was the largest and finest theater in town. The first manager was Ed A. Church (d. 1927), followed by Robert McReynolds; Frank Zehrung managed it briefly, from July 1889 to January 1890, when L. M. Crawford took over. Zehrung resumed management in 1894. The building housed shops on the ground floor and offices in parts of the upper floors, as well as the theater itself.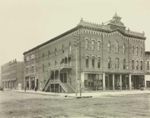 The Funke Opera House, Lincoln, Nebraska, late nineteenth century.
Frank Wilkinson: An actor of this name appeared in New York in 1910 and 1912, according to the New York Times Dramatic Index.
The Silver King: This four-act play by Henry Arthur Jones (1851-1929), with Henry Herman, established Jones' position as a leading British playwright. It was produced at the Princess's Theatre in London in 1882 by Wilson Barrett, playing the hero, Wilfred Denver, and with E. S. Willard in the role of the villainous "the Spider." The plot concerns Wilfred Denver, who is accused of murdering a man who had wronged him; with the help of his wife, he flees; his train car burns in an accident, with several unidentifiable bodies. Thought to be dead, Denver escapes to America, makes his fortune in Nevada silver; returning to London, he helps his unwitting family and searches for the real killer.
Sutton Vane: Not the English playwright, author of the unusual and successful play Outward Bound (1924), a phrase Cather uses in The Professor's House (1925).
Fanny Rice: Rice (1859-1936) was a popular American actress whose image appeared on cigarette cards and other ephemera. She appeared in some silent movies c. 1920.
Miss Innocence Abroad: The New York Times review said this play was probably based on a French farce, adapted as an English farce by F. C. Phillips (author of As in a Looking Glass) and actor Charles Brookfield; it was then "arranged" for the American stage by Edward Paulton. The reviewer described it as "a dull sort of thing with a long-drawn-out plot of the old-fashioned kind . . . and long, hopelessly long passages of inane dialogue" (26 August 1894).
Maria: Presumably the heroine of Miss Innocence Abroad; however, when Fanny Rice's production opened in New York in August 1894, the heroine, played by Fanny Rice, was named Molly Flower. Possibly the name was changed during the tour.