The Lansing could not well hold any more people than it held when the curtain rose on "Charley's Aunt" last night. The audience was certainly the most select and enthusiastic that Lincoln has turned out this season. It brought all its risibilities with it. It began to laugh at the beginning of the first act and kept it up steadily until the close of the last. A comedy that is a comedy breaks down the formality of an audience completely, conquers the dignity that people usually don with their evening dress and dissolves them into their everyday naturalness. "Charley's Aunt" is a rollicking comedy, with just a touch of farce, enough to make it mean something to the gallery as well as the dress circle. It is clever because, though the situations are impossible, the comedy is natural and without bombast and the wit is always accompanied by action. It is a bit slow and tedious in the first part of the first act, but it is by no means a talk play, that is, it was not written to introduce witty combinations. It is a play of situations and action. It is really very remarkable in that it handles six love stories with all ease and dispatch, where it is more than most comedies can do to take care of one. Another remarkable thing about the play is that it is an absolutely clean comedy. It is not only moral, it is even proper. It not only has no objectionable women, it has a chaperone, "a woman with a history," who is "not like other women," and who "came from Brazil, where the nuts come from." Above all it is enormously, redeemingly, magnificently funny. Yes, there is no doubt about it; in "Charley's Aunt" England forgot itself and invented something, made something new and genuine and funny. The union jack should float at half mast, the house of lords be draped in black and prayers should be offered in Westminster, because an Englishman has done something funny and his sin is still unrepented.
The presentation of "Charley's Aunt" was really excellent. The cast was entirely and absolutely good. That grating discord which a single poor actor makes was fortunately wanting. The acting was even and uniform throughout. None of the actors fought for the centre of the stage or the centre of attraction; they all subdued their own personalities just a little and adapted themselves to one another, which is the secret of success in all society plays, both those that are played on the stage and those that are played every night in our drawing rooms. The minor roles were as correctly portrayed as the more important ones, and it is those same minor roles that give a play away and that invariably distinguish a good company from a poor one.
Mr. Richard Bennett as Jack Chesney was delightfully enthusiastic and boyish. There are so few men who can be a natural boy and a boy can never be one. Mr. Bennett jumped about as though he had no corns to hurt and laughed as though he found pleasure in it. Percy Sharp , who impersonates the pseudo aunt, has a severity of feature and a colorless face and a voice which make him peculiarly fitted for the part. His make up as the aged Brazilian was a thing of art, and he obliging disrobed before the audience to assure them that it was all real. His scene with Miss Brooks was perhaps his best, for it brought out the peculiar complexity of his position. The unconscious and innocent way in which the girls found it pleasanter to kiss this old woman than most old women is one of the neatest things in the play. As he himself expressed it, "They did it themselves and they liked it." Miss Anna Parker as Kittie was thoroughly girlish and unaffected. In taking the initiative in the love scene she was spontaneous and made a very hard situation seem perfectly easy by her simplicity. Miss Parker survived the embracing wonderfully well. It is refreshing now and then to see a woman on the stage who knows how to hug or to be hugged.
Most of them embrace ideals or empty air or at best a dress coat, but Miss Parker embraced Mr. Jack Chesney not in the spirit but in the flesh and did it as though she liked it, and, by the way, the audience liked it as well as she did. Miss Marie Leddy is an actress of that handsome eclat society type that one often sees in Frohman's companies; perhaps Frohmanesque is an adjective that best suits her. It is proper to mention Brassett last because he was only a servant, but he and Spettigue must be among the first in the heart of their manager.
Lansing Theatre: The Lansing Theater, on the southwest corner of 13th and P Streets, was built in 1891, displacing the Funke Opera House as the largest and finest theater in Lincoln. The owners were J.F. Lansing (b. 1842), a Lincoln real estate man, and his brother-in-law Henry Oliver (b. 1857); Edward A. Church was the manager. According to the program of the opening week (November 23-28, 1891) the auditorium consisted of the orchestra and parquet seating on the main level, with dress circle at the rear and sides; three tiers of five boxes each and six loges were at the sides. Above were the balcony and the gallery. With standing room, about 2500 people could be present.
The building also housed offices, including that of Cather's friend and fellow reviewer, Dr. Julius H. Tyndale. It was renamed the Oliver Theater in 1898.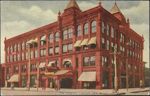 Charley's Aunt: This farce by Brandon Thomas (d. 1914) opened in London in 1892, and in New York October 2, 1893. Two Oxford undergraduates in love need a chaperone for an intimate lunch with their sweethearts. When Charley's aunt from Brazil is delayed, they press a fellow undergraduate into the role, complicated when the real aunt arrives unexpectedly.
The play has been a favorite, especially for amateur and small professional productions ever since it was written. It was made into a silent film in 1925 starring Syd Chaplin; an early talkie in 1930, starring Charles Ruggles; another film in 1941 starring Jack Benny and Kay Francis; a musical, "Where's Charley" starring Ray Bolger, and a Playhouse 90 television production.
Dress circle: The lowest tiers of seats in a theater, the dress circle, contained the most expensive seats; it was so-called because people sitting there were expected to be in evening dress.
union jack: The flag of Great Britain is called the Union Jack, because when the kingdoms of England, Scotland, and Ireland were united, their emblems were united on the flag.
Westminster: Westminster Abbey (established as the Collegiate Church of St. Peter by Elizabeth I), where British monarchs are crowned and where many are buried, was begun in 1045 by Edward the Confessor, close to the palace of Westminster. It was rebuilt in the Gothic style by Henry III; the two western towers were added in the early eighteenth century. Burial in the Abbey is one of the last honors given to people of notable achievement: the Poets Corner, clustered around the tomb of Geoffrey Chaucer, is especially famous.
Mr. Richard Bennett: American actor Richard Bennett (1872-1944) was born in Indiana and made his professional debut in Chicago in 1891. He toured for several years, then joined Charles Frohman's company in New York, remaining ten years. He became an important star in the 1905 play, The Lion and the Mouse. In 1920 he starred in Beyond the Horizon, by the then-unknown Eugene O'Neill; his last Broadway play was in Maxwell Anderson's Winterset (1935). Bennett also starred in several early silent films, reprising some of his Broadway hits, such as Damaged Goods (1914) and The Valley of Decision (1916). Later he appeared as a character actor in such films as Arrowsmith (1931) and The Magnificent Ambersons (1942).
Bennett married Grena Heller in 1901, and Mabel (Adrienne) Morrison (1883-1940), the daughter of actor Lewis Morrison, in 1903; he was the father of film actresses Joan, Constance, and Barbara Bennett.
Jack Chesney: Jack Chesney, son of Sir Francis Chesney, is one of the main characters in Brandon Thomas's Charley's Aunt (1892).
Percy Sharp: Actor Percy Sharp played the roles of Lord Fancourt Babberley and the Brazilian "aunt" in a touring production of Brandon Thomas's Charley's Aunt (1892). He is not listed in the New York Times drama review index or in Odell's Annals of the New York Stage.
pseudo aunt, or Babbs: In Brandon Thomas's Charley's Aunt (1892), Lord Fancourt Babberley (Babbs) is pressed into dressing as Charles Wyckham's Brazilian aunt in order to serve as chaperone for the visits of Amy Spettigue and Kitty Verdun to his friends, Wyckham and Jack Chesney. Amy's father Stephen Spettigue and Jack's father Sir Francis Chesney both fall for the "aunt", Donna Lucia d'Alvadorez. Etienne Girardot played the role in the first New York production.
Miss Brooks: The actress Miss Brooks probably played the role of Amy Spettigue in a touring production of Brandon Thomas's Charley's Aunt (1892). The New York Times drama review index lists two actresses of this surname performing in the 1890s: Ida Brooks and Myra Brooks; the latter may be more likely, as she played with Richard Bennett in Frohman's production of The Proper Caper in 1897. Myra Brooks also played minor roles in silent films from 1915 to 1921.
Miss Anna Parker: Actress Anna Parker is not listed in the New York Times drama review index or in Odell's Annals of the New York Stage. However, on 1 August 1939, the Nebraska State Journal reported that an old actress, Anna Parker Saylor, had written asking for copies of Cather's reviews of her for a book she was writing. Saylor enclosed a letter, dated 7 May [1895], she had received from Cather which told about the operas Cather had seen in Chicago, her subsequent illness, Mr. Frohman, and her university grades.
Kittie: Kitty Verdun, one of the characters in Brandon Thomas's Charley's Aunt (1892), is the ward of Stephen Spettigue.
Miss Marie Leddy: Marie Leddy may have been playing the part of Ela Delahay or that of the real aunt, Donna Lucia d'Alvadorez, in a touring production of Brandon Thomas's Charley's Aunt (1892). She is not listed in the New York Times drama review index or in Odell's Annals of the New York Stage.
Mr. Froham's companies: Both Daniel and Charles Frohman had their New York theater companies, plus road companies which also toured the United States with their most popular productions.
Brassett: Brassett is a servant, one of the characters in Brandon Thomas's Charley's Aunt (1892). The role was played in the first New York production by Henry Lilford.
Spettigue: Stephen Spettigue, in Brandon Thomas's Charley's Aunt (1892) is the crusty father of Amy and guardian of Kitty; he falls for the pseudo-aunt. The role was played in the first New York production by W. J. Ferguson.