There are few sensations more agreeable than that experienced on going into a theatre prepared to witness a very bad performance and seeing a comparatively good one. The Fowler company presented "Married for Money" at the New Funke last night in a manner that would have been creditable to a company of larger pretensions. Their first night was rather unfortunate, as the actors were not thoroughly familiar with their parts, and the play was of too serious a nature to suit the capacities of the company. The entire company is best fitted for comedy, and in it they make no mean showing. Last night they presented a comedy and presented it very well: While some of the specialties were a little tiresome, there were several members of the company that amply repaid the patience of the audience. The stage settings also deserve especial mention, as they were both elaborate and artistic.
Mr. Hal W. Brown is really a comedian of considerable promise. Talent, thank heaven, is independent of surroundings: it is just as genuine and just as hopeful in a repertoire company as it is in the Empire theatre. Surroundings cannot add or detract an inch from its stature. Undoubtedly Mr. Brown has some talent for comedy; his acting is quiet, free from violent gesture, and has somewhere in it the real element of comedy. He needs to cultivate quick play of facial expression and to introduce more little tricks of stage business, and he is content to be altogether too conventional in his reading, but there are plenty of men in the upper walks of comedy who were once no whit better comedians than Mr. Brown.
Mr. Joseph Bennett played a difficult part with intelligent consistency. His representation of the gouty, weak-chested old earl who assumes the young lover at seventy was really very good. Mrs. J. H. Casey as Mrs. Mopus showed knowledge of the best methods of comedy, and she must have acted in better companies than this one pretends to be. Though her Mrs. Jennie Kimbal physique would be a drawback to her in many roles, in this one it only emphasized her clever acting. For some reason it is always inexpressibly funny to see 275 large, liberal, florid pounds faint away calling pitifully upon the object of their affection. Two hundred and seventy-five pounds can do things on such a large scale. Miss Maggie Miller as Simpkins was much more pleasing as a soubrette than as the erring wife the night before. Once a soubrette, always a soubrette. It is a fatal mistake to transpose her into the serious, and a clever soubrette is worth twenty erring wives anyway.
Fowler Company: Joseph Bennett, Hal W. Brown, Mrs. J. H. Casey, Earl Craddock, Margaret Eastman, Maggie Miller, and a Miss Cushman were members of the Fowler Company, headed by actor John C. Fowler, in the mid 1890s.
Married for Money: The only record of this play in the New York Times drama review index is from 1871, when a production starring Charles Mathews was reviewed.
The Funke: The Funke Opera House was built in 1885 by Fred Funke (d. 1890), a Lincoln wholesale cigar, wine, and liquor dealer, on the southwest corner of 12th and O St. Until the Lansing Theatre was built it was the largest and finest theater in town. The first manager was Ed A. Church (d. 1927), followed by Robert McReynolds; Frank Zehrung managed it briefly, from July 1889 to January 1890, when L. M. Crawford took over. Zehrung resumed management in 1894. The building housed shops on the ground floor and offices in parts of the upper floors, as well as the theater itself.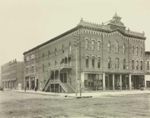 The Funke Opera House, Lincoln, Nebraska, late nineteenth century.
Mr. Hal W. Brown: Actor Hal W. Brown is not listed in the indexes to Odell's Annals of the New York Stage or the New York Times drama reviews.
Empire Theatre: The Empire Theater, at 1430 Broadway (between 40th and 41st), was built by manager Charles Frohman and opened in January 1893. Frohman formed a stock company and staged lavish productions of contemporary English and American plays, famous for their star power. The theater, which sat over 1000, was torn down in 1953.
Mr. Joseph Bennett: Actor Joseph Bennett is not listed in the indexes to Odell's Annals of the New York Stage or the New York Times drama reviews.
Old Earl: In the 1871 production of Married for Money, there was a character named Sir Robert Mellowboy, played by Davidge; later revisions to the play may have elevated Sir Robert to an earldom.
Mrs. J. H. Casey: No actress named Casey is listed in the New York Times drama review index. Odell (v. XIII) mentions an actress, Polly Casey, who was part of the company of John C. Rice and George Monroe (271).
Mrs. Mopus: In Married for Money, Mrs. Mopus is the wife of the lead character. The role was played by Mrs. Gilbert in the 1871 New York production.
Jennie Kimball: Jennie Kimball (1848-1896) had been a singer and an actress in her youth, prima donna of the Florence Burlesque Company. After the birth of her daughter Corinne she devoted herself to Corinne's career as a child star, forming and managing the Kimball Comic Opera and Burlesque Company (which operated under slightly different names at various times) to showcase her daughter's talents. Jennie Kimball was an excellent business manager and publicist.
Miss Margaret Miller: An actress named Maggie or Margaret Miller is not listed in the indexes to Odell's Annals of the New York Stage or the New York Times drama reviews for this period.
Simpkins: In Married for Money, the cast list for the 1871 New York production shows the character of "Mat. Simkins" was played by Kate Newton.
soubrette: The soubrette in a play is the role of a pert, coquettish character, often a maidservant or the comic friend of the heroine; the name was often given to actresses who played such roles.