Charles Hoyt: Charles Hoyt (1860-1900) was born in New Hampshire, moved west to a cattle ranch in Colorado, became a newspaperman, then wrote his first play and had it produced in 1883; he became one of the most successful producer-playwrights by the late 1880s, perfecting the style of Broadway musical in which a farcical, light-hearted plot gives opportunities for songs and specialty features.
road company: A widespread interest in a popular New York play was met by forming touring companies (road companies), generally of lesser-known actors and actresses, to perform in smaller cities. A manager such as Frohman or Hoyt might have several companies performing one play on the road.
No. 1 company: The No. 1 company performing a play on the road was often the original cast, or most of it.
A Trip to Chinatown: In Charles Hoyt's musical "A Trip to Chinatown", Mrs. Guyer, a widow from Chicago, comes to San Francisco and fosters romance among several young couples with the help of a rich man's lost wallet. The song, "The Bowery" (music by Percy Gaunt, words by Charles Hoyt), was one of the first big Broadway show tune hits. Later the song "After the Ball" was added; the two songs came to exemplify two dominant strains of the 1890s stage, the slightly naughty and the overtly sentimental. This was Charles Hoyt's biggest success. It toured the country for nearly a year before opening on Broadway in 1891, where it ran for a record-breaking 657 performances—a record that would not be broken for nearly thirty years. It toured the country for years after.
A 1912 musical, A Winsome Widow, was based on the play, and later commentators have seen many echoes of the plot in the mid-twentieth century hit, Hello, Dolly!
Playbill: http://www.musicals101.com/News/chinatownpbl.jpg
Anna Boyd (d. 1916) appeared in several of Hoyt's productions in the late 1880s and early 1890s; perhaps her most famous and most successful role was as the Widow in Hoyt's A Trip to Chinatown (1892).
Of an earlier production, Zig Zag (1888), the New York Times reviewer said, "Of the ladies in the cast, Miss Anna Boyd is easily the premiere acrobat. Her dancing and her brick bat throwing are the essence of energy and accuracy, while her girlish simplicity is in an indirect ratio to her matronly development" (19 February 1889).
Boyd married actor Joe Coyne in 1898; they were divorced in 1909.
Mr. Frank Land: Neither Odell's Annals of the New York Stage nor the New York Times drama review index list an actor of this name.
Welland Strong: Strong is described on the cast list as "a man with one foot in the grave." He is a hypochondriac who forgets his ills long enough to go out on the town with some young men; he sings the famous song, "The Bowery," recalling a visit to New York. Harry Conor played the role on Broadway.
Mr. Gerald Griffin: American supporting actor Gerald Griffen (1854-1919) was born in Pittsburgh. He was in the new Proctor Company with Amelia Bingham in 1905, and appeared in five silent films between 1916 and 1918.
Ben Gay: In Hoyt's A Trip to Chinatown (1891), Ben Gay is the wealthy older bachelor whose wards tell him they are going sight-seeing in Chinatown when they are really planning a riotous night out. He mistakenly thinks he has a rendezvous with Mrs. Guyer at the same restaurant where his young wards are to meet. The part was played by George A. Beane in the original cast.
Ben-Gay is an ointment used to relieve pain in muscles and joints. It was developed in France by Dr. Jules Bengué; Wikipedia says it was brought to America in 1898, but this name suggests it was known earlier, as most of the other names in the play are also puns: Welland Strong, Norman Blood, Willie Grow.
those also serve who only watch and wait: John Milton's sonnet, "On His Blindness" ends with the lines:. . . who bestBear his mild yoke, they serve him best. His stateIs kingly. Thousands at his bidding speed,And post o'er land and ocean without rest;They also serve who only stand and wait.
Miss Fiske: The surname Maddern suggests a relative of American actress Minnie Maddern Fiske (1865-1932). Her grandfather, Robert Maddern, came to the U.S. from England with his large family, whom he organized as a concert company. Two of daughters and several of his granddaughters became actresses.
Georgie Bryton: A New York Times theatrical notice mentioned a Georgie Bryton, "the English Beau Brummell," who may have been a woman playing trouser roles (31 May 1895). Odell notes her as appearing in various variety theaters in the early 1890s, as well as in A Trip to Chinatown (XV 321). Her name also appeared on the cast of Stranger Than Fiction in March 1917.
Willie Grow: In the cast list of Hoyt's A Trip to Chinatown (1891), Willie Grow is described as "a gilded youth" and was a trouser role, a part played by a young woman dressed as a young man. Blanche Arkwright and later Queenie Vassar played the role early in the Broadway run, but Georgie Bryton was playing the part with what remained of the original cast by September 1892.
Lottie Mortimer: Dancer Lottie Mortimer was described as a "serpentine dancer" by the New York Times when she appeared in the show of the roof garden of Madison Square Garden (30 May 1893). She also appeared at the Eden Musée earlier in 1893, according to Odell's Annals of the New York Stage, and and then played Flirt for a week in Hoyt's A Trip to Chinatown in March 1894. An 1896 song, "The Racoon and the Bee" by Edward S. Abeles was dedicated to her.
Welland Strong: Strong is described on the cast list as "a man with one foot in the grave." He is a hypochondriac who forgets his ills long enough to go out on the town with some young men; he sings the famous song, "The Bowery," recalling a visit to New York. Harry Conor played the role on Broadway.
Yvette Guilbert: French singer Yvette Guilbert is perhaps best known now for the 1890s drawings of her by Henry Toulouse-Lautrec in her trademark long black gloves.
Won't You Be My Sweetheart: "Won't You Be My Sweetheart" (1893) with music by H. C. Verner and lyrics by J.G. Judson, was not one of the songs in the early version of Hoyt's A Trip to Chinatown (1891), but songs were added and subtracted during the show's long run.
Love Me Little, Love Me Long: Percy Gaunt (1852-1896), the composer for Hoyt's shows, wrote a song, "Love Me Little, Love Me Long" (1893), apparently inserted in later versions of Hoyt's A Trip to Chinatown (1891). It begins:Put your arms around me honey,Even if you have no money,Love me little, love me long!For you know I'm in a hurry,When my heart is in a flurry,Love me little, love me long!I'd fly away on high,Knock a hole up in the sky,hear the angels sing their brightest song!Get a move and do not tarry,If you do we will not marry,Love me little, love me long!CHORUSStand from under!I'm goin' up yonder,Yonder be the skies!Put your arms around me, honey,Even if you have no money—Love me little, love me long!One of Charles Reade's most popular novels was Love Me Little, Love Me Long (1859); that title was probably based on proverbial sayings dating from the sixteenth century, or a seventeenth century song of this title, attributed to Robert Herrick. That song began:Love me little, love me long,Is the burden of my song.Love that is too hot and strongBurneth soon to waste.That ballad was set to music by various composers, including John Phillip Sousa (Op. 37) in 1877, R. F. Cardella (1868), and an E.T. P. in 1879.
The Bowery: The popular song, "The Bowery" (1892) with music by Percy Gaunt and words by Charles Hoyt, from A Trip to Chinatown, was one of the first big Broadway show tune hits. The song begins: Oh! the night that I struck New York,I went out for a quiet walk;Folks who are "on to" the city say,Better by far that I took Broadway;But I was out to enjoy the sights,There was the Bow'ry a blaze with lights;I had one of the devil's own nights!I'll never go there any more!CHORUSThe Bow'ry, the Bow'ry!They say such things,and they do strange thingson the Bow'ry!The Bow'ry!I'll never go there any more!
whom they bind shall be bound...loosed: In the Bible, at Matthew 16:19, Jesus says to Peter, "And I will give unto thee the keys of the kingdom of heaven: and whatsoever thou shalt bind on earth shall be bound in heaven: and whatsoever thou shalt loose on earth shall be loosed in heaven." This passage became the basis for the authority of the popes.
Mark Twain: American writer Samuel Langhorne Clemens (1835-1910) was born in Missouri, growing up in the river town of Hannibal. As a young man he worked as a printer and then as a riverboat pilot on the Mississippi River until the outbreak of the Civil War in 1861. He went west to the silver mines of Nevada and took a newspaper job, where he began signing his sketches "Mark Twain" after a riverboat call. His story, "The Celebrated Jumping Frog of Calaveras County" (1867) began to make his name as a humorous writer; it was followed by The Innocents Abroad (1869) and Roughing It (1872). The Adventures of Tom Sawyer (1876) and The Adventures of Huckleberry Finn (1884) solidified his reputation. He was a prolific and popular writer, though many of his works were suppressed and even now attempts are made to ban some of them. He is now considered one of the greatest American writers.
Cather came to know Twain late in his life.
Aristophanes: Greek dramatist Aristophanes (c. 456-383 B.C.) is known as the father of comedy. Most of the details of his life are unknown, but it is believed that he came from a relatively well-to-do family in Athens and was well-educated. He first attained success with a play, The Banqueters, entered in competition at the festival of Dionysius in 420 B.C. He is believed to have written forty comic and satiric plays; eleven survive, including The Clouds, The Wasps, The Birds, Lysistrata, and The Frogs.
Plautus: Titus Maccius Plautus (c. 254-184 B.C.) is the earliest Roman playwright whose work—twenty plays in whole or in part out of more than a hundred—has survived. (The name Plautus, meaning "flatfoot" may be a nickname rather than a family name.) He is believed to have been a stagehand of some sort; after attempts to follow more lucrative trades failed, he began selling his plays, based on Greek plots and with Greek character names, to the managers of the public games. His broad humor and characters influenced Renaissance comedy; the character of the "miles gloriosus," the swaggering soldier, is taken from Plautus's play of that name.
Molière: French playwright Jean-Baptiste Poquelin (1622-73), best known by his stage name Molière, was born to a bourgeois family in Paris and was well educated. However, when he was twenty-one he decided to go on the stage, becoming head of a troupe that toured in the provinces for fourteen years; during this time the troupe moved away from the improvisational commedia dell' arte to script-based plays, which he began writing. He returned to Paris in 1658, where he became known—and sometimes reviled—for his farces and comedies mocking human foibles in plays such as Les Précieuses ridicules (1659), L'Ecole des maris (1661), L'Ecole des femmes (1662), Le Tartuffe (1664), Le Misanthrope (1666), Le Bourgeois gentilhomme (1670), and Le Malade imaginaire (1673). He died of tuberculosis a few hours after playing the imaginary invalid—the legend became that he died onstage.
immortals: The immortals is the name given to those who have been elected to the French Academy.
Mr. William Leonard Gray: The Lincoln city directories for 1892-95 list William Leonard Gray as a teacher at the Nebraska Conservatory of Music; he was living at 1313 L Street in 1894.
St. Paul Church: St. Paul's Methodist Episcopal Church, at 12th and M Streets in downtown Lincoln, was first organized in 1868 as the First Methodist Episcopal Church. This congregation grew rapidly; in 1883, a large new church building was begun, to cost $45,000 by the time it was dedicated in 1885, and the church was renamed St. Paul's. Several daughter churches were sponsored from St. Paul's, but even so, the church had nearly 600 members by 1889. One of its pastors, the Rev. C. F. Creighton, became chancellor of Nebraska Wesleyan University in 1887.
Until the Lansing Theatre was built, the auditorium of St. Paul's was the largest in town, and university functions were sometimes held there. After the 1880s building burned in September 1899, a new and larger building was constructed.
In One of Ours (1922), Claude Wheeler, while at college in Lincoln, attends church at St. Paul's.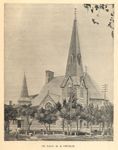 Bach: German composer Johann Sebastian Bach (1685-1750) was born into a musical family, and learned to play the violin and organ, becoming noted first as an organist at the court of the Duke of Saxe-Weimar. In 1717 he went to the court of Prince Leopold of Cöthen, where the Brandenburg Concertos were composed. In 1722 he became director of music at Leipzig, where he remained the rest of his life. He was a prolific composer, considered the greatest in the Baroque style. After falling out of public favor to some extent in the later eighteenth and early nineteenth centuries, Bach was rediscovered in the later nineteenth century. Bach fathered twenty children by his two wives, many of whom also became musicians and composers.
Bach fugue in G minor: The shorter ("Little") fugue in G minor (BWV 578) is one of Bach's best-known keyboard works.
Wagner: Richard Wagner (1813-1883) revolutionized European music, especially opera. He was born in Leipzig, Germany; although he was indifferent to formal education, he taught himself to play the piano and the principles of composition, partly by studying the scores of Beethoven's works. He was also deeply influenced by his reading of Shakespeare, Schiller, and Goethe. His first operas until Rienzi (1842) were unsuccessful; his next operas began to develop his more characteristic style; though The Flying Dutchman (1843), Tannhäuser (1845), and Lohengrin (1850) were popular, the critics were often hostile. His involvement with the Revolution of 1848 in Germany forced him to flee into exile in Zurich, where he wrote on social and musical issues, and composed the poem, The Ring of the Nibelung, upon which his four Ring operas were based. The difficulty of staging these titanic works led him to put them aside for such works as Tristan and Isolde (1859). His financial difficulties were alleviated when Ludvig II of Bavaria became his patron. Wagner toured Europe to raise money for a new kind of theater at Bayreuth, which would be capable of presenting the Ring; the work was first given in its entirety at Bayreuth in 1876. His last work was Parsifal (1882).
One of Cather's early stories, "A Wagner Matinée" (1904), dramatizes the effect of Wagner's later music on a Nebraska farm woman who has been isolated from music for thirty years.
Wagner-Eddy: A composer of this name has not been found; the name may be an amalgam of Richard Wagner (q.v.) and an arranger, in this case probably American virtuoso organist Clarence Eddy (1851-1937), well-known through his concerts, writings, and his teaching at the Hershey Music School in Chicago.
Wagner-Eddy's "Evening Star": Possibly a setting by organist Clarence Eddy of Wagner's "Ode to the Evening Star" (O du mein holder Abenstern) from Tannhäuser (1845).
offertory in D flat major by Salomé: Like other organists at the time, Salomé composed masses as well as some of the incidental music (preludes, postludes, offertories) of the mass himself.
Théodore César Salomé: French organist and composer Théodore César Salomé (1834-1896) was organist at the church of St. Germaine en Laye in Paris.
Mendelssohn: Composer Jakob Ludwig Felix Mendelssohn Bartholdy (1809-1847) was born in Hamburg, Germany, the grandson of a famous Jewish philosopher, Moses Mendelssohn. He was a child prodigy who gave his first public performance at the age of nine, and had a piano quartet published at the age of thirteen. He wrote his first twelve symphonies between the ages of twelve and fourteen. Such works as the overture to A Midsummer Night's Dream (1826) showed the fulfillment of his early promise. In 1829 Mendelssohn visited England for the first time; on subsequent visits he became a favorite of Queen Victoria. His oratorio, Elijah, premiered in Birmingham in 1846. Others of his most famous compositions include the Italian symphony (1833); the violin concerto in E minor, op. 64 (1844); and his most popular and famous solo piano compositions, the Songs Without Words.
Mendelssohn's reputation declined in the latter half of the nineteenth century, perhaps in part because of his Jewish origins—although the family was baptized in 1816. Richard Wagner showed his scorn in a veiled way in an 1850 pamphlet on the Jewish influence on music.
Mendelssohn's sonata, opus 65, no. 5: Mendelssohn's opus 65 is composed of six sonatas for organ; number 5 is in D major.
Home, Sweet Home: The first two (and most famous) lines of the song "Home! Sweet Home"—"Mid pleasures and palaces though we may roam, / Be it ever so humble, there's no place like home"—were written by American John Howard Payne for an opera, Clari, the Maid of Milan (1823); the melody and the rest of the words were composed by Sir Henry Bishop in 1852. The song became popular, adopted by Jenny Lind and Adelina Patti as one of their standard concert pieces on their American tours.
The "transcription" of "Home, Sweet Home" by Dudley Buck was probably Buck's "Variations for Organ on 'Home, Sweet Home,'" op. 30.
Dudley Buck: American composer Dudley Buck (1839-1909) was born in Connecticut and studied abroad. He was an organist at churches in Chicago, Boston, and New York and assisted Theodore Thomas as an orchestral conductor beginning in 1875; he was the composer of the massive cantata, with 800 voices, which Thomas conducted at the opening of the 1876 Philadelphia centennial exposition. Besides church music, he composed cantatas, operas, and symphonic works. He is best-known now for his "Concert Variations on the 'Star-Spangled Banner,'" written originally for organ (1869) and later orchestrated. He wrote The Influence of the Organ in History (1882).
Giacomo Meyerbeer: German composer Giacomo Meyerbeer (1791-1864) was born Jacob Beer to a wealthy Jewish family near Berlin. A child prodigy, he was considered one of the great virtuosi of his time, but studies in Italy led him to composition and especially to opera. His opera, Robert le Diable (1831) is considered the first grand opera; it and Les Huguenots (1836) became standard in opera repertoire for much of the 19th century, until they became victims of the influence of Wagnerian opera.
Schiller: Friedrich von Schiller (1759-1805), German poet, playwright, and philosopher, was trained in law and medicine on the orders of his father's patron, Duke Karl of Wurttemberg. The use and abuse of power and the struggle for freedom became central themes in his work. His study of Kant led him to formulate his own philosophy of aesthetics; through the influence of Goethe he was appointed professor of history at the University of Jena. His first play was The Robber (1781); his greatest plays were the Wallenstein trilogy (1800-1801), Mary Stuart (1801), and Wilhelm Tell (1804).
Meyerbeer's Schiller march: German composer Giacomo Meyerbeer (1791-1864) composed a festival march for orchestra in honor of the 1859 century of Friedrich Schiller's birth.
Best: This arranger has not been identified.
Antoine Edouard Batiste: French composer and organist Antoine Edouard Batiste (1820-1876) contributed to the revival of composition for the organ in the mid nineteenth century. He taught at the Paris conservatory and was organist at the church of St. Eustache in Paris for twenty years.
Batiste's Grand Offertoire in F: French Church organist and composer Antoine-Edouard Batiste composed music for the different parts of the mass; the "Offertoire" was music played during the offering.
Mrs. Mary Latimer Gray: Mary Latimer was the daughter of William and Mary Humiston Latimer; she married organist and teacher William Leonard Gray.
Jean Fauré: French organist and composer Jean Fauré (1830-1914) is remembered now chiefly for his song, "Les Ramaux" (The Palms); a version with orchestra was recorded by Caruso.
Jean Fauré's Santa Maria: French organist and composer Jean Fauré's hymn, "Sancta Maria" (c. 1871) was dedicated to Marie Henriette, Queen of the Belgians. A review in the Musical Times predicted wide popularity for the song and noted that Adelina Patti had sung it in concert (1 September 1871).
Handel: Composer George Frideric Handel (1685-1759) was born in Saxony, and showed his musical talents at an early age. His first two operas (of more than fifty written in his life) were produced in 1705, when he was twenty; when opera was banned locally, he turned to composing sacred music and oratorios. In 1710 he became Kapellmeister to Elector George of Hanover, soon to be King of England; Handel settled in England in 1712 and became a British subject in 1726, and was associated with the Royal Academy of Music, the Royal Opera House, and the royal court, for which his Water Music and Fireworks Music were composed. When he died he was given a state funeral and was buried in Westminster Abbey. Handel's operas lost favor in the nineteenth century, but his sacred oratorios, the most famous of which is the Messiah (1742), were often performed by both amateur and professional choruses.
Come Unto Him: "Come Unto Him" is part of Handel's Messiah, part I. The text is from Matthew 11:28-29: "Come unto Him, all ye that labour and are heavy laden, and He will give you rest. Take His yoke upon you, and learn of Him; for He is meek and lowly of heart: and ye shall find rest unto your souls."
University of Nebraska Conservatory of Music: The University of Nebraska offered instruction in music but had no regular department of music. In 1892 Chancellor James H. Canfield proposed the establishment of a Conservatory of Music to be affiliated with but not funded by the university; however, its students would receive university credit (and provide music for university functions). Willard Kimball of the Grinnell College Conservatory of Music was invited to establish the new conservatory; the building, at the corner of 11th and R Street, just across from the campus, opened in 1894.
The Funke: The Funke Opera House was built in 1885 by Fred Funke (d. 1890), a Lincoln wholesale cigar, wine, and liquor dealer, on the southwest corner of 12th and O St. Until the Lansing Theatre was built it was the largest and finest theater in town. The first manager was Ed A. Church (d. 1927), followed by Robert McReynolds; Frank Zehrung managed it briefly, from July 1889 to January 1890, when L. M. Crawford took over. Zehrung resumed management in 1894. The building housed shops on the ground floor and offices in parts of the upper floors, as well as the theater itself.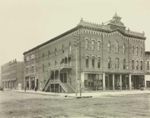 The Funke Opera House, Lincoln, Nebraska, late nineteenth century.
Fowler Company: Joseph Bennett, Hal W. Brown, Mrs. J. H. Casey, Earl Craddock, Margaret Eastman, Maggie Miller, and a Miss Cushman were members of the Fowler Company, headed by actor John C. Fowler, in the mid 1890s.
The World Against Him: A play of this title has not been found; a 1916 silent film has other names for all the characters, and may not be based on the same play. The title probably derives from that of a Kate Claxton vehicle, The World Against Her (1888).
Margaret Eastman: Neither Odell's Annals of the New York Stage nor the New York Times drama review index list an actress of this name.
Frances Lee: Frances Lee is the heroine of The World Against Him.
Jerry, the Tramp: The heroic Jerry the Tramp is a character in The World Against Him.
Mr. Jack Fowler: American actor John Crawford Fowler, also known as J.C. "Jack" Fowler, John C. Fowler, or simply as John or Jack Fowler (1869-1952), was born in New York City.
He appeared in more than forty movies between 1923 and 1946, though often uncredited; the Internet Movie Database lists him as "man in dance hall" in Charlie Chaplin's The Gold Rush (1925), for example.
Blackburn: Blackburn is the villian in The World Against Him
Earl Craddock: The Internet Broadway Data Base lists an Earl or Earle Craddock who appeared in eight productions, ranging from farce to musicals to melodrama, between 1913 and 1926. The the New York Times drama review index notes only one appearance by an Earle Craddock, in The Governor's Boss in April 1914.
Mr. Hal W. Brown: Actor Hal W. Brown is not listed in the indexes to Odell's Annals of the New York Stage or the New York Times drama reviews.