Charles Hoyt: Charles Hoyt (1860-1900) was born in New Hampshire, moved west to a cattle ranch in Colorado, became a newspaperman, then wrote his first play and had it produced in 1883; he became one of the most successful producer-playwrights by the late 1880s, perfecting the style of Broadway musical in which a farcical, light-hearted plot gives opportunities for songs and specialty features.
A Trip to Chinatown: In Charles Hoyt's musical "A Trip to Chinatown", Mrs. Guyer, a widow from Chicago, comes to San Francisco and fosters romance among several young couples with the help of a rich man's lost wallet. The song, "The Bowery" (music by Percy Gaunt, words by Charles Hoyt), was one of the first big Broadway show tune hits. Later the song "After the Ball" was added; the two songs came to exemplify two dominant strains of the 1890s stage, the slightly naughty and the overtly sentimental. This was Charles Hoyt's biggest success. It toured the country for nearly a year before opening on Broadway in 1891, where it ran for a record-breaking 657 performances—a record that would not be broken for nearly thirty years. It toured the country for years after.
A 1912 musical, A Winsome Widow, was based on the play, and later commentators have seen many echoes of the plot in the mid-twentieth century hit, Hello, Dolly!
Playbill: http://www.musicals101.com/News/chinatownpbl.jpg
Oscar Wilde: Writer and wit Oscar Wilde (1854-1900) was born in Ireland, and educated at Oxford University, where he first began to make his name not only as a writer but as a representative of and spokesman for the aesthetic movement in England. His style—in dress, life, and writing—was satirized by the humor magazine Punch and by Gilbert and Sullivan in Patience. In 1882 he made a lecture tour of the United States. Wilde married Constance Lloyd in 1884, and had two sons; he was then working as a journalist in London. He published essays, including "A Defence of Lying;" a collection of allegorical fairy tales, The Happy Prince, in 1888; a novel, The Picture of Dorian Grey in 1891; and then the first of his witty, satirical society comedies, Lady Windermere's Fan in 1892. It was followed by A Woman of No Importance in 1893, and An Ideal Husband and The Importance of Being Earnest in 1895.
Wilde had met Lord Alfred Douglas, son of the Marquess of Queensbury, in 1891. Queensbury objected to their relationship, calling Wilde a sodomite. Wilde sued for criminal libel, but the jury upheld Queensbury and Wilde was arrested. After two trials, he was condemned to two years hard labor in jail in May 1895. Out of this experience came his most famous poem, the "Ballad of Reading Gaol" (1898). On his release in May 1897, Wilde went to France to live.
Warden Allan D. Beemer: Allan D. Beemer (1842-after 1904) was born in Pennsylvania, and served four years with the Eleventh Pennsylvania Cavalry in the Civil War. He came to West Point, Nebraska, in 1868, engaging in real estate and livestock, as well as serving as sheriff of Cumming County for six years. In 1886 he founded the town of Beemer and its bank. He served as warden of the Nebraska State Penitentiary from 1893-95, and again in 1902-1904. He was preceded by James P. Mallon (1893) and D. H. Hopkins (1892). The Nebraska report in the 1895 Report of the Conference of Charities and Correction noted that the prison had made steady progress in the improvement of conditions under Warden Beemer.
Beemer married Belle Akerley in 1873.
Kendals: Madge (née Margaret Robertson) Kendal (1849-1935) was born in an established English theatrical family (her brother Tom Robertson was a well known playwright), and was made a Dame of the British Empire in 1929. Her husband, William Hunter Kendal (1843-1917) was less celebrated than his wife; as a shrewd actor manager, he produced plays to showcase his wife.
Lillian Russell: Lillian Russell, born Helen Louise Leonard (1861-1922) in Clinton, IA, was educated in Chicago, and then in New York, where her mother took her to study in hopes of an opera career. Her first appearance on the New York stage was in the chorus of a production of Pinafore in 1879; Tony Pastor, owner of one of the best variety theaters in New York, gave her the new name, Lillian Russell, and billed her as "The English Ballad Singer." Her blonde beauty, lovely singing voice, and fashionable figure quickly made her a star, one of the highest paid in America. She starred at the Casino Theatre from 1888 to 1891, when she headed her own company at the Garden Theatre. In 1899 she joined the Weber and Fields company, staying with them until 1904. Her voice had suffered over the years, so she toured in comedy from 1906-1908.
Russell was famous for the number of her husbands and for her long liason with "Diamond Jim" Brady. Her first husband was the Pinafore company's orchestra leader, Harry Graham. Her second husband, composer Edward Solomon, was arrested for bigamy in 1886, after two years of marriage. She married her third husband, John Chatterton, known as Giovanni Perugini, in 1894; they were divorced in 1898. Russell retired from the stage after marrying her fourth husband, Alexander Moore, owner of the Pittsburgh Leader. She wrote columns and articles on love and beauty for women, and advocated woman suffrage.
Lillian Russell epitomized the stage beauty of the 1890s. A movie was made of her life in 1940, starring Alice Faye, with Henry Fonda as her fourth husband. Her character also appears in various other movies about the theatrical life of the time.
Image available at New York Public Library Digital Gallery.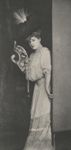 Robert Mantell: Robert Bruce Mantell (1854-1928) was born in Scotland and educated in Belfast, Ireland, where he apparently got his first training for the stage. He came to the U.S. about 1878, and joined Modjeska's company for a time, before starting his own company. He was a popular exponent of Shakespearean roles, as well as the standard romantic dramas, but never achieved much critical success in New York or London. He was popular elsewhere, however (his portrait appeared on cigar bands), and he toured with considerable success well into the twentieth century; he appeared also in some silent films before his death.
Mantell was married five times, the last three to his leading ladies, one of whom (Charlotte Behrens) is said to have died in suspicious circumstances in 1898. By his last wife, Genevieve Hamper, he had a son, Robert B. Mantell, Jr. (1912-1933), who was apparently married briefly to 1930s film star Marian Marsh.
Charlotte Behrens: American actress Charlotte Behrens (1866-1898) was born in New York but grew up in San Francisco, where she made her theatrical debut at the age of sixteen. By 1882 she was a leading lady with Frank Mayo's touring troupe; at about the same time she married theater manager Edwin E. Hume. She made a success in Zitka and toured in that with Gustave Levick, and also toured with William Gillette in his Civil War drama, Held by the Enemy in 1888. She became a part of Robert Mantell's company soon after; by December 1891 her husband was threatening to kill Mantell for alienating her affections. Behrens and Mantell were named as co-respondents in divorce suits brought by Mantell's first wife, actress Marie Sheldon, and by Hume in 1893. They were married in March 1894, the day after the divorces were finalized. Behrens continued in Mantell's company until an undiagnosed illness led to her death in 1898.
Mrs. Burton Harrison: American writer Constance Cary (Mrs. Burton) Harrison (1843-1920) was born in Virginia of distinguished families: Lord Fairfax of Virginia was one of her ancestors and her father was a great nephew of Thomas Jefferson. She married lawyer Burton Harrison (a relative of both presidents Harrison) in 1867. One of her first successful stories was Golden Rod, an Idyll of Mount Desert (1879), set in Bar Harbor, Maine, where the Harrisons had a summer place. Mrs. Harrison wrote mostly stories of New York society life and stories of the old South. She also wrote a few plays; one of them, The Unwelcome Mrs. Hatch (1901) was made into a silent film (1914) starring Henrietta Crossman.
Mrs. Harrison's story Crow's Nest (c. 1892) may have inspired the title of Cather's short story, "The Count of Crow's Nest" (1896).
William Shakespeare: William Shakespeare (1564-1616) was born in Stratford-on-Avon, in Warwickshire, England. Documents of the time show his father, John Shakespeare, to have been a well-respected tradesman who held office in the town. His mother, Mary Arden, came from an old land-owning family. He was probably educated at the grammar school in Stratford; at the age of eighteen he married Anne Hathaway, by whom he had three children. Not until eight years later, in 1592, does his name start to appear connected with the London stage. By 1594 he was a part of the Lord Chamberlain's company, which by 1598 had their home at the Globe theater. His plays were successful with both the public and royalty, enabling Shakespeare to buy various properties in London and Stratford. He retired to Stratford about 1613, where he died.
Many anecdotes and legends grew up in the seventeenth and early eighteenth centuries about Shakespeare's life, whose authenticity cannot be now be proven, but some of which have been widely accepted: that his father was a butcher, that Shakespeare as a youth got into trouble poaching deer, that he held horses at the stage doors when he was trying to break into the London theater, that he was lame, or that he caught the fever of which he died in a drinking bout, for instance.
Some of his fellow actors collected his plays in 1623 in what is now known as the First Folio. The only works Shakespeare himself seems to have published are the early poems Venus and Adonis (1593) and The Rape of Lucrece (1594), both dedicated to the Earl of Southampton, a young nobleman who may also have been the subject of many of Shakespeare's sonnets, apparently written over the decade from 1593-1603.
Shakespeare's authorship of the plays ascribed to him began to be seriously questioned only in the late eighteenth century, largely on the ground that he was too humbly born and poorly educated to be capable of writing such great works. The most serious alternatives—and the question was warmly debated in the nineteenth century—put forth were Sir Francis Bacon, Christopher Marlowe, and the Earl of Oxford.
Elizabeth Tudor: Elizabeth Tudor (1533-1603) was the younger daughter of Henry VIII and his second wife, Anne Boleyn. Although Henry declared the marriage invalid after beheading Anne for adultery and treason, Elizabeth was declared third in the succession when her half-brother Edward was born. She survived a childhood and youth of plots by others under Edward and her elder half-sister, the Roman Catholic Mary I, before ascending to the throne in 1558 at the age of twenty-five. The rigorous education, self-control, and political skill she had learned as princess, in addition to her choice of wise and loyal counselors, enabled her to lead England to a place as one of the major powers of Europe. Nonetheless, she had to contend with plots against her at home and abroad, some of the most dangerous of which centered on Mary Stuart, Queen of Scots, whom Roman Catholics saw as the legitimate heir to the throne; Elizabeth reluctantly signed Mary's death warrant in 1587. Despite the many offers for Elizabeth's hand in marriage, she remained "the Virgin Queen," and as a symbol of her country, gave her name to England's golden age of literature and power.
Mary of Scotland: Mary Stuart (1542-1587) became queen of Scotland when her father, James V, died six days after she was born. Her French mother had her brought up at the court of Henri II and Catherine de Médici, whose eldest son, Francis, she married in April 1558. When Elizabeth Tudor became queen of England in November 1558, Henri claimed the throne on Mary's behalf—she was the great-niece of Henry VIII and was next in the succession, though Elizabeth refused to admit that claim. Henri died in 1559 and Mary became briefly queen consort of France before her husband died in 1560. Mary returned to Scotland in 1561, the French-bred Roman Catholic queen of a fractious Presbyterian country. She married her cousin Henry Stuart, earl of Darnley in 1565. The following year Darnley had her secretary, Rizzo, murdered in her presence. She was accused of having an affair with James, earl of Bothwell, and plotting the death of Darnley in 1567. After that Bothwell abducted her and forced her into marriage, but the Scots rose up and imprisoned them both, deposing Mary in favor of her one-year-old son, James. Mary fled to England, where Elizabeth kept her a prisoner for the next eighteen years. Discovery of a Roman Catholic plot in 1586 to put Mary on the English throne convinced Elizabeth that Mary would always be a danger. Mary was tried by an English court and condemned to execution, a fate she met with great dignity.
False to thy God, thy father, and thy brother...thy sister: Because Elizabeth I was a Protestant, Cahtolics accused her of being an enemy of the Roman Catholic Church and thus to God. Henry VIII, Elizabeth's father, named her an heiress to the throne, after her half-brother, Edward VI, and her sister, Mary I.
thy mother: Anne Boleyn (c. 1500-1536), second wife of Henry VIII, was the mother of Elizabeth I. After miscarrying in a later attempt to bear a son to Henry, she was accused of adultery; this led to later claims that Elizabeth was not the daughter of Henry and thus had no claim to the throne. Anne was executed for treason in 1636.
such an act...: This passage is from Shakespeare's Hamlet, Act 3, scene 4, where the Queen asks Hamlet, "What have I done, that thou darest wag thy tongue / In noise so rude against me?" He replies with the speech Cather quotes here: "Such an act . . .".
Hamlet: Shakespeare's Hamlet, Prince of Denmark (written 1599-1601), a five act tragedy, is widely considered the greatest play in English. It was apparently based on a 12th century history, or on a preceding play on the same subject, possibly by Thomas Kyd. The play deals with murder, revenge, madness, and man's will. It contains some of the most famous lines in English, especially Hamlet's soliloquy, "To be or not to be" as well as such famous scenes as Ophelia's mad scene, and Hamlet with Yorkick's skull.
"Henry VIII.": Shakespeare's play, The Life of Henry VIII (1612 or 13), was printed in the First Folio (1623), but some scholars ascribed in it part to John Fletcher. King Henry must deal with the machinations of the greedy, ambitious Cardinal Wolsey; at the same time he begins to fall in love with Anne Bullen. Wolsey tries to foment a divorce between Henry and his wife, Katherine of Aragon, so Henry can marry a French princess. The Protestant Archbishop Cranmer and other judges declare the divorce legal and Henry's marriage to Anne valid. Henry defends Cranmer against various plots, in the end making him godfather to the infant Princess Elizabeth, for whom Cranmer predicts a great future.
A number of plays have been attributed to Shakespeare; scholars in the early eighteenth century attributed various anonymous plays to him on what they considered to be internal evidence. The play Henry VII would seem to be one of these, seeming to fit neatly between the three parts of the early plays of Henry VI and the late Henry VIII.
Bacon wrote The History of the Reign of Henry VII (1622); the similarity of an image in the play and the history, of parasitic ivy on a tree, has been used as an evidence of Bacon's authorship of Shakespeare.
Cymbeline: Cymbeline (c. 1610) is a romance or tragicomedy from Shakespeare's late period. Cymbeline, king of Roman Britain, marries a second time; the new queen has a loutish son, Cloten, by her first marriage, whom she plans to marry to Cymbeline's daughter and heiress, Imogen (Cymbeline's twin sons had been kidnapped as very young children and are believed dead.) However, Imogen has secretly married her childhood sweetheart, Posthumus, and she warns him to flee to Rome. There he makes a bet with Iachimo on Imogen's fidelity. When Iachimo brings him false proofs, Posthumus joins the Roman army then invading Britain, but helps to rescue Cymbeline before being taken prisoner. When he and the other Romans are brought before Cymbeline, villains confess, disguises and false identities are discarded, and truths are revealed; Imogen and Posthumus are reunited and her missing brothers are restored to their father.
Romeo and Juliet: Shakespeare's early romantic tragedy, Romeo and Juliet, was written c. 1594-95. Romeo and Juliet come from families feuding with each other, the Montagues and Capulets, but fall immediately in love. They are forced to meet in secret—the balcony scene being the most famous in all of Shakespeare—and try to marry in secret. The friar gives Juliet a potion that simulates death, and Romeo, in despair, kills himself. When Juliet awakes to find Romeo dead, she kills herself.
Eleonora Duse: Eleonora Duse (1859-1924) was born into an impoverished Italian acting family and began performing at an early age; when her mother became ill, Duse had to take over her roles. Her first success was as Juliet in 1873, though her career did not take off until 1879, after performing in Zola's Thérèse Raquin. She toured Italy and by 1885 was acclaimed as Italy's greatest living actress. After a tour in South America, Duse formed her own company in 1886, with a large repertoire ranging from classical and contemporary French drama to Shakespeare and Ibsen. She met with great success in Paris, where she was considered Bernhardt's only rival. In 1893 Duse came to the U.S., where the restraint and naturalism of her style (for many years she wore no makeup on stage) were also acclaimed. She became the type of the actress who subsumes herself in her art. Her health was fragile, and she retired from the stage in 1911, returning to it in 1921; she toured Europe and then the U. S. in 1923. She collapsed and died in Pittsburgh in April 1924; her body lay in state there and then was taken to be buried in Asolo, Italy.
Duse became known for her love affairs, both with men and (perhaps lesser known at the time) with women. She was married to actor Teobaldo Checchi in 1881, with whom she had a daughter; they were divorced in 1885 after an affair with another actor. The most famous affair was a tempestuous one with Italian poet and playwright Gabriele d'Annunzio, whom she met in 1895; he wrote several verse dramas for her.
Image available at the New York Public Library Digital Gallery.