It has no purpose, moral or immoral, beyond being a good play, and it exalts emotion instead of analyzing it or sneering at it. The rather sentimental nature of the masculine friendship may be a little strained and unnatural, but it at least only belies nature by making it better than it is, which is rather refreshing in these days when most of the lying is done the other way.
The success of the play is very largely due to the talented woman who plays the leading role. Selina Fetter's work is always good. Indeed, her powers have scarcely opportunity to appear in their full scope in the character of Marguerite Otto . She is an exceptionally graceful and womanly actress and is capable of deep feeling. Bits of acting like that burst of sobbing at the piano are worth seeing and pleasant to remember. The second act is particularly her own, and she makes the conflict between the woman and the artist plausible and moving.
Friends: Friends; A Comedy Drama in Four Acts by Edwin Milton Royle (1862-1942) opened in New York in May 1892. In the play, John Paden, Jr., and his friend, Adrian Karje, both love Marguerite Otto, a singer of noble birth, though she doesn't know it. Believing that Marguerite prefers Adrian, John sacrifices his own love to help his friend win her. The original Broadway cast starred Selena Fetter as Marguerite Otto; Royle himself took over the role of John Paden, jr. when the scheduled actor became ill. Other players included Lucius Henderson as Adrian Karje, Edmund D. Lyons as Marguerite's drunken father, Hans Otto, and Theodore Hamilton as John Paden's philistine father, John Paden, sr.
Lansing Theatre: The Lansing Theater, on the southwest corner of 13th and P Streets, was built in 1891, displacing the Funke Opera House as the largest and finest theater in Lincoln. The owners were J.F. Lansing (b. 1842), a Lincoln real estate man, and his brother-in-law Henry Oliver (b. 1857); Edward A. Church was the manager. According to the program of the opening week (November 23-28, 1891) the auditorium consisted of the orchestra and parquet seating on the main level, with dress circle at the rear and sides; three tiers of five boxes each and six loges were at the sides. Above were the balcony and the gallery. With standing room, about 2500 people could be present.
The building also housed offices, including that of Cather's friend and fellow reviewer, Dr. Julius H. Tyndale. It was renamed the Oliver Theater in 1898.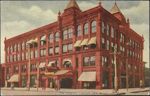 Mr. Edwin Milton Royle: Edwin Milton Royle (1862-1942) was a member of the class of 1883 at Princeton, and briefly studied law before going into theater. He was a versatile playwright who wrote more than thirty emotional and romantic dramas, comedies, and musical comedies, as well as novels, poems, and song lyrics. He is best known for his play The Squaw Man (1906) which was revived many times, novelized, and made into a movie three times. He was also an actor who starred in some of his own plays, including, for a time, Friends.
Royle married actress Selena Fetter, who appeared in some of his plays; their daughter was actress Selena Fetter Royle.
Image available at the University of Washington Libraries Digital Libraries
Coasts of Bohemia: Shakespeare famously referred to the nonexistent coast of Bohemia in The Winter's Tale, enabling critics to disparage his lack of geographical knowledge. It also came to symbolize a nonexistent land. (However, historians say that Ottakar II, king of Bohemia in the thirteenth century, temporarily expanded his domain to the shores of the Adriatic.) William Dean Howells had recently used for the title of his novel, The Coast of Bohemia (1890).
Selena Fetter: Actress Selena Fetter (c. 1860-1955) was identified in the New York Times as "a young actress from the West" (27 January 1882); she was born and raised in Louisville, Kentucky, the daughter of Mr. and Mrs. George Fetter. By 1887 she was a leading player in William Crane and Stuart Robson's company, performing with them in the debut of Bronson Howard's popular play, The Henrietta. By c. 1890 she was well enough known to be pictured on the same colored theatrical portrait card as Fay Templeton, Ellen Terry, Henry Irving, and William Crane. She created the role of Marguerite Otto in playwright Edwin Royle's Friends, co-starring with him for a month when he took the place of the leading man, who was ill. She married Royle, and often appeared in his plays, usually in supporting roles by the late 1890s. Their daughter was stage, radio, film, and TV actress Selena Fetter Royle (1904-1983), who organized the Stage Door Canteen during World War II, but was blacklisted in the early 1950s.
University of Washington Libraries Digital Collections
Mr. Adrian Karje: Adrian Karje is the other hero of Royle's Friends (1892); his friend, John Paden, selflessly helps him to win Marguerite, the woman they both love. The part was played by Lucius Henderson at the New York opening.
Marguerite Otto: In Friends (1892), by Edwin Milton Royle, Marguerite Otto is the beautiful singer loved by both the friends. In the end it is revealed that she is of noble birth.
Mr. Lucius J. Henderson: American actor Lucius J. Henderson (1861-1947) was born in Illinois and trained for a musical career in his youth—he later put his musical talents to use in a vaudeville tour satirizing pianist Paderewski. He became an actor in the early 1880s, appearing with Modjeska, Janauschek, and Salvini, as well as in the original casts of Bronson Howard's Shenandoah (1889) and Edwin Royle's Friends (1892). He directed a play on Broadway in 1909 (The Great John Ganton), then went into film c. 1910, directing more than eighty films between 1910 and 1917; he claimed to have discovered Rudolph Valentino. After returning to acting in a few films in the 1920s, he went into radio in the 1930s.
Henderson married actress Gretchen Lyons.
University of Washington Digital Collections
Last year: Cather had reviewed a production of Friends on December 14, 1893.
E. D. Lyon: Actor Edmund D. Lyons appeared on the London stage in the early 1880s and in many plays on Broadway from 1888 to 1909, including the original cast of Royle's Friends (1892), in Beau Brummell (1895), and as Nero in Quo Vadis in 1899; he also directed three Broadway plays from 1902-1905. A New York Times article in 1892 described him as a star of the New York Comedy Company, who had been arrested and jailed while on tour in Montreal for not paying his hotel bill.
Hans Otto: In Friends (1892), by Edwin Milton Royle, Hans Otto is the supposed father of the beautiful singer Marguerite Otto.
Harry Allen: Actor Harry Allen is first recorded in the New York Times drama review index in 1880, but most of his New York appearances were in the early 1890s, generally in good quality productions such as David Belasco's The Charity Ball (1889), William Gillette's The Private Secretary (1890, 1891); he also appeared in a Frohman production of Mr. Wilkinson's Widows with Georgie Barrymore, and in what the Times reviewer described as a "dubious farce," Little Tippett (13 November 1892).
Mr. John Paden, Jr: John Paden, Jr., is the self-sacrificing hero of Royle's Friends; he helps his friend win the woman they both love. Royle played the part when the play opened in New York in May 1892. (His father, John Paden, senior, is a wealthy old Philistine.)
Mr. Charles Jefferson Jackson: Possibly Charles Jefferson Jackson (1863-1908), son of the great Joseph Jefferson's sister, Cornelia Jefferson Jackson. He grew up in the theatrical profession, but first made his mark in The County Fair (1889). He appeared in a number of New York productions in the 1890s, including William H. Crane's successful David Harum (1900). However, according to his obituary in the New York Times, he became unable to memorize his lines and committed suicide (12 January 1908).
Another Charles Jackson is indexed by the Times, who appeared in similar plays, and even in the same plays at different times: both actors are listed as appearing in The Marquess of Michigan and David Harum in different years. It is possible that they are the same man. Other possible actors surnamed Jackson active in the 1880s to the early 1900s include Frank, Joseph, and Wallace Jackson.
Herald Huntington: In the original cast list of Edwin Milton Royle's Friends (1892), according to the New York Times review, this character is called Harold Hunting. John Glendinning played the role in the Broadway production.
Mr. Henry Bergman: Probably American actor Henry Bergman (1868-1946), who was born in San Francisco (though some sources say Sweden). His Broadway credits span the years from 1888 to 1917, with a last appearance in 1932, in companies headed by such stars as Amelia Bingham, William H. Crane, and Nat Goodwin. In 1914 he went into films, beginning a long association with the films of Charlie Chaplin two years later.