As to the play, it amuses one even more on a second seeing than on a first, and the falseness of it jars less. When you are reconciled to the fact that the play has neither plot, construction nor truth, the wit goes down very well. The play abounds in cleverness, but lacks in imagination; is rich in words and poor in feeling and action. To put it mild, Mr. Wilde is an abortive son of England. He is not a normal Englishman. He utterly lacks the one English virtue, honest sincerity, and I cannot see what he has to compensate him for his loss. He has something of French cleverness, but it is poor in comparison with the original; something of French audacity, but it is forced where the French is natural. One thing nature did not give Mr. Wide —a heart. It is doubtful if all the gifts of all the gods and all the ingenuity of man can ever make up for that. "One thing thou lackest," sincerity, the soul of all great work, art's only excuse for being.
Gustave Frohman: Producer Gustave Frohman (c. 1854-1930), brother of producers Charles and Daniel Frohman, was probably born, like them, in Ohio. According to his obituary in Time, he worked as an office boy for newspaper editor Horace Greeley. He and his brothers entered show business in the 1870s, as managers and advance men. Their first success was as managers and then owners of Callender's minstrel troupe. By the 1880s they were producing plays in New York and buying theaters. They developed the system of traveling road companies for their New York shows, bought theaters, and developed stars. The brothers formed a motion picture production company in 1915, shortly before Charles' death; Gustave and Daniel ran it until 1920.
Lady Windermere's Fan: In the first of Oscar Wilde's witty comedies, produced in 1893, the young Lady Windermere objects to her husband's relationship to Mrs. Erlynne, not realizing that Mrs. Erlynne is her divorced (and therefore socially disgraced) mother. Lady Windermere runs away to an admirer, Lord Darlington: Mrs. Erlynne follows her to persuade her not to take such a disastrous step. Lord Windermere comes to Darlington's unexpectedly and recognizes his wife's fan, but Mrs. Erlynne saves her daughter and disgraces herself again by claiming the fan as her own.
Lansing Theatre: The Lansing Theater, on the southwest corner of 13th and P Streets, was built in 1891, displacing the Funke Opera House as the largest and finest theater in Lincoln. The owners were J.F. Lansing (b. 1842), a Lincoln real estate man, and his brother-in-law Henry Oliver (b. 1857); Edward A. Church was the manager. According to the program of the opening week (November 23-28, 1891) the auditorium consisted of the orchestra and parquet seating on the main level, with dress circle at the rear and sides; three tiers of five boxes each and six loges were at the sides. Above were the balcony and the gallery. With standing room, about 2500 people could be present.
The building also housed offices, including that of Cather's friend and fellow reviewer, Dr. Julius H. Tyndale. It was renamed the Oliver Theater in 1898.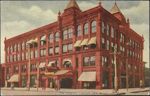 Mr. Hammell: Neither Odell's Annals of the New York Stage nor the New York Times drama review index list an actor of this name or closely related variants.
Charles Jehlinger: The New York Times drama review index notes an actor of this name appearing in The Witch in October 1895, and as director of Lib in April 1912. This may be the Charles Jehlinger (1866-1952) who taught at and later directed the American Academy of Dramatic Arts; his advice to aspiring actors was "Mean more than you say."
Lord Darlington: In Oscar Wilde's Lady Windermere's Fan (1893), when Lord Darlington, sees that Lady Windermere is unhappy with her marriage, he urges her to run away with him; he is an attractive character, not the stock seducer of conventional plays.
Edward Emery: This is probably actor Edward Emery (c. 1861-1938). His career in supporting roles on Broadway extended from 1900, when he appeared in Sold and Paid For and Cashel Byron, to 1934, and included parts in such plays as Ibsen's Lady from the Sea (1911) and The Constant Nymph (1926).
He may be the Edward Emery who in 1884 married English actress and theosophist Florence Farr (1860-1917); they were separated in 1889 and divorced in 1895. Edward Emery married actress Isabel Waldron; their son, John Emery (1905-1964) was an actor in films (notably Hitchcock's Spellbound [1945]) and television.
Olive Oliver: Actress Olive Oliver (c. 1871-1961) had appeared in The House on the Marsh in May of 1892, in Henry Guy Carleton's Ye Earlier Trouble that fall, and in a performance of Ibsen's Ghosts in January 1894. In 1895 she appeared in a Richard Mansfield production, A Social Highwayman, and A Superfluous Husband in 1897, both with stars E.J. and Joseph Holland. Later she played Mrs. Dorset in the dramatization of Wharton's The House of Mirth in 1906. Odell says Oliver was to "achieve distinction on our later stage" (XV, 72); she went on to a nearly thirty-year career on Broadway.
Actress E.J. Phillips indicates that Oliver received $40 a week for her leading role in Lady Windermere's Fan in 1894.
Mrs. Erlynne: In Oscar Wilde's play, Lady Windermere's Fan (1893), Mrs. Erlynne is the name assumed by Lady Windermere's mother; she had left her husband and child for another man, who later deserted her, and has become a notorious woman. She tries to re-enter London society under the somewhat reluctant sponsorship of Lord Windermere, who is aware of her real identity and who believes she deserves another chance. Lady Windermere, however, believes her mother is dead.
Miss Laura Gilvry: Actress Laura Gilvray was a member of Frohman's touring companies in the mid 1890s; she also appeared in touring companies of Belasco and Fyles' The Girl I Left Behind Me. It is possible that Gilvray was another name for actress Laura McGilvray (d. 1959), who appeared in New York in The Man With a Past in 1895, and who married actor Frank Gillmore.
Lady Windermere: In Oscar Wilde's Lady Windermere's Fan (1893), Lady Windermere is a young wife who is brought to believe that her husband is keeping a mistress, Mrs. Erlynne. Feeling that her marriage is a sham, she decides to leave her husband and young son to go away with Lord Darlington.
Frank Gilmore: Possibly the Frank Gilmore or Gillmore (1868-1943) who was with Frohman's Comedians in several productions in early 1893, and in one of the first touring companies of Lady Windermere's Fan, with Virginia Harned, in September 1893, where he played Lord Windermere. He appeared in many plays on Broadway in the early twentieth century. Gillmore, one of the founders of Actors' Equity, became president of the Association in 1927.
Gillmore married actress Laura McGilvray and was the father of actress Margalo Gilmore (1897-1986), who had a long career on Broadway from 1917 to 1962.
played a difficult part: The difficult part was possibly that of Lord Windermere.
Leona Clark: Odell's Annals of the New York Stage notes a Leona Clark who appeared in operettas such as The Mikado and The Red Hussar in the early 1890s. The name does not appear in the New York Times drama review index; however, an actress named Lillie Clarke played Mrs. Cowper Cowper in the first New York production of Lady Windermere's Fan, and she may have been promoted to play the more important part of the Duchess on the road.
duchess of Berwick: In Oscar Wilde's play, Lady Windermere's Fan (1893), the talkative Duchess of Berwick is the mother of Lady Agatha, whom she is trying to marry off to a wealthy Australian, and sister-in-law of Lord Augustus Lorton.
Robert Jenkins: The New York Times drama review index shows Robert Jenkins appearing in The Proper Caper in October 1897 and in The White Heather in November 1907.
Lord Augustus Lorton: In Oscar Wilde's play, Lady Windermere's Fan (1893), Lord Augustus Lorton, known as "Tuppy," is the brother-in-law of the Duchess of Berwick; he is an aging admirer of Mrs. Erlynne, and who proposes to her at the end, thinking she has explained everything.
to whom everything was easily "explained": In Oscar Wilde's Lady Windermere's Fan (1893), the good-natured but somewhat dim-witted Lord Augustus Lorton is readily convinced by the innocent explanations offered for the odd behavior of the other characters.
Oscar Wilde: Writer and wit Oscar Wilde (1854-1900) was born in Ireland, and educated at Oxford University, where he first began to make his name not only as a writer but as a representative of and spokesman for the aesthetic movement in England. His style—in dress, life, and writing—was satirized by the humor magazine Punch and by Gilbert and Sullivan in Patience. In 1882 he made a lecture tour of the United States. Wilde married Constance Lloyd in 1884, and had two sons; he was then working as a journalist in London. He published essays, including "A Defence of Lying;" a collection of allegorical fairy tales, The Happy Prince, in 1888; a novel, The Picture of Dorian Grey in 1891; and then the first of his witty, satirical society comedies, Lady Windermere's Fan in 1892. It was followed by A Woman of No Importance in 1893, and An Ideal Husband and The Importance of Being Earnest in 1895.
Wilde had met Lord Alfred Douglas, son of the Marquess of Queensbury, in 1891. Queensbury objected to their relationship, calling Wilde a sodomite. Wilde sued for criminal libel, but the jury upheld Queensbury and Wilde was arrested. After two trials, he was condemned to two years hard labor in jail in May 1895. Out of this experience came his most famous poem, the "Ballad of Reading Gaol" (1898). On his release in May 1897, Wilde went to France to live.
"One thing thou lackest": In the Bible, both Mark (10:17-22) and Luke (18:18-23) tell of a rich young man who comes to Jesus to ask what more he must do for salvation; he says he has kept all the commandments from his youth. Jesus says, "One thing thou lackest: go thy way, sell whatever thou hast, and give to the poor, and thou shalt have treasure in heaven: and come, take up the cross, and follow me" (Mark 10:21). The young man goes away sadly, and Jesus tells the disciples how hard it is for the rich to enter heaven.