The play has less in its situations than in its scenery. It is a successful play and has the faculty of working up an audience to a pitch of wild enthusiasm as it did last night, but that does not mean that it is a strong play or a good one. It abounds in gun powder and virtue and moth-eaten phrases about honor. It has the merit of having a text and sticking to it, but the text is not new and is scarcely worth a sermon four acts long.
In Old Kentucky: This popular play by Charles T. Dazey (1855-1938) premiered in New York October 23, 1893. Set in the bluegrass and mountain areas of Kentucky, the plot featured feuding families and climaxed in a horse race. The play was made into a novel by Edward Marshall, and several films using this title were made—one in 1909 by D.W. Griffith, others in 1919 and 1927, and another in 1935 with Will Rogers and Bill "Bojangles" Robinson.
Lansing Theatre: The Lansing Theater, on the southwest corner of 13th and P Streets, was built in 1891, displacing the Funke Opera House as the largest and finest theater in Lincoln. The owners were J.F. Lansing (b. 1842), a Lincoln real estate man, and his brother-in-law Henry Oliver (b. 1857); Edward A. Church was the manager. According to the program of the opening week (November 23-28, 1891) the auditorium consisted of the orchestra and parquet seating on the main level, with dress circle at the rear and sides; three tiers of five boxes each and six loges were at the sides. Above were the balcony and the gallery. With standing room, about 2500 people could be present.
The building also housed offices, including that of Cather's friend and fellow reviewer, Dr. Julius H. Tyndale. It was renamed the Oliver Theater in 1898.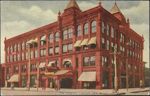 melodrama: Originally a genre that mixed drama with songs, melodrama came to mean a type of play characterized by emotional or sensational plots, with the denouement brought about by physical action rather than character development and change. Though not considered a high form of drama, good melodramas were respected, and many were very popular.
Miss Tabor: Odell notes a Grace Tabor who appeared as Stalacta in the 1893 revival of The Black Crook in New York (XV, 622); another possibility is a Lulu Taber who appeared briefly in New York in 1894, according to the New York Times drama review index.
Laura Burt: Actress Laura Burt (1872-1952) was born in England. One of her greatest successes was as the star of In Old Kentucky; a scene from the play was filmed in 1900. She played in a musical, The King's Carnival, in 1901, along with Marie Dressler. Later in her career she played older women in silent movies such as Love and the Woman and The Social Pirate, both in 1919.
See image one and image two at University of Washington Libraries.
Burt Charles: Possibly actor Burt G. Clark, who played Col. Sandusky Doolittle in the original cast of Dazey's In Old Kentucky (1893) as well as in the 1897 New York revival. His previous appearance in New York had been in Captain Herne, USA in January 1893; his last Broadway role was in Borderside in 1900, according to the New York Times drama review index. A Burt Clark was appearing in vaudeville in 1910.
As Colonel Sandusky Doolittle: Col. Sandusky Doolittle is a character in Dazey's In Old Kentucky (1893); he owns the racehorse on which the plot depends.
Frank Ross: Neither Odell's Annals of the New York Stage nor the New York Times drama review index list an actor of this name.
Walter Edwards: The New York Times drama review index notes a Walter Edwards who appeared in The Corncracker in October 1893, and in The Sign of the Four in 1903. This may be the Walter Edwards (1870-1920) who acted in sixty-nine movies between 1912 and 1918, and directed over a hundred between 1912 and 1920.
Image available at the University of Washington Libraries Digital Collection.
as Joe Lowery: Joe Lowery is a character in Charles Dazey's play In Old Kentucky (1893). The surname is usually spelled "Lorey" in cast lists for the play and some of the movies.
than as the virtuous young ensign: The hero of William Haworth's naval drama, The Ensign (1892). Cather reviewed a Lincoln production of this play on March 2, 1894, and referred to one of the actors as Mr. Edwards.