0002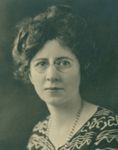 Auld, Jessica Virginia Cather (1881-1964) ("Jessie"). Cather's sister. Born in Virginia and raised in Red Cloud, NE, Jessica was the fourth child and second daughter of Charles and Virginia Cather. After graduating from Red Cloud High School in 1899, she taught at a country school and the South Side Grade School until her marriage to James William Auld, a Red Cloud banker, in 1904. They had three children (Charles, William Thomas, and Mary Virginia). After their divorce in 1933, she moved to Palo Alto, CA, where she died thirty-one years later. Few letters from Willa Cather to her sister Jessica survive, and particularly after Jessica's divorce their relationship was strained.
0011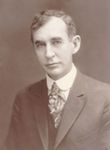 Cather, Charles Douglas (1880-1938) ("Douglass"). Cather's brother. Born in Virginia and raised in Red Cloud, NE, Charles was third child and second son of Charles and Virginia Cather. As an adolescent, Douglass Cather helped his father supervise rented farm properties and worked as a messenger for the local Burlington & Missouri Railroad office. In 1897 he left Red Cloud for a position in Sterling, CO, and then took a position with at the Cheyenne, WY, office of the Burlington Railroad. In 1908 he traveled to Mexico, an experience that his sister gave to Emil Bergson in O Pioneers! (1913). By 1910 he was working for the Santa Fe railroad and living in Winslow, AZ, where Willa Cather visited him in 1912. He later achieved success in the oil business in California. Although he never married, Cather notes that during the last six or seven years of his life he had a relationship with Dorothy Rogers. Douglass visited Cather in New York City in December of 1937. His death in June 1938 left her devastated. Douglass served as a prototype for one of the twin brothers in the Templeton family in "Old Mrs. Harris" (1932) and Hector the messenger boy brother in "The Best Years" (1948). His years working for the Burlington also inspired Cather's many railroad worker characters in her novels, including Song of the Lark (1915) and The Professor's House (1925). Few letters from this important sibling relationship have survived.
0012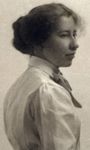 Cather, Elsie Margaret (1890-1964) ("Bobbie"). Cather's sister. Born in Red Cloud, NE, shortly before Willa Cather graduated from high school, Elsie attended the University of Nebraska in Lincoln from 1908 to 1910, before transferring to Smith College, in Northampton, MA, from which she graduated with an A.B. in English and Latin in 1912. She undertook graduate study at the University of Nebraska in 1914 and in 1916 received her A.M. with a major in philosophy and a minor in English. At both the undergraduate and the graduate level at Nebraska, she studied under Louise Pound. She began a career in high school teaching in 1912, when she took a position in Lander, WY, where her brother Roscoe then lived with his family. She also taught in Albuquerque, NM; Corning, IA; Cleveland, OH; and briefly Red Cloud, when illness in the family brought her home. Her longest tenure as a teacher was at Lincoln (NE) High School, where she began teaching in 1920, with Olivia Pound and Mariel Gere as colleagues. Willa Cather's expectation that Elsie be responsible for aging family and friends and for legal affairs after their parents' deaths sometimes brought the sisters into conflict. Elsie Cather retired from Lincoln High School in 1942. She died in Lincoln.
0015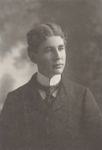 Cather, James Donald (1886-1966) ("Jim"). Cather's brother. James was born in Red Cloud, NE, the fifth child and third son of Charles and Virginia Cather. James moved to Wyoming in 1907 to work with his brothers Douglass and Roscoe. In 1913 he married Ethel Garber, and owned and operated clothing stores first in Red Cloud and then Holyoke, CO, where the family settled for a time 1920 before returning to Red Cloud in 1922. The couple had two children, Helen Louise and Charles Edwin. In 1930 the family moved to California so James could work in the oil business with Douglass and his partners. Willa's relationship with James was more distant than that with her brothers Douglass and Roscoe, who were closer to her own age, although she was very fond of his children.
0018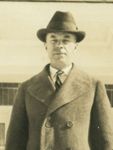 Cather, Roscoe (1877-1945) ("Ross"). Cather's brother. Roscoe was born in Virginia, the second child and oldest son of Charles and Virginia Cather. After graduating from Red Cloud (NE) High School in 1895, he taught country school for two years, attended the University of Nebraska in Lincoln for one year (1897-1898), taught high school in Carlton, NE, and Oxford, NE, and finally became superintendent of schools in Fullerton, NE. There he met fellow teacher Meta Schaper, whom he married in 1907. They relocated to Lander, WY, in 1909, where he opened an abstract office and where their three children, Virginia and twins Margaret and Elizabeth, were born. In 1921, they moved to Casper, WY, where Roscoe became president of the Wyoming Trust Company, and in 1937 to Colusa, CA, where Roscoe and his brother Douglass had acquired a controlling interest in the First Savings Bank of Colusa. Roscoe served as president of the bank until his death. Willa visited Roscoe and his family in Wyoming several times and shared important travel experiences with them, including a 1926 trip to New Mexico with Roscoe, Meta, and their children and a 1941 San Francisco vacation with Roscoe and Meta. She also relied on him to handle family-related business as well as personal financial matters, and he was one of her chief correspondents throughout her life. Roscoe served as a prototype for one of the twin brothers in the Templeton family in "Old Mrs. Harris" (1932).
0063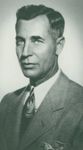 Cather, John (1892-1959) ("Jack"). Cather's brother. Born and raised in Red Cloud, NE, Jack was the seventh child and fourth son of Charles and Virginia Cather. He was nearly two decades younger than Willa Cather, and she was a doting older sister when he was a small boy. Because she missed him after her 1896 move to Pittsburgh, PA, she wrote several poems about him and the story "Jack-a-Boy" (1901). After graduating from Red Cloud High School in 1912, Jack studied for two years at University of Nebraska in Lincoln. With Willa Cather's encouragement, in 1914 he enrolled at the Carnegie Institute of Technology in Pittsburgh to study engineering. Willa Cather was then living in New York City but traveled to Pittsburgh to help him settle in and enjoyed visiting him and supported his decision to change his major to theater. It is not clear whether he graduated from Carnegie Tech but the British government trained him as a chemist so he could inspect munitions factories. While working in Smethport, PA, he met Irma Wells, and they married in 1918. They had two children, Catherine and Ella Faye. After World War I, he worked as a chemical engineer in the oil industry in Cincinnati, OH, Casper, WY, and Bradford, PA. In 1936 he moved to Whittier, CA, and became a business partner with his brothers Douglass and James in an oil production company. He died in Long Beach, CA. Willa Cather mentions him frequently in letters, but she seems to have had little contact with him and his family in later years, and no letters from her to him have surfaced.