Return to Main Bibliography
Shadows on the Rock
Alfred A. Knopf, 1931
"Sometimes a neighbour whom we have disliked a lifetime for his arrogance and conceit lets fall a single commonplace remark that shows us another side, another man, really; a man uncertain, and puzzled, and in the dark like ourselves."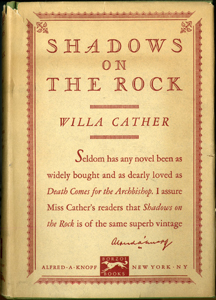 Editions
First Edition
Published by Alfred A. Knopf on August 1, 1931.
First English Edition
Published by Cassell and Company, Limited in January 1932.
Autograph Edition
Published by Houghton Mifflin Co. in 1938.
Scholarly Edition
Published by University of Nebraska Press in 2005. Historical Essay and Explanatory Notes by John J. Murphy and David Stouck. Textual Editing by Frederick M. Link.
Related material available on the Willa Cather Archive
Interviews
Scholarship