The patrol wagon scenes were as realistic as the size of the stage would allow. Policemen were numerous, but we were fortunately spared the nurse girl. We promised to make special note of all companies heartless enough to afflict us with "After the Ball." It was worse than that this time; it was "Apres le Bal," and the whole sickly song in American French, the euphonious French of Chicago.
The play itself was very much like a report for a sensational paper. It was made to be exciting and with very little regard to the truth or to literary merit. It was a thoroughly orthodox yellow backed melodrama. It had five acts and a flower girl and a fire, that is, a patrol wagon, which is just as good. I am not one of those people who long to see melodrama done away with. While society is in its present unequal condition there must always be a class of people to whom nothing but melodrama and negro minstrels can appeal. Their sensibilities, like their hands, are calloused and blunted by hard labor. They are cut off from the more delicate and complex phases of emotion and can understand only the simplest type. They are insensible to any odor milder than musk and any play tamer than melodrama. So long as there are policemen and gongs and hose carts in the world these people should have their amusements; heaven knows they need them more than any of the rest of us.
Pearson's: The producer or manager of Police Patrol has not been identified.
Police Patrol: The Police Patrol, a melodrama by Scott Marble, played in various minor theatres before opening at the Grand Opera House in October 1892. The New York Times review said it "holds a mirror up to police captains, safe-breaking, murder, love faithful under difficulties, and other interesting phenomena" (October 4, 1892).
Lansing Theatre: The Lansing Theater, on the southwest corner of 13th and P Streets, was built in 1891, displacing the Funke Opera House as the largest and finest theater in Lincoln. The owners were J.F. Lansing (b. 1842), a Lincoln real estate man, and his brother-in-law Henry Oliver (b. 1857); Edward A. Church was the manager. According to the program of the opening week (November 23-28, 1891) the auditorium consisted of the orchestra and parquet seating on the main level, with dress circle at the rear and sides; three tiers of five boxes each and six loges were at the sides. Above were the balcony and the gallery. With standing room, about 2500 people could be present.
The building also housed offices, including that of Cather's friend and fellow reviewer, Dr. Julius H. Tyndale. It was renamed the Oliver Theater in 1898.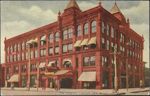 Mr. Chappelle: Possibly Charles Chappelle; the New York Times index shows him appearing fairly frequently on the New York stage from 1901 to 1917.
Miss Lorna Atwood: Possibly Lorena Atwood, whom Odell's Annals of the New York Stage notes as playing in a short run of a Milton Nobles play in 1893; the New York Times index notes her in plays between 1906 and 1915.
Laura Joyce: A character in Police Patrol.
Lillian Barker: A character in Police Patrol, possibly a prostitute.
Miss Haynes: The New York Times dramatic index notes an Alice Haynes and a Marie Haynes appearing in New York in 1906 and later. Odell notes a third-rate "star," Mrs. Minnie Gale Haynes who appeared in the standard repertoire at minor theatres c. 1892-93. (Annals of the New York Stage)
After the Ball: This song by Charles K. Harris was one of the first big hits of the new popular music industry in the U.S., selling two million copies in sheet music form in 1892. A little maiden climbed an old man's kneeBegged for a story—"Do, uncle, please!"Why are you single; why live alone?Have you no babies; have you no home?""I had a sweetheart, years, years ago;Where she is now, pet, you will soon know.List to the story, I'll tell it all,I believed her faithless, after the ball." After the ball is over,After the break of morn —After the dancers' leaving;After the stars are gone;Many a heart is aching,If you could read them all;Many the hopes that have vanishedAfter the ball.
"Apres le Bal,": "Après le bal"—"After the Ball" in French
yellow backed melodrama: Publisher E. F. Beadle's Dime Novels of the 1870s and 1880s were typically published with yellow paper covers; the format and color became associated with sensational stories, such as those employed in melodrama.