Even the Servants Were Ideal.
It is hard to say anything about "Gloriana" until one has got over the effects of laughing at it, and unfortunately one doesn't get over the effects of laughing at it until it is entirely too late to say anything. In this age of the world no playwright has audacity enough to attempt tragedies; everyone writes comedies. The author of "Gloriana" seems to have been more successful than most of his contemporaries because he has been more modest. He has made his cast a small one, but he has made every character unique. There are no parts written to fill up space or to set other parts off to advantage. Every character was created, developed and acted for itself. Mr. Mortimer has put some of his best work on the servants.
The conventional stage ladies' maid has become so trite that in these days she is taken for granted to possess remarkable personal charms or a make up box of the first quality; it is seldom that an opera glass is raised in her direction. Certainly Miss Barnum as Kitty overthrew all one's ideas of ladies' maids. She resorted to neither personal charms nor bewitching grace, she had recourse alone to art and costume. Her realism was relentless, often cruel. That realism which calls up the shuddering memories of one's old housemaids is infinitely more brutal than that which recalls the sobs of old sweethearts or the pangs of one's first love.
Mr. Alf Hampton as Spinks lingers in one's memory. His lower jaw is, if natural, a gift from heaven, if artificial, an achievement of genius. His English dialect was a revelation. "Never man spake like this man before," especially the "Ow-w-w!" There is no reason why the heavy valet should not be as great a figure as the heavy father or the heavy villian.
The pleasant sense of novelty that one gets from the play is largely due to the character of Count Evetoff . The Russian has been introduced into English novels with great success, but this is his first appearance in English comedy and it is a new thing under the sun, or, what is infinitely rarer, a new thing behind the footlights. The Russian type is largely exaggerated, of course, but one goes to the theater to see exaggerations if only they are neatly done. Moreover, the character of the count presents a new kind of dialect, and an altogether new shade of complexion and necktie, which are advantages that cannot be overestimated.
W. C.
"Gloriana": Gloriana; a light comedy in three acts premiered in London in 1891, adapted by James Mortimer from a French original. The New York opening was February 15, 1892, and starred Henrietta Crossman. In the play, the hero changes place with his valet, Spinks, to enter the service of a dashing widow, Gloriana Lovering whom he admires, and to avoid an engagement to the daughter of a vulgar tanner, who turns out to be Gloriana's landlord. Her Cockney maid, Kitty, had once been deserted by Spinks, and Gloriana herself is engaged to a Russian count.
The New York Times reviewer said "the salacious French original is clearly seen through the flimsy work of the adaptor. The dialog is not tedious, but it is not witty" (February 16, 1892).
Cather wrote two reviews of this play: 10 January 1894 and 9 October 1894
Author of Gloriana: James Mortimer (1833-1911) adapted a play by Chivat and Durfe, Le True d'Arthur.
Mr. James Mortimer: James Mortimer (1833-1911) adapted the comedies Gloriana (1891) and Uncle William (1894) from French originals. (1833-1911)
Miss Barnum as Kitty: Possibly the Tillie Barnum whom Odell mentions as appearing in New York in 1891 (Annals of the New York Stage, XV, 70).
Kitty: Kitty is Gloriana Lovering's Cockney parlormaid in James Mortimer's Gloriana (1891). In the past she had been deserted by the valet, Spinks. Kitty was played by May Robson in the 1892 New York production.
Mr. Alf Hampton: Alfred Hampton made his New York debut in The Streets of New York in 1886, playing a "tough." He played minor roles in other plays in New York in the late 1880s and early 1890s. The New York Times reviewer described him as "a comic actor who emulates the manner of Mr. N. C. Goodwin" (25 August 1889).
Spinks: Spinks is the valet who changes places with his master in James Mortimer's Gloriana (1891). He was played by Joseph Humphries and later by Fred Bond in the 1892 New York production.
"Never man spake like this man before": In John 7, after Jesus has taught in the temple in Jerusalem, the chief priests and Pharisees send officers to arrest him; when the officers return without Jesus, they excuse themselves by saying of Jesus, "Never man spake like this man" (John 7:46).
Count Evetoff: The hot-tempered Russian count who is engaged to Gloriana Lovering in James Mortimer's Gloriana (1891). The New York Times cast list gives his name as Count Vladimer Evitoff; he was played by E. J. Henley in the 1892 New York production.
The Funke: The Funke Opera House was built in 1885 by Fred Funke (d. 1890), a Lincoln wholesale cigar, wine, and liquor dealer, on the southwest corner of 12th and O St. Until the Lansing Theatre was built it was the largest and finest theater in town. The first manager was Ed A. Church (d. 1927), followed by Robert McReynolds; Frank Zehrung managed it briefly, from July 1889 to January 1890, when L. M. Crawford took over. Zehrung resumed management in 1894. The building housed shops on the ground floor and offices in parts of the upper floors, as well as the theater itself.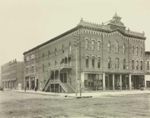 The Funke Opera House, Lincoln, Nebraska, late nineteenth century.
Hall-Crowell company: A traveling theatrical company, possibly headed by Josephine Crowell (1849-1932) and a partner.
Satan's Foot Ball: No play of this name has been found in Worldcat, the New York Times dramatic index, or the index to Odell's Annals of the New York Stage. It may have been written by a member of a theatrical company or by a writer associated with one of the regional clearinghouses for scripts.
Miss Crowell: Possibly Josephine Crowell (1849-1932), a Canadian-born actress who later had a long career as a featured player in more than eighty silent movies, including D.W. Griffith's Intolerance (1916) and Birth of a Nation (1915), and in other films with actors such as Mary Pickford and Harold Lloyd.