Mortimer's three-act comedy "Gloriana" was presented to a good audience at the Lansing last night. After one had seen a play put on almost perfectly it is hard, perhaps, to be just to an inferior presentation. The play last night was at no time absolutely bad, but it was enacted in a much lower and coarser tone than it was written. The play "Gloriana" is the nicest sort of legitimate comedy, none of the comedy is forced, there is almost no repartee, the fun is all evolved by the consistency of the characters under all the circumstances in which they are placed and is simply character consequence. But not every actor can enact a consistent character, and last night there was very little mirth because no character was strongly enough marked to appear funny in the mild situations of the play. The play is a neat and delicate satire on high life, the actors made it a burlesque. Miss Chapman and her company would appear to good advantage in many comedies that are on the road, but "Gloriana" is a particularly difficult play to enact, to make it good even the servants must be impersonators. It is a bit of the "Comedie Humaine," which, up to date, is the greatest comedy on the boards, and the hardest to enact. It takes such great actors to act a natural play.
The character of Mrs. Gloriana Lovering , "as it was written," is dashing and unique. There is nothing just like it in English plays, it is rather a French conception. She is a decidedly rapid, though very frank woman, who has run the whole gamut of dukes and counts and has found her last count a little too much for her, and desires something less complex. She has been enormously practical for years, and, being tired of the value received plan, wants to try a little romance. She has arrived at that prosperous stage of her career where she can afford to indulge in a little sentiment. The Ray Blas idea fascinates her, but when Fitz Jocelyn is divested of his gorgeous livery his attractions vanish. He is only a man, just like any other man. He wears gloves and creased trousers, and may in time even wear a red necktie like Count Evetoff . So Gloriana cheerfully resigns her idea of love for love's sake, decides that practical remunerative affection is eminently her sphere, and goes back to the count, who is a very convenient old count after all. New gowns and diamonds soon hush that little longing for the bliss of self-sacrifice which most of the Glorianas of the world feel vaguely at some time or other. That is the "Gloriana" that Emily Banckor played. Miss Chapman dwells too much on the coarser side of the character. Gloriana wasn't coarse. She was a lady, every inch of her, if she was a widow with a history. Miss Chapman makes her an adventuress with a taste for intrigue. Gloriana was a dilettante in love, not a professional. She was simply a woman who was in search of variety and who thoroughly and deliciously enjoyed being naughty. She couldn't be bad any more than a butterfly could; naughty was the limit of her capacity. Miss Chapman made her too heavy, she broke the butterfly on a wheel. Gloriana should be dashing, not loud. Her kisses and costumes should be racy, but in good taste. Miss Chapman's were neither. Miss Chapman may be a good comedienne, but she is neither physically nor artistically fitted for the role of Gloriana.
Mr. Frederick Weber as Fitz Jocelyn was too deliberate. When he took the trouble to work himself up he did very well.
Mr. Twiner as Mr. Chadwick was particularly good. He worked hard and to some purpose. With his physique no fault could be found. Mr. Walter Brooks made a thoroughly bourgeoise count. His acting was spirited and he kept the role moderately clean and distinct, but his work lacked the fine touches necessary to bring out a type of the Russian nobility and his accent was a mongrel French and German substituted for Russian. Mr. Hallton as Spinks made a very good American valet, but was not at all English except in an occasional dropping of his "h." An English gentleman would never employ a man with natural and limber spine like Mr. Hallton's. Miss Alston as Kitty was consistent in her acting and had a very good English accent. At no point was the play absolutely bad, but neither was it absolutely good. As a whole the acting lacked intelligence and keen perception.
Mr. James Mortimer: James Mortimer (1833-1911) adapted the comedies Gloriana (1891) and Uncle William (1894) from French originals. (1833-1911)
"Gloriana": Gloriana; a light comedy in three acts premiered in London in 1891, adapted by James Mortimer from a French original. The New York opening was February 15, 1892, and starred Henrietta Crossman. In the play, the hero changes place with his valet, Spinks, to enter the service of a dashing widow, Gloriana Lovering whom he admires, and to avoid an engagement to the daughter of a vulgar tanner, who turns out to be Gloriana's landlord. Her Cockney maid, Kitty, had once been deserted by Spinks, and Gloriana herself is engaged to a Russian count.
The New York Times reviewer said "the salacious French original is clearly seen through the flimsy work of the adaptor. The dialog is not tedious, but it is not witty" (February 16, 1892).
Cather wrote two reviews of this play: 10 January 1894 and 9 October 1894
Lansing Theatre: The Lansing Theater, on the southwest corner of 13th and P Streets, was built in 1891, displacing the Funke Opera House as the largest and finest theater in Lincoln. The owners were J.F. Lansing (b. 1842), a Lincoln real estate man, and his brother-in-law Henry Oliver (b. 1857); Edward A. Church was the manager. According to the program of the opening week (November 23-28, 1891) the auditorium consisted of the orchestra and parquet seating on the main level, with dress circle at the rear and sides; three tiers of five boxes each and six loges were at the sides. Above were the balcony and the gallery. With standing room, about 2500 people could be present.
The building also housed offices, including that of Cather's friend and fellow reviewer, Dr. Julius H. Tyndale. It was renamed the Oliver Theater in 1898.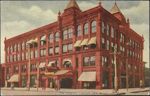 Miss Edythe Chapman: Possibly Edythe Chapman (1863-1948), an actress who played with Boyd Putnam's company in 1892 and with Warde and James' company in 1893. By 1897 she was a member of the stock company of actor James Neill (1860-1931), whom she married that year. The couple entered films in 1915, where she played mostly matriarchal roles for Cecil B. DeMille. She retired after the death of her husband in 1931.Image at University of Washington Libraries Digital Collections
her company: The Chapman company consisted of Miss Chapman, Miss Alston, Frederick Weber, Walter Brooks, Mr. Twiner, and Mr. Hallton.
Comedie Humaine: The Comédie humaine is the collective name given to the French realistic novels and novellas of Honoré de Balzac (1799-1850).
Mrs. Gloriana Lovering: The heroine of James Mortimer's Gloriana (1891) is a dashing widow who is engaged to a Russian count, but who is attracted to an Englishman who is impersonating his valet. Henrietta Crossman and Gracie Wilson played the part in the first New York production.
Ruy Blas: Ruy Blas, a tragic drama in prose by Victor Hugo, opened the new Renaissance Theatre in Paris in 1838, and starred the great French actor Frédéric Lemaître. It tells the story of a young student in seventeenth century Spain who resembles an aristocratic bandit; mistaken for the bandit, Ruy Blas is brought to court and falls in love with the Queen of Spain. The play is an indictment of government corruption and tyranny.
The play inspired a concert overture by Felix Mendelssohn, an opera (1869) by Marchetti, and art songs by Chabrier, Delibes, and Saint-Saëns, and a burlesque by W. S. Gilbert (1869); two movies Ruy Blas (1948) by Jean Cocteau and La folie des grandeurs (1971) with Yves Montand, have been based on the story.
Fitz Jocelyn:: Leopold Fitz-Jocelyn, a character in James Mortimer's Gloriana (1891), had flirted with Gloriana at Brighton; when he finds she is a lodger at his fiancée's house, he changes places with his valet and pretends that he had been the valet impersonating his master.
Count Evetoff: The hot-tempered Russian count who is engaged to Gloriana Lovering in James Mortimer's Gloriana (1891). The New York Times cast list gives his name as Count Vladimer Evitoff; he was played by E. J. Henley in the 1892 New York production.
Emily Banckor:: Emily Bancker appeared first in New York in The Pavements of Paris in 1884; by 1891 she was a member of Rosina Vokes' company; soon thereafter she appeared with Georgie Drew Barrymore in Mr. Wilkinson's Widows and then was a member of Frohman's Comedy Company, playing with Henry Miller.
broke the butterfly on a wheel: British poet Alexander Pope (1688-1744) wrote in his satirical "Epistle to Dr. Arbuthnot":Let Sporus tremble—'What? That thing of silk,Sporus, that mere white curd of ass's milk?Satire or sense, alas, can Sporus feel,Who breaks a butterfly upon a wheel?
Mr. Frederick Weber: Possibly the Mr. Weber who appeared in a number of burlesques (such as Cyranose de Bric-a-Brac in 1898) in New York around the turn of the twentieth century, according to the New York Times drama review index.
Mr. Twiner: Neither the New York Times drama review index nor Odell's Annals of the New York Stage mention a player of this name.
Mr. Chadwick: Timothy Chadwick is a rich tanner, father of Fitz-Jocelyn's fiancée, in James Mortimer's Gloriana (1891). He was played by Joseph Allen in the 1892 New York production.
Mr. Walter Brooks: The New York Times drama review index mentions a player of this name who appeared in New York in the melodrama, The Great Northwest in 1896 and in Mr. Buttles in 1910.
Mr. Hallton: The New York Times drama review index notes a George Hallton who played a minor role in Stuart Robson's company in A Comedy of Errors in 1894; the following year he was part of Frank Mayo's company in a revival of Puddn'head Wilson.
Spinks: Spinks is the valet who changes places with his master in James Mortimer's Gloriana (1891). He was played by Joseph Humphries and later by Fred Bond in the 1892 New York production.
Miss Alston: The New York Times drama review index does not mention an actress of this name. A faint possibility might be the Etta Alston who appeared in vaudeville at Proctor's theatre in early 1894, according to Odell's Annals of the New York Stage (XV).